'If you are not able to perform today, 10 years later, you won't have an excuse to explain why you didn't do it when you could.'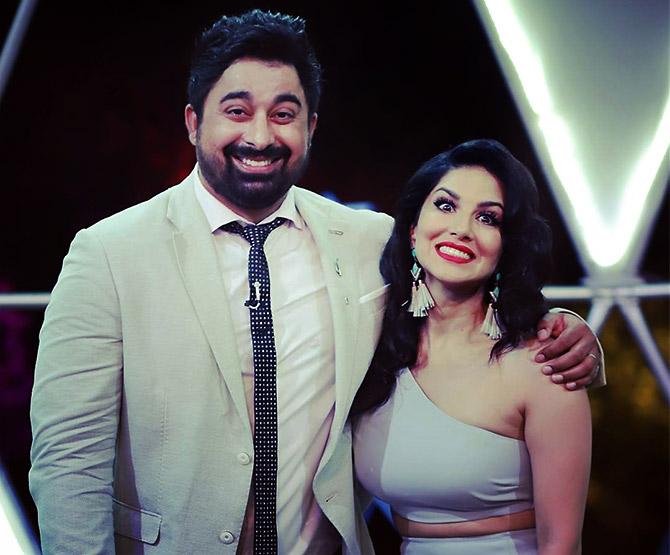 >Rannvijay Singh Singha would have well been an officer in the Indian Army had it not been for his passion for a bike he loved the most.
The year was 2003. The son of retired Lieutenant General Iqbal Singh Sinha, Rannvijay was 20.
He had cleared his medical test and was one step away from joining the armed forces, when he took a chance to participate in the first edition of the reality show MTV Roadies.
Rannvijay became the first winner of the show and he took home a fancy bike -- the Hero Honda Karizma -- and Rs 500,000. He has hosted the show ever since.
Besides Roadies, Rannvijay has dabbled in television and films as an actor and has hosted shows like Splitsvilla (a dating reality show) and Stuntmania (a stunt biking reality show).
The 35 year old recently tied up with the footwear brand FILA to unveil an exclusive motorsport collection of sneakers meant for adventure enthusiasts.
The VJ-turned-entrepreneur tells Rediff.com's Divya Nair about his dreams for young India.
You wanted to join the army. How did you end up on MTV?
My dad was in the army. I wanted to join the army too.
I used to play basketball. I have played matches at the national (level). I love the game.
But I have always done what I am passionate about. When MTV happened, I took that up. I won. Never looked back.
But whenever I get the chance to serve the country, I do it in my way.
So, what's your passion?
Basketball, shoes, bikes, adventure, motorsport...
What was the first thing you bought with your salary?
As a kid, I'd always dream about the next sneaker I'd buy.
In 2003, when I got my first job with MTV, my salary was Rs 40,000. It's another story I thought that was three months' salary.
First thing I did, I bought a branded pair for myself and my brother.
It cost me Rs 20,000, literally, half my salary. But it's my passion. And it's something I do till date -- I spend half my salary buying sneakers I love.
As of 2014, I had 750 pairs. And each one has a story; each sneaker has a history and is special to me.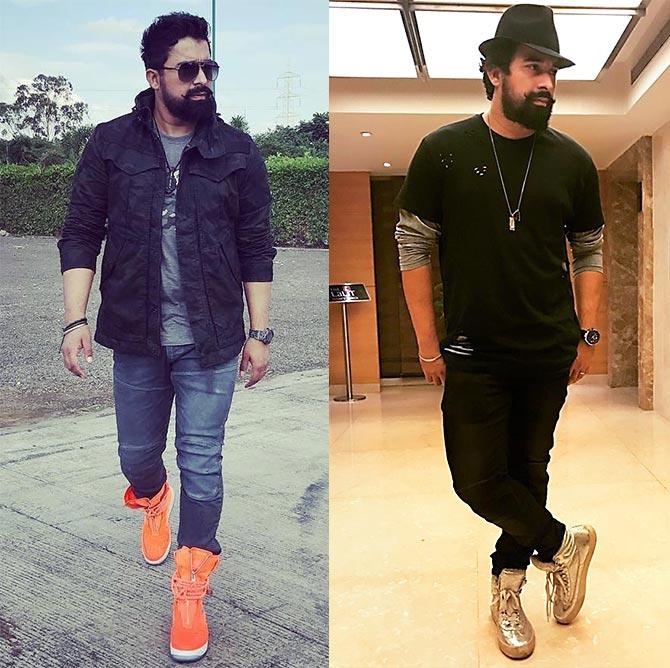 What's your style mantra?
I don't follow fads. I never have.
Ten years ago, I remember shooting this episode (for a reality show) wearing a suede jacket with shorts and chappals since we were in Goa.
I wore shorts because it was a casual show. I added the jacket because it was a vote-out (elimination) round.
I'm not saying I started this trend. Today, models and international brands are doing that on the ramp.
In 2005, I think I was doing Roadies 3 when I pierced my eyebrows.
The next year, every other guy who turned up at Roadies 4 auditions had pierced his eyebrows.
It looked stupid beyond a point. But that's the thing about style -- what's trending today may look silly tomorrow.
On my wedding, I was wearing a lot of kurtas, also because it was summer and I love kurtas.
A lot of people who know me, know that I'll never have a tattoo. That's because I wanted to join the army.
I also donate blood. You know that tattoos are not good if you plan to donate blood.
The point is, I don't follow trends blindly.
What's the craziest style you've ever pulled off?
I remember wanting to attend this event in my hometown.
It was a college event and I came out wearing these tattered pants that youngsters wear these days.
My grandparents were like: Tu aenda ja raha hai? (Are you going like this?)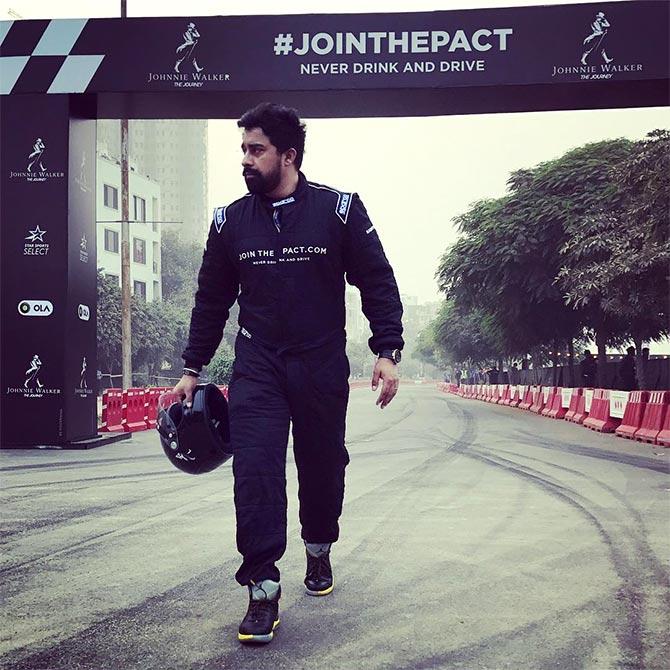 You work with millennials. What's your understanding about them?
In India, 700 million people are under the age of 25. Everyone needs education, awareness and skill training.
To keep saying we are the youngest nation is one thing. To do something about it is another.
You have to be responsible, act responsibly.
Today's youth are split in two -- one group is whiling away time.
They are in this bubble of wanting to look good, wanting to share things on social media.
For them, life is social media.
They like to waste time by hanging out; they do not play sports or watch good content.
In fact, this is the best time for content in India -- you just need to figure out what you want to watch.
Now, there is no harm if you want to have coffee and play games.
Your life can't be 50 hours of just gaming and social media.
I'd rather do rock climbing in the morning, come back and say, hey, I did this on social media. There has to be some balance.
The second group belongs to youngsters who are super-talented, super-informed and know how to get it.
There are 13- and 15-year-olds who know what they want to do and how to do it. That's why so many VCs (venture capitalists) are willing to invest in young ideas, create entrepreneurs.
Considering the resources that are available today, if you are not able to perform today, 10 years later, you won't have an excuse to explain why you didn't do it when you could.
There are so many reality shows; anyone who is a good singer will launch his/her career; the rest go home, give excuses. There are people with no resources putting stuff on YouTube and making money.
So, what's your excuse?
MUST WATCH: Rannvijay's message for the youth
Video: Hitesh Harisinghani/Rediff.com
Your take on equal pay and gender diversity at the workplace.
If I pick 100 bricks and you do the same, there is no reason why you should be paid less because you are a woman.
There is no logic, it is unfair.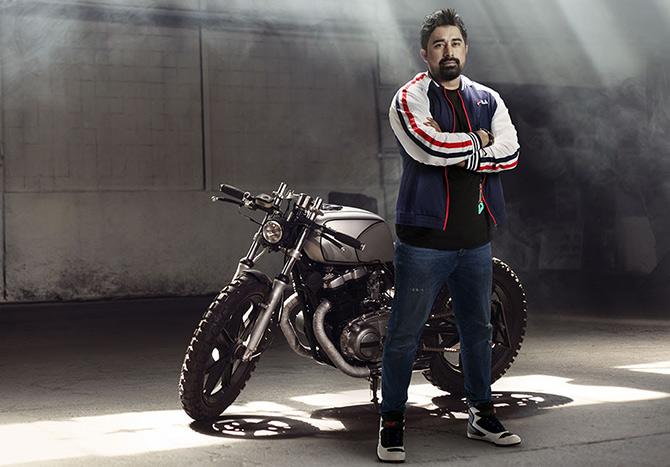 You recently collaborated with FILA for their motorsport collection. What does this mean for you?
I'm a basketball lover. The aspiration for the biggest basketball players in the world Michael Jordan, Stephen Curry, Kobe Bryant -- is to have their own shoe.
While growing up, I had just two pairs of shoes.
I'm sure most of us will have the same story -- one was this black or white pair which was meant to be worn to school.
The other was this casual one which doubled up as your sports shoe, your party pair -- basically, any and every outdoor occasion.
Rohan (Batra, MD, FILA India) and I met over coffee last year; we discussed shoes. Everyone who knows me can vouch for my passion for motorsport.
We realised that India has a great market for motorsport accessories. FILA is one of the first and oldest shoe companies in India.
When I was asked to be a part of this association, it was the best thing to happen.
Imagine you have loved something all through your childhood. When you grow up, you get a chance to live that dream.
I believe that nothing is impossible. I never thought I'd have my own line of shoes. I kept doing what I was passionate about and the day has come, my name is on a shoe.
And it is not like any random association with a brand. They (FILA) took my inputs on the design and worked on it.
The creative satisfaction I got working on this one gave me a sense of ownership that I am proud of.
When someone buys it, they'll know a motor enthusiast was in the room when it was designed.
What kind of inputs did you offer?
If you are into adventure sport that involves a lot of driving, you need shoes with thin soles, which will give you comfort and grip.
Similarly, if you are wearing gloves, most of the time one has to remove the gloves to tie the shoelaces.
Bikers would love to have shoes with strings that they can quickly glide into and pull over.
Also, it's functional to have a strap where you can snuggle the ends of the shoelaces or the strings so you don't trip over -- how high ankle, chunky or lean drawstring -- these are just small details a motorsport collection I felt should feature.
The price range also, I felt should be reasonable.
MUST WATCH: Rannvijay talks about how he made his dreams come true