On Raksha Bandhan take a trip down memory lane.
Revisit your childhood by creating wonderful Khatti Meethi Kiwi Chuski by celeb chef, Masterchef India judge and restaurateur Chef Ranveer Brar.
It will remind you of the flavoured ice golas you shared with your brother or sister during hot summers years ago.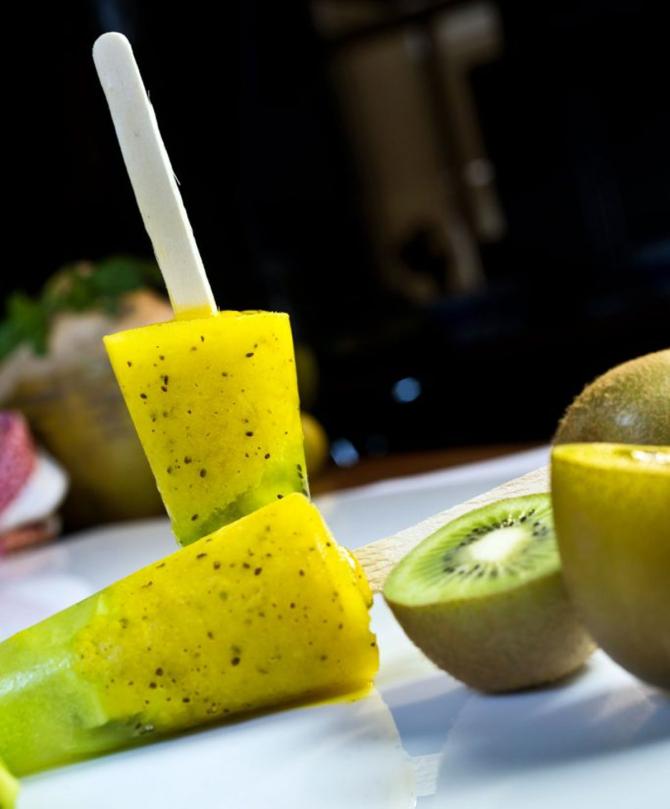 Khatti Meethi Kiwi Chuski
Servings: 8
Ingredients
8-10 golden kiwis, peeled and chopped
½ cup powdered or icing sugar
¼ cup water
1 tbsp lemon juice
Few ice cream sticks
3 strands of kesar or saffron, added to a bowl with 2-3 tbsp of water
Ice-cube tray or shot glasses or popsicle mould
Method
Combine the sugar and water in a heavy-bottomed saucepan and stir over low heat until the sugar dissolves fully.
Take off heat and cool.
Puree the kiwis and lemon juice in blender.
Strain the puree to get a fine pulp.
Stir the puree into the sugar syrup and mix well.
Add the saffron.
Pour into an ice-cube tray or shot glasses or a popsicle mould.
Keep in the freezer to set.
When it is half frozen, insert a stick into each chuski and freeze again.
When frozen, take out of the freeezer, de-mould and consume immediately.