It's been three years since Priya Prakash Varrier stepped into the limelight and became an overnight sensation.
The model turned actor, best known as 'the wink girl' who was India's most searched personality in 2018, has gradually come to shed her 'girl-next-door image' having done films in Malayalam, Tamil and Kannada.
Apart from being a trained classical dancer, Priya can also sing and has a stunning sense of fashion.
The Thrissur-based actor recently travelled to Russia and was pleasantly surprised to discover how popular she was outside of India.
"I had people travel from Moscow to St Petersburg just to meet me," the 21 year old who has over 7 million followers on Instagram tells Rediff Contributor PS Aaryan Khanna.
Tell us about your trip to Russia.
The thing that fascinated me most was it was daylight till 9 pm in the night.
It's like you have very little of the night. It's very weird because when you are sleeping, there is sunlight.
It's a little dark maybe between 10 pm and 2 am or max 3 am.
That fascinated me a lot because it was like the days were so long that we would just go out and have fun the entire time.
I wouldn't say that I've travelled a lot but amongst the places that I've visited, St Petersburg is beautiful, and I really enjoyed being there.
Did people request you for selfies in Russia?
Yeah. Actually, I thought that Russia would be devoid of people who recognised me, but I was wrong about that.
In fact I had people travel from Moscow to St Petersburg just to meet me. They had been loitering around for two days.
To find me they had been following my stories and my friends' stories. They put it all together and found me in the end.
They just wanted to take a picture with me. So that was very sweet.
Did you meet a lot of Indian travellers there?
Here and there we would meet Indians. I also met people from Kerala.
It was fun to watch them contemplate and talk among themselves. They'd be like 'Is this Priya Varrier?'
Some people would just decide that 'No, it's not really Priya Varrier.'
So, it was fun to keep quiet, and watch all this happen./p>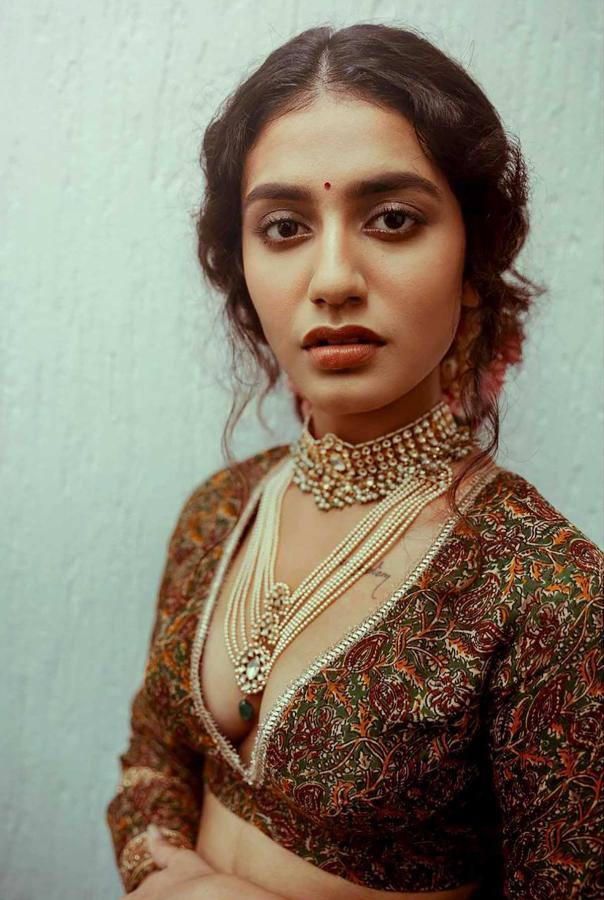 Your social media is full of stylish, candid photoshoots. What is your idea of fashion?
I'm not someone simply who blindly follows fashion trends. I'm not always updated about what's going on.
I always prefer to wear whatever I'm comfortable with.
But if there's one trend I have not tried it's velvet. I don't know if I can pull something off in velvet.
Do you have a favourite or go-to designer?
I'm somebody who likes to experiment and I keep doing my research on designers.
I don't mind wearing (outfits from) new and upcoming designers. I wear whatever I find interesting and comfortable.
I can't say I repeat the same designers a lot, but I do try and experiment with new designers and new kinds of outfits all the time.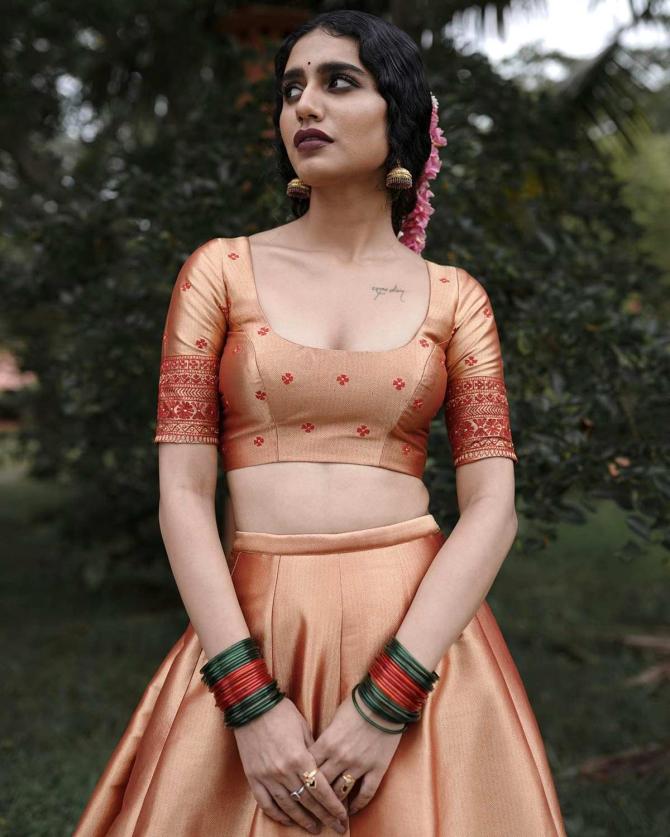 A designer whose clothes you dream to wear.
I would love to wear something from Sabyasachi and Anita Dongre. I like their designs.
How do you stay fit?
(Laughs.) I've never been to the gym, to be honest. So whatever workout I've been doing my entire life, it's only been at home.
I've never joined the gym, never got a chance or had the time. I'm always travelling in and out.
Also, I don't consciously put in any effort to stay in shape. By God's grace, I don't put on (weight) very easily.
We can't ignore the fact that I am a big-time foodie. So, it's hard for me to maintain a diet and control what I'm eating.
Gradually, maybe slowly I'll pick up a gym routine, follow a healthy diet and all that. But as of now, not really.