'In 2007, I was very sick.'
'I thought to myself that if I am not going to die now, maybe I should do something with my life.
'What if I have to live till I turn 100 years old?'
'I had to find out something to keep me busy for the next 80 years.'
Tapas Chand's heart-warming journey will inspire you to live life to the fullest.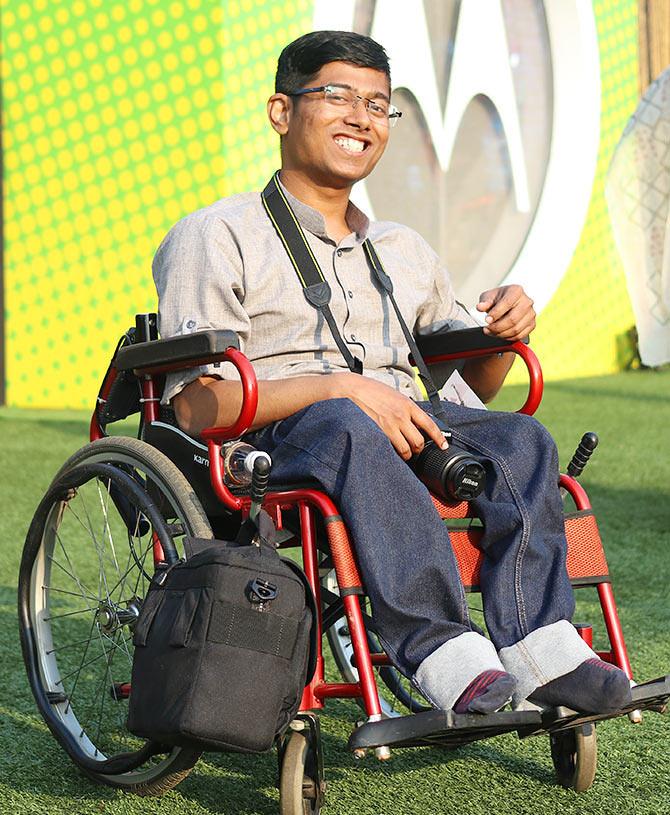 IMAGE: Tapas Chand at the Lakme Fashion Week in Mumbai.
Photograph: Hitesh Harisinghani/Rediff.com
Tapas Chand, 29, was born with a tumor in his spinal cord.
The doctors predicted that he would die if the tumor wasn't removed immediately.
But they also said there were chances that he could be paralysed from head to waist or waist to toe post the operation.
The operation was successful and his tumor was removed, but unfortunately he was paralysed below his waist.
During his growing up years, life was not a cakewalk for him. For 20 years, he remained inside his home and rarely stepped out.
He didn't go to school and waited for death to come along.
But it was a match that India lost during the cricket World Cup in 2007 that made him want to do something in this life.
"I thought to myself that if I am not going to die now, maybe I should do something with my life."
"What if I have to live till I turn 100 years old? I had to find out something to keep me busy for the next 80 years."
He then decided to go back to school.
Today, he uses photography as a medium to get his life back on track.
Armed with a simple smartphone, this young man won a photography contest and landed the opportunity to travel to Mumbai and be invited to the Lakme Fashion Week.
Tapas tells Rediff.com's Anita Aikara about the difficulties he faced growing up physically challenged person in his Odisha village, turning to photography to find a purpose to live and wanting to have a girlfriend.
IMAGE: Tapas Chand poses with models at the Lakme Fashion Week in Mumbai.
All photographs below: Kind courtesy Tapas Chand/Instagram
Tell us about you.
I am originally from Odisha.
I have two sisters and a brother.
I lost my father when I was 12 years old.
I am presently living in Faridabad and studying in Delhi at the WLCI college.
I am doing a BTech diploma in advertising and graphic design.
IMAGE: One of his entries which helped him win the photography contest.
What were your growing up years like?
I spent 26 years of my life in one room. I didn't move out.
I was living in a village.
I chose to stay at home because the infrastructure in my village back then was not really feasible for physically challenged people.
There were stairs everywhere and it was such a hassle to move around.
At that time, there were no wheelchairs too.
Staying at home all the time made me develop bed sores.
I didn't go to school. I used to stay at home, watch TV and wait for death.
In 2007, I was very sick and that was around the time India was defeated in the World Cup.
I thought to myself that if I am not going to die now, maybe I should do something with my life.
What if I have to live till I turn 100 years old?
I had to find out something to keep me busy for the next 80 years.
My family is overprotective. My mother used to say, 'What will you do after studying? Not that you are going to get married. Not that someone will give you a job.'
But I wanted to do something for myself. I wanted to be independent.
I realised that through the years, there will be fewer people around me.
I didn't want to be dependent on someone, not even my mother.
So what did you do?
I didn't know English. I had no formal training.
So I decided to learn English and get acquainted with using a computer. But I couldn't find a tutor back home.
My sister was posted in Hyderabad because of her job.
So I went there and lived with her for four years and learned to use a computer.
I learned to speak English.
I moved to Pune with my sister, and lived there for two years. There, someone told me to learn Web design.
I tried and failed. So I decided to go to a college and learn the course.
Several colleges turned me down because I didn't have any formal education.
Later in Delhi, I found a tutor who taught me English.
I also gave my 10th standard exams through Open School.
Around that time, I visited the WLCI College and they were ready to admit me into their advertising and graphic designing course.
They wanted me to simultaneously complete my 12 standard exam. So now I am doing that as well.
What's your family's reaction now that you are getting independent?
My mother has become more sad. That's because she is very protective.
She didn't want me to study and step out of the house.
She is scared that I might fail and meet with disappointments when I go outside, so she would rather have me sit at home in my comfort zone.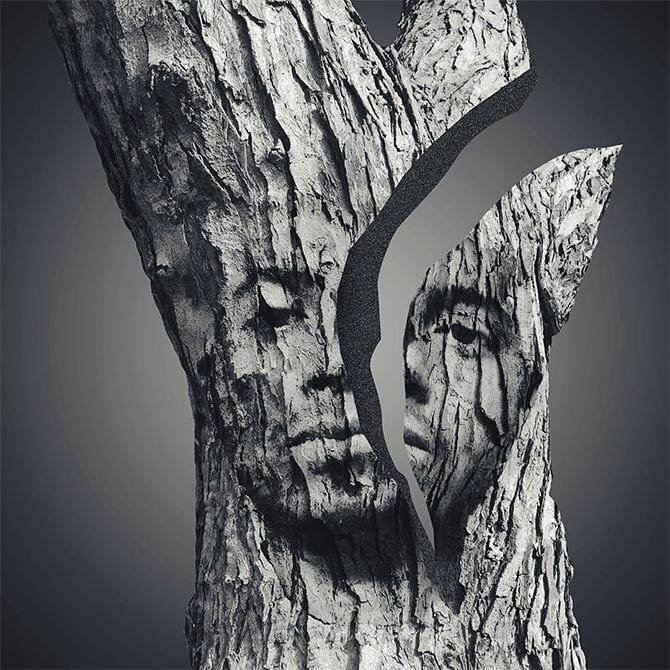 IMAGE: Tapas created this image using Photoshop. He captioned it, 'Cutting through life'.
What are the challenges you face? How have you learnt to deal with them?
In India, when people meet someone who is physically challenged, their attitude towards the person changes.
They start seeing the person as a bojh (burden).
I have learned to smile in front of these people, and let the moment pass.
This is a change I have incorporated within myself.
I have noticed that if you try to change people, they might end up changing you.
I don't want to give the remote of my life to these people, that's why I take charge of my emotions.
There are weak moments, I agree!
There are times when I get angry and sometimes I burst into tears too.
But I don't try to stop crying. I have a friend who calls just so that I can vent out.
She is the person I can share my deepest feelings with.
In Delhi, where I stay now, I have to manage, so I just make my way through the crowd.
I have become used to travelling alone.
Do you look up to someone as an inspiration?
Yes! There is a Japanese man called Daisaku Ikeda. He has won more than 360 doctorates and is a Buddhist philosopher, educator, author and activist.
He is around 89 years old.
He inspires me because I see a lot of myself in him.
He was poor and didn't have any formal schooling yet he managed to get so many doctorates.
He had TB at the age of 18, and the doctors had predicted that he wouldn't survive beyond 30.
I don't look up to celebrities because they are very fake.
A dream of your parents that you'd like to fulfill?
I wish my mother could have dreamed something. She has so many responsibilities and no time to dream.
I try to ensure that she can be independent. I keep telling her to wear jeans and step out and enjoy herself.
I barely remember if my father had any dream for me -- he passed away when I was just 12.
He was a businessman and spent most of his time concentrating on the business.
How did you get introduced to photography?
When I was in college, there was a competition on surreal photography.
I was hesitant to apply for it because I have no degree in photography nor am I an expert in it.
But the faculty of my college as well as the director felt that I should participate.
When I started taking photographs, I got excited and kept going, until the day I got a call informing me that I had won the contest.
The theme was surreal photography, which meant we had to shoot photographs and give them a surreal feel. We could use Photoshop to edit the pictures.
I didn't own a camera. So I used the 8 megapixel camera on my phone.
I didn't know where to go and click, so I clicked some pics in college. I initially thought I should click pictures of potatoes and eggs.
But I ended up clicking the trees, sky, clouds and cars.
One day I sat in my room and was going through all the photographs that I had clicked. I knew that none of them would help me win.
After thinking for some time, I decided that I'd take photographs of myself. It wasn't easy as I was clicking on my phone.
So I kept the timer for 10 seconds and started posing. There were times, before I could pose, the camera would fall down on the floor -- twice, its glass also broke.
But I was persistent. I sat up all night and kept taking photographs.
This time I felt that I will win because I had worked really hard.
I knew the competition was tough, but I didn't want to give up.
Finally, the organisers called me in the last week of January 2017 and said, 'Congratulations you have won. The prize is a two-day pass to the Lakme Fashion Week.'
I was initially not really excited, but I knew it would be a new experience and that's why I was looking forward to it.
There are so many of my friends who were so jealous of me, because I was doing something that they couldn't.
A friend that once told me, 'Tapas if you really want to attract girls, just grab a camera.'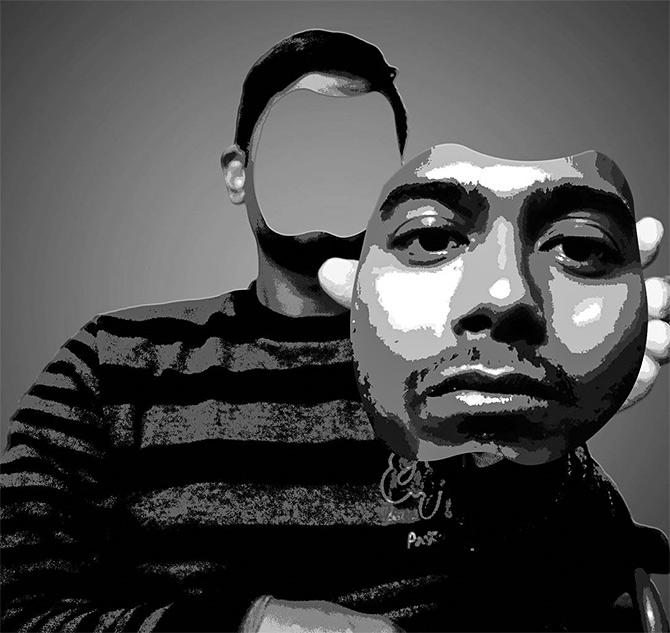 IMAGE: This image was based on fake people. He calls it the 'face off'.
Which camera do you own?
I don't own a camera. I took a DSLR from my brother after winning the competition. He was barely using it.
I don't have a degree in photography nor have I done any course. You can call me a self-taught photographer.
I am still struggling with the basics of photography, but I try to keep improving and learning.
Do you have any hobbies?
I love listening to music, both Hindi classics and English songs.
What are your fundas in life?
You should learn to appreciate small things in life.
Always smile.
Learn to dream big. Aim for the moon, you will at least fall among the stars.
I want to do something that people will remember me for. I don't want to stay at home.
I started my career telling myself that I wanted a girlfriend and started changing myself, so that people would start liking me.
I want to change the way people treat differently challenged people in India -- they should be treated like normal people.
Also the infrastructure in the country really needs to develop for people like me.
I want to also open a school for children like me.
What next?
I wish there could be a plan. I don't make plans because it never works. But I want to do something that would give me the opportunity to travel.
I still haven't found my calling and hope to find it soon.
I definitely want to become rich -- I really don't mind it if it happens right now too!
I also want to kiss a girl before I die!
MUST READ ACHIEVER features in the RELATED LINKS below.