Manasi Sadarangani shows you how to whip up a quick vegetarian pasta with local ingredients.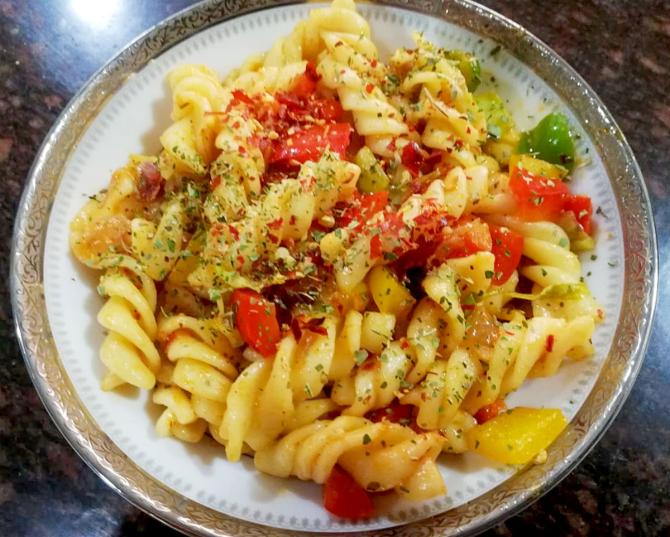 Vegetable Pasta
Serves: 2
Ingredients
500 gm fusilli pasta, cooked
1 tbsp oil
2 garlic cloves, chopped fine
½ tsp black pepper
1 onion, chopped
3 bell peppers (1 each of red, yellow and green capsicum), chopped
1 carrot, chopped fine
1 cup corn, boiled
2-3 broccoli florets
2-3 tbsp olives, sliced
1 tsp dried mixed herbs
1 tsp of any bottled pasta sauce (to add extra zest)
1 tsp tomato ketchup
½ tsp chilli flakes
1 tsp oregano
Grated cheese (optional)
Salt as per taste
Method
Heat oil in large pot or kadai over a medium flame.
Add garlic, onion and cook slowly for 2-3 minutes until onion becomes little brown.
Add corn in a kadai with other veggies.
Add bell peppers and keep flame high.
Saute till bell peppers becomes soft. Add carrot.
If you are using broccoli, first boil it and add salt in it.
You can also add broccoli while making the pasta.
Add black pepper, chilli flakes, oregano, tomato ketchup, grated cheese and salt as per taste.
Add cooked pasta in the kadai.
Stir for a few minutes so that the pasta mixes well with the veggies and other ingredients.
Garnish with mixed herbs, chili flakes and black olives (optional). Serve in a plate or else a bowl with a vegetable soup.