Satisfy your cravings with this classic Italian dessert recipe shared by food blogger Amita Bhalerao.
You can share your favourite recipes too!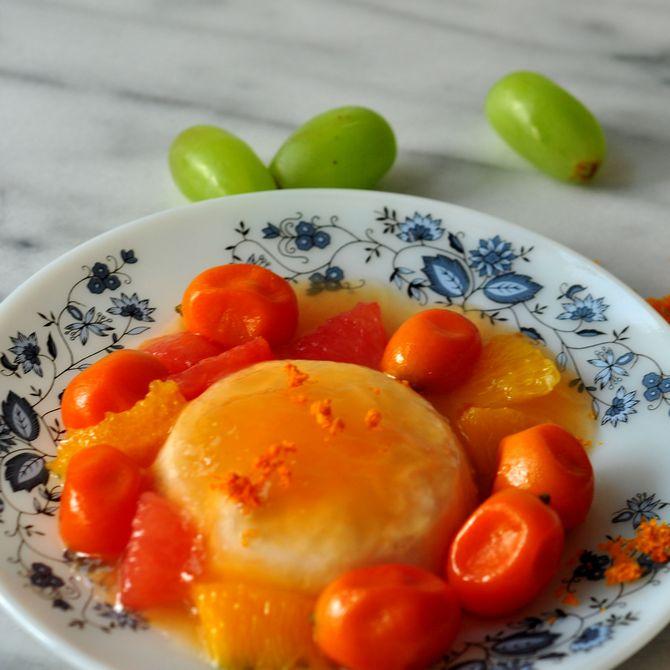 Panna Cotta is an Italian dessert and simply means cooked cream. Cream and eggs are cooked in the oven and garnished in various ways. The citrus flavours and basil used in this version, adds amazing freshness to the dessert," says Amita.
Here's the recipe:
Ingredients
For citrus jelly
Mixed citrus fruit juice (combination of orange, grapefruit and lemon to taste) A little over 1/2 cup
1/4 cup sugar
4 g gelatin powder
For basil-infused citrus fruits
1 cup Kumquats
1 orange, segmented and cut into small pieces
1/2 grapefruit, segmented and cut into small pieces
Basil leaves, a handful
½ cup sugar
50 ml water
For vanilla panna cotta
8 gm gelatin
500 ml milk
100 ml whipping cream
2 tbsp sugar
1/4 tsp vanilla extract
1/8th tsp cardamom seeds, ground
Directions
To make jelly
In a saucepan, combine the fruit juices and sugar and bring to boil. When sugar is dissolved, remove from heat.
Add the gelatin powder and let it dissolve.
Pour this mixture equally into 5 to 6 separate moulds or bowls and refrigerate for about 2 hours.
For citrus fruits
Place the Kumquats in a pan and add enough water to cover them and boil for about 5 minutes. Drain and set aside.
Boil 50 ml water, sugar and basil leaves until sugar is dissolved and remove from heat. If you have any extra fruit juice, add that to the water too.
Pour this mixture over Kumquats.
Add the segmented fruits and let the fruits marinate until ready to serve.
To make Panna Cotta
In a separate sauce pan, bring milk, cream, sugar, vanilla extract and cardamom boil.
Stir constantly so it does not burn. Simmer until sugar is dissolved.
Remove from heat. Add gelatin powder and mix.
Let this mixture cool and slightly thicken.
Make sure the jelly is set in the bowls/moulds and pour this mixture over it.
Let it set for a couple of hours in the refrigerator.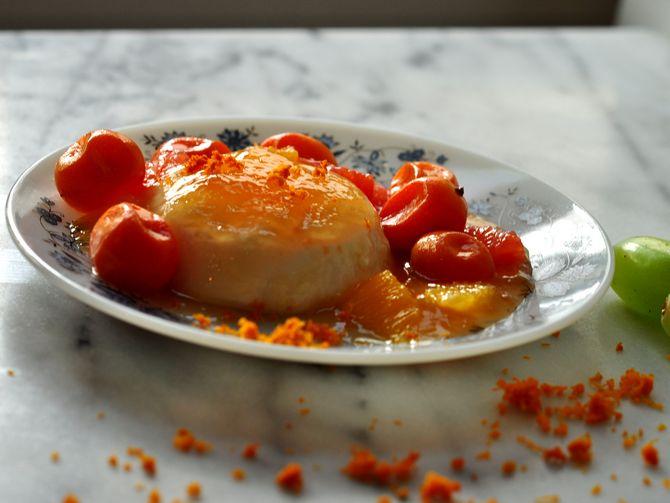 To serve, place the bowl/mould in hot water for 10 seconds and run a knife through the edges. Place a plate over the bowl and turn the plate over. The mixture should come out. If it doesn't give it a couple of pats. Enjoy this lovely spring dessert!
Photograph: saffronlavender.com
Want to share your favourite recipe? Simply e-mail your recipes to getahead@rediff.co.in (subject line: My Fav Recipe) with your name, hometown and any interesting details about the origin of the recipe, along with a photograph of the recipe, if possible. We'll publish the best preparations right here on Rediff.com and India Abroad.
Loved this recipe? Click here for more interesting recipes and food features!