CBD oil, found in marijuana, is gaining popularity for its pain-relieving properties.
It's now legally available in India, reports Amrita Singh.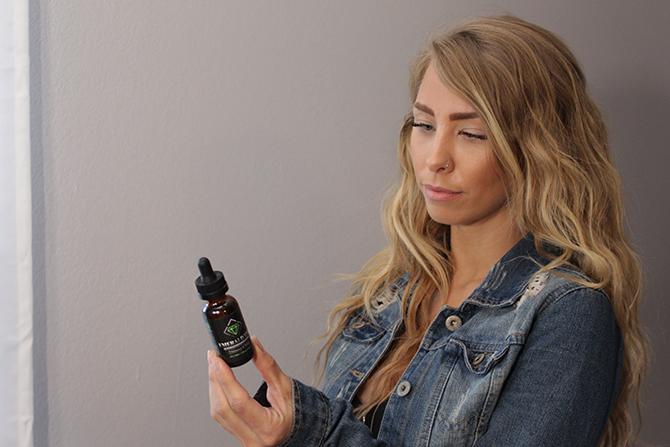 Members of the cannabis family don't find easy acceptance in our country.
The plant's bad reputation owes to the presence of tetrahydrocannabinol (THC), its chief psychoactive component.
But besides THC, cannabis contains about a hundred other components that are not primarily about the high.
CBD, or cannabidiol, is one such component.
It contains less than 0.3 per cent of THC and, therefore, doesn't trigger anything approaching a high.
Most popularly sold in the form of CBD oil, the compound has gained popularity over the last few years for its anti-inflammatory and pain-relieving properties.
Users say it is highly effective in alleviating arthritis and other chronic pains.
Besides its medicinal benefits, CBD has also become a star in the ever-evolving skincare industry since it is considered to have both anti-ageing and acne-fighting properties.
The Western market is flooded with various CBD-laced lotions, potions and balms.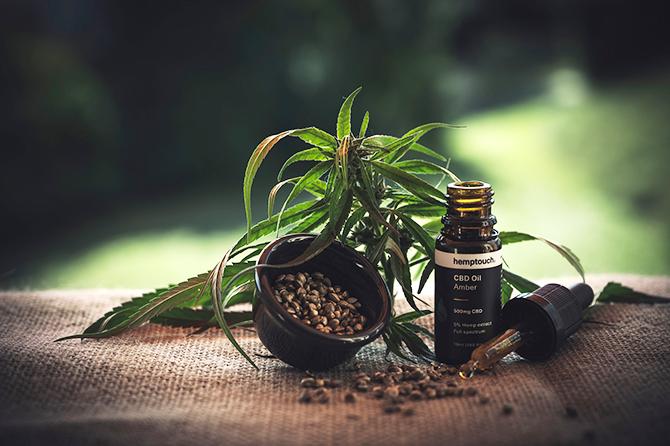 The oil is also believed to help treat sleep disorders such as insomnia.
While some research indicates that CBD oil helps in cases of anxiety and panic attacks, medical opinion on its use to treat such disorders remains divided.
"When there are both therapies and medicines available to treat anxiety, why should one opt for CBD oil, especially when there is a lack of medical evidence (about its effectiveness)?" asks Dr Samir Parikh, director-Fortis National Mental Health Programme, Delhi.
Notwithstanding the doctor's argument, the side effects of anti-anxiety pills -- blurry vision, confusion, loss of memory, headaches -- have people turning to CBD oil.
Aditya Shekhawat, a final-year student at Delhi College of Arts and Commerce, developed anxiety about two months ago and after consulting with his therapist, he decided to try CBD oil.
He procured his bottle of ingestible CBD oil from an Israel-based research and development laboratory.
The oil has to be administered sublingually.
"The effect of CBD oil kicks in after two or three hours. So it's not as quick as the usual prescription drugs to treat anxiety, but it definitely helps me feel calm," says Shekhawat.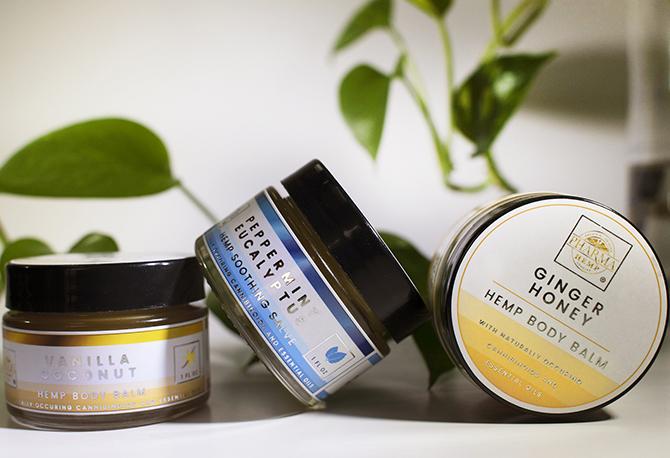 Similarly, Anmol Prithiani, a student at Sciences Po in Paris, uses CBD oil to manage her anxiety.
Prithiani isn't sure if her feeling calmer is a placebo effect or whether the oil genuinely helps.
She's just happy that she's not as anxious as she used to be.
But she also cautions that one can start developing immunity to CBD oil.
"My flatmate who introduced me to it now uses an oil with higher CBD content. The one with smaller dosage doesn't seem to help her anymore," she says.
Derived from the cannabis plant, CBD is believed to alleviate pain, even in patients in advanced stages of cancer.
Gurugram-based restaurateur Udbhav Avantsa would put a drop or two of CBD oil on a slice of bread and give to his mother who was suffering from oral cancer.
"Her body had started becoming resistant to the medicines she had been taking for several months. At that point, CBD oil helped relieve her pain, with almost no side effects," he says.
Though the cancer eventually claimed his mother's life, Avantsa says she was in far less pain, thanks to the oil.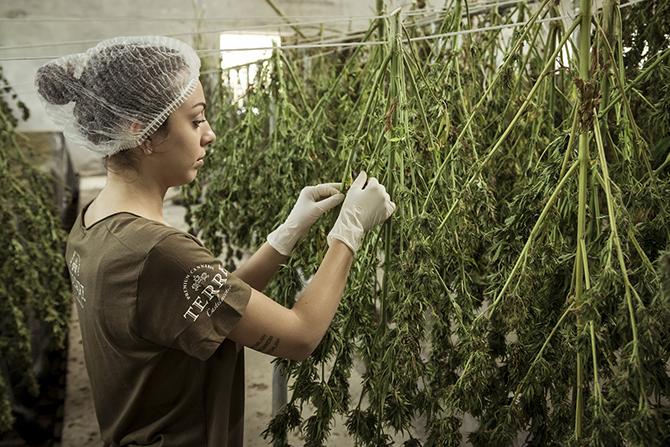 A Harvard University study states that CBD is highly effective in treating childhood epilepsy syndromes such as Dravet syndrome and Lennox-Gastaut syndrome, which typically do not respond to anti-seizure medication.
During trials, CBD was able to reduce the number of seizures and in some cases stop them altogether.
Following such evidence, the US food and drug administration approved Epidiolex, the first-ever cannabis-derived medicine, for these conditions in 2018.
However, Epidiolex continues to remain the only such drug available since CBD still hasn't received full support from the medical world.
Now if you had to procure CBD oil before November 2019, you'd have had to source it from, say, Australia, Canada or some European Union countries.
Or else, make it at home -- at the risk of inviting legal action, since the oil was not legally available in India until then.
That changed two months ago following approval from the ministry of AYUSH (Ayurveda, Yoga, Naturopathy, Unani, Siddha, Sowa Rigpa and Homoeopathy), the government body tasked with developing and regulating alternative medicine.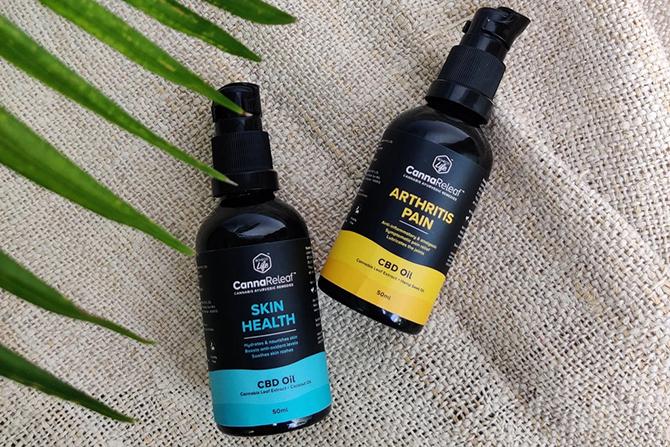 Soon after, the Bombay Hemp Company (BOHECO) produced its first batch of application-based CBD oil in India.
While the oil can be applied on the body, it is not meant to be ingested. Ingestible CBD-based products are expected to be available by the end of February.
BOHECO, an agro-based company, has been at the forefront of creating a market with hemp-based products since it was set up seven years ago.
Hemp, another member of the cannabis family, is like marijuana's sober cousin -- a sustainable option for making cloth fibre and healthy food products, including the nutrient-rich hemp-seed oil.
However, hemp-seed oil is still thought of as another contentious oil simply because it belongs to the cannabis family.
It has been available for sale in India since 2018, after Uttarakhand became the first state to allow hemp cultivation.
"While hemp-seed oil is extracted from the seeds of the cannabis plant, CBD oil comes from the flowers and leaves of the plant," says Rohit Shah, co-founder of Health Horizons, an online retailer of organic products that also makes hemp-based products.
Shah adds that it took a year-and-a-half to convince the authorities that they weren't planning on producing illegal products.
Both hemp-seed and CBD oil are categorised as Ayurvedic products.
(Hemp-seed oil also contains traces of CBD.)
"We simply used science to justify the cultivation of cannabis," says Yash Kotak, co-founder, BOHECO.
He claims the company managed to sell its first batch of CBD oil within a month of launching it.
While CBD oil for skin health is available for Rs 749 (100ml) the one to treat arthritis pain starts at Rs 949 (100ml).
So far, these products are available only online on the company's Web site.
Despite the purported benefits of CBD oil, some people may experience side effects such as fatigue, nausea and irritability.
The claims, especially on social media, that the oil can cure cancer, meanwhile, are exaggerated.
Research on CBD oil is still in its infancy and statements such as these are irresponsible.
While the oil is helpful for managing aches and anxieties, only further research can identify the effects of long-term use of the oil.