The Biju Janata Dal MP from Dhenkanal says crime will come down if cannabis is legalised. Nikita Puri reports.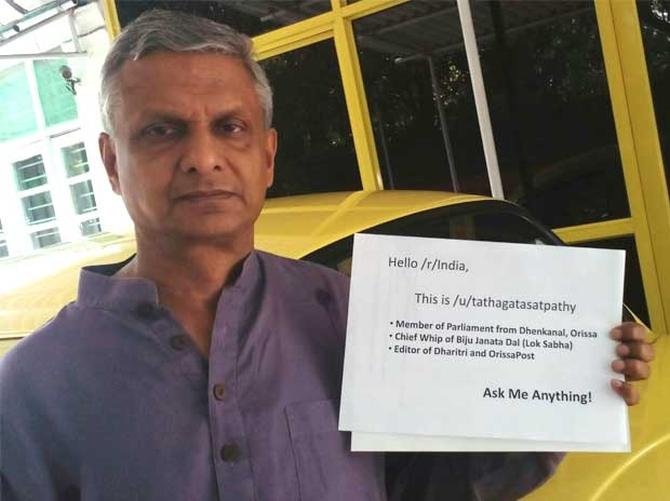 Even on the phone, Tathagata Satpathy comes across as confident and candid. When I ask the 59-year-old Biju Janata Dal MP from Dhenkanal in Odisha for an interview, he laughingly asks, "Why, what have I done?"
Actually, a lot. His recent refreshingly unconventional pronouncements could well make him India's coolest lawmaker.
In the twisted world of politics, he comes across as straightforward and honest -- after all, which Parliamentarian would admit to smoking pot while in college?
"I have smoked (and unlike [Bill] Clinton who inhaled) cannabis many a time. In villages of Orissa (Odisha), many people openly smoke and, as their representative, I am not entitled to be judgmental," wrote Satpathy in an AMA (Ask Me Anything) session on Reddit earlier this year.
To this, one AMA enthusiast said, "A BJD MP is officially cooler than the CEO of Zomato. Ha ha," and another wrote, "You are the politician India needs."
Then last week in the Lok Sabha, while the treasury and opposition benches slung mud and worse at each other, the Biju Janata Dal's chief whip demanded that cannabis be made legal.
"In the villages of my constituency, old people, venerable people used to smoke marijuana. Today, by imposing ban on natural substances, which people have been using for ages, from the time of Shiva, we have actually forced a lot of these people to move on to alcohol," Satpathy said.
And alcohol, he added, had caused the crime rate to spiral.
Satpathy is a man who cuts to the chase.
Before our conversation takes off, he questions, "If you were in my constituency, would you vote for me?"
Would you believe me if I said yes, I ask. "Of course I would believe you," he says, "How do you think I've been re-elected four times?"
Elaborating on his stand on cannabis, Satpathy insists he has never met anyone who is a chain cannabis smoker.
"By criminalising non-addictive minor drugs like cannabis, the law of the land unknowingly encourages other addictive, stronger drugs and alcoholism. Research has shown that cannabis not only has recreational, but also medicinal and industrial use," he says.
The argument might be old, but to hear a Parliamentarian articulate it is a first, especially in a country with outdated notions on morality.
Did Satpathy not fear a backlash from within his party for taking an unconventional stand?
He quickly says that BJD leader Naveen Patnaik "is one of the most modern and liberal free thinkers in present day India" and that Patnaik has never imposed his will on him.
Contrary to a backlash, Satpathy says he has received words of encouragement from across the country.
Freedom of choice seems to be a recurrent theme in the battles Satpathy has chosen to fight.
It is this which made him wade into the debate over net neutrality some months ago after Bharti Airtel started a scheme where some websites would pay a part of the user's internet charge.
In a letter to the Telecom Regulatory Authority of India, Satpathy compared the Internet to electricity.
"If you start charging people separately for electricity that is used for heating, cooling, entertainment et cetera, there will be a massive outrage about that. The Internet is essentially the same," he wrote.
Detractors would say it is like buying motor insurance: A carmaker may offer it free to the buyer, and it is absurd to put the same price tag on all policies. In their world, net neutrality is a "manufactured debate".
None of that cuts much ice with Satpathy.
"The main concern is the overt control big companies will impose on netizens," says Satpathy. "Internet is the future and it is the only true international democratic space we have left to express ourselves. I supported the cause because I want it to stay that way."
To the idea that net neutrality is more or less a Utopian concept where everyone is on the same level field, Satpathy begins by saying how man has always dreamed of Utopia and how "the present situation existing in the Internet may be considered Utopian". Sadly, he says, "The new push is towards more barriers and impediments. Millions are coming online every year. They will flourish only if there is a non-intrusive Internet."
There are other instances too where Satpathy has challenged conventional wisdom. In the recent Constitution Day debates in Parliament, when Home Minister Rajnath Singh was deliberating on the official Hindi translation of secularism, Satpathy spoke about language not being relevant and went on to question Hindi's status as the national language because majority of our population uses it.
"I am allergic to this Hindi = Hindu = Hindustan thought. The beauty of India is in its diversity. Some think that by forcing Hindi under the guise of the national language, they can control social and political behaviour," he says, adding that every language must be cherished and encouraged.
"In my speech on November 26, I had tried to float a thought wherein more than secular we need to become areligious," shares Satpathy.
Areligiosity to him means complete and total indifference on the part of the government towards every religion.
"Therefore, ushering in a Uniform Civil Code would equalise the legal aspect for every citizen. It would also ease the judiciary from the burden of unnecessary litigation," says Satpathy who is also the editor of Oriya daily Dharitri and the English daily Orissa Post.
When I ask why he prefers Orissa instead of Odisha, Satpathy says: "I have heard of people going to court to change the names their parents gave them. I am of the strong opinion that changing an Aurangzeb Road to Abdul Kalam Road offers neither respect nor love to anyone."
On Reddit, Satpathy spoke about how "pointless" the name change exercise is.
"I have not supported the change in the English spelling of the name of my state from Orissa to Odisha. I believe some Rs 300 crore went down the drain in changing rubber stamps, letter heads and signboards and also the whole legislative process."
A factor that greatly upped his ranking on the social media after Satpathy's Reddit session was his reference to English rock band Pink Floyd's Ummagumma album.
"My favourite artistes are Grateful Dead, BB King, Creedence Clearwater Revival, Jimi Hendrix, Roger Waters and Eminem," says Satpathy, who holds a private pilot licence with ratings for the Pushpak and Cessna 152A.
A non-conformist, Satpathy doesn't falter before speaking his mind, even if that means going against the political ideologies of his parents: his mother Nandini Satpathy, the former chief minister of Odisha, was part of the Congress during Indira Gandhi's time.
His father, Devendra Satpathy, who represented the same constituency as his son, had a stint with the Congress, followed by the Bharatiya Lok Dal that was born in opposition to Gandhi's autocratic ways.
"My father had ordained that politics shall not be discussed at the dining table and Ma always encouraged independent thinking; she was not upset when I joined the anti-Congress Janata Party," says Satpathy.
"Usually one notices political heirs following footsteps (and party) of the parents for ease of getting a support base. Since I did not do that, the struggle was initially difficult but more comfortable later as it suited my temperament and ideologies."
As someone who believes in tapping into the many benefits the internet offers -- he even suggested we opt for a Google Hangout session for this interview -- Satpathy's not hot on Twitter or Facebook.
On Reddit, Satpathy said he liked the 'anonymity' that the platform offers.
"The trolls and bhakts on Twitter and Facebook irritate me. I have noticed good people get muzzled and threatened. A forum like Reddit offers people anonymity and lets them be anonymously honest," he says.
"So it is not my anonymity but that of others that I like."