'If you are ready to stomach the loss, you may invest 3-5 per cent of your portfolio in crypto assets.'
'Of this, 80-90 per cent should be in Bitcoin.'
Bindisha Sarang finds out more.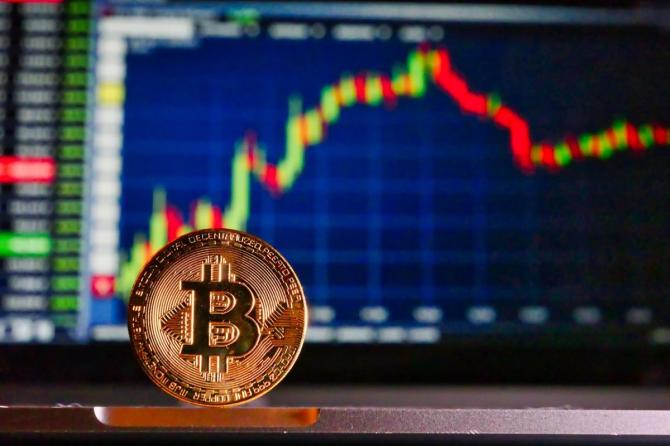 The crypto currency space is witnessing the sort of mania seen in the stock markets in 1999-2000 and in 2007.
New offerings are being announced at regular intervals.
Last fortnight, for instance, Bitcoin reached an all-time high as investors cheered the successful launch of the first US Bitcoin futures exchange-traded fund (ETF).
Even in India, things are heating up, with Bollywood stars and sport celebrities taking the plunge into the crypto world.
While Salman Khan has endorsed social tokens, Amitabh Bachchan and Rishabh Pant have thrown their weight behind non-fungible tokens (NFTs).
Mutual fund-like offerings for cryptos have also been launched.
Invest in a basket of cryptos
Mudrex, a global algorithm-based crypto investment platform, has recently launched coin sets, a mutual fund-like investment product in cryptos for retail investors.
Says Edul Patel, CEO and co-founder, Mudrex: "Cherry-picking cryptocurrencies can be a daunting task for investors. Coin sets are theme-based bundles of cryptocurrencies that are actively managed by experts. They allow investors to diversify their investments across a theme, thereby minimising risk."
Coin sets may be regarded as the mutual funds of the crypto universe.
They contain a number of similar tokens that have different weights.
They allow investors to ride the gains on different tokens belonging to a particular theme.
For instance, a coin set called 'NFT' is a basket of the top six NFT projects.
Those investing in coin sets don't need to time the market.
Says Patel: "Small investments spread across time will help average out the buying cost."
Note that coin sets are market-linked investment products.
The volatility inherent in cryptocurrencies will impact the constituents of coin sets as well.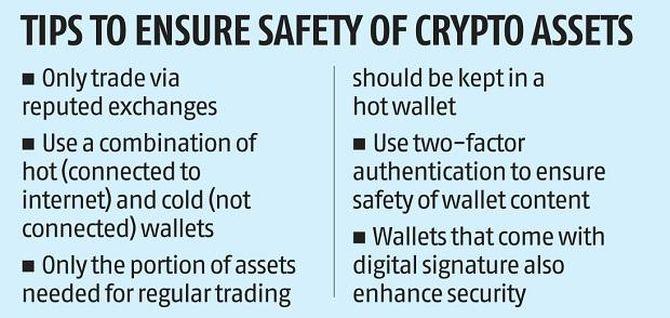 NFTs: Invest in digital art
NFTs were launched in India some time ago. However, their popularity has soared now with celebrities beginning to endorse them.
An NFT is a unique digital item.
Says Kyle Lopes, co-founder, BollyCoin, an NFT marketplace: "NFTs act as certificates of authenticity or units of information that are verifiable on a blockchain. Artists retain the copyright and reproduction rights."
Adds Vishakha Singh, vice president and advisor, WazirX NFT Marketplace: "The digital item can be art, audio, videos, items in video games and other forms of creative work. NFT can be stocked by collectors. These digital assets give a unique opportunity to both investors and creators to invest in a different asset class that gains in value over time."
NFTs are unique tokens and can't be replaced by another 'identical' item.
Creators can place their digital assets on auction over the blockchain-based NFT marketplace.
If you are an artist, you can create a piece of art, create an NFT for it, and then sell it.
Buyers can buy these creations, either as collectibles or for trading.
Bollywood artistes such as Amitabh Bachchan, Salman Khan, Suniel Shetty, Sunny Leone and singer Kailash Kher are backing NFTs.
You get the digital ownership (copyright).
If you buy art in the real world, there's a paper that states the piece of art belongs to you.
On blockchain, unlike paper, there's no chance of forgery.
An NFT is also a liquid asset that can be traded easily.
Investors betting on this asset class must understand its risks.
Says Lopes: "This new asset class comes with high price volatility. People have paid exorbitant prices for NFTs. Collectors should be mindful of buying into this hype."
Think hard about whether the NFT has any intrinsic value that can grow sustainably.
Social tokens
India's first crypto token GARI was launched by micro-content, short-video app Chingari.
More such offerings are expected to hit the market soon.
A crypto token is a virtual currency token or a denomination of a cryptocurrency.
It represents a tradable asset or utility.
Says Sumit Ghosh, CEO and co-founder, Chingari: "Cryptocurrencies, such as Bitcoin, are the native assets of a blockchain. Tokens, on the other hand, are built on an existing blockchain using smart contracts. They can be used for investment purposes, to store value, or to make purchases."
A social crypto token allows a content creator to directly monetise his creations without using an intermediary.
Content creators issue their own tokens which their fans buy.
Only a limited number of tokens are issued.
Rising demand pushes up their value, allowing the creator to compensate himself.
The idea is akin to David Bowie issuing Bowie bonds in the nineties.
Should you invest?
Given the nascent character of all these assets, most financial advisers currently ask their clients to stay away from them unless they are prepared to write off those funds.
Those bent on investing in these assets should risk only a small part of their portfolios.
Says M Barve, founder, MB Wealth Financial Solutions: "If you are ready to stomach the loss, you may invest 3-5 per cent of your portfolio in crypto assets. Of this, 80-90 per cent should be in Bitcoin. The rest of the corpus should be employed with the mindset of learning about new financial offerings."
How will they be taxed
Currently there is no clarity from the tax authorities regarding how gains from these assets should be taxed.
Says Sameer Jain, managing partner, PSL Advocates & Solicitors: "What can be referred to as a safe harbour will emerge once there is clarity on the subject. For now, the advice to tax filers is that if the cryptocurrency was bought solely as an investment, any gain will be taxed under the head income from capital gains."
"But if there were frequent transactions involving substantial sums," adds Jain, "income from the sale of cryptocurrency will be taxed as business income."
Feature Presentation: Aslam Hunani/Rediff.com