As lobbying and counter-lobbying intensify, right now, it looks like a T20 match, discovers Tamal Bandyopadhyay.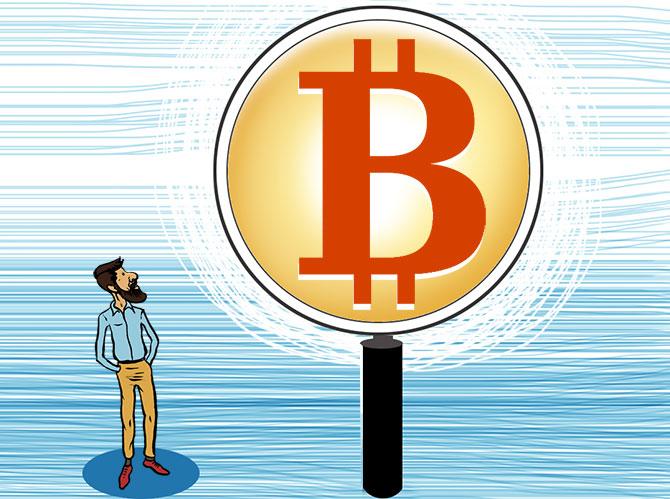 Is it a bird? Is it a plane?
At a 1992 World Cup match at the Gabba, commentators were at a loss as they wondered when and how South African cricketer Jonty Rhodes had sent Pakistan's Inzamam-ul Haq back to the pavilion. It had all happened in a flash.
The Indian central bank's reaction to cryptocurrency is somewhat similar.
Watching its spectacular rise, the Reserve Bank of India is wondering: Is it a currency? Is it a payment system? Is it an asset? The difference is that it's not a flash.
Blockchain data platform Chainalysis says crypto investments in India have grown some 200-fold in the past year, from about $200 million to nearly $40 billion.
There are more than 15 million cryptocurrency traders in India -- about two-third of the number in the US and more than six times that in the UK.
On May 31, when the RBI issued a release saying its April 2018 circular, which had banned banks from dealing with virtual currencies and Bitcoins in any form, was no longer valid and that no bank should quote it to reject cryptos, since the Supreme Court of India had set that circular aside, there were cheers by investors.
But those cheers didn't last since the release also said banks must carry out customer due diligence in line with regulations governing standards for know your customer (KYC), anti-money, combating of financing of terrorism and obligations of regulated entities under the Prevention of Money Laundering Act as well as the Foreign Exchange Management Act.
These make it impossible for banks to deal with cryptocurrencies because of its very nature.
The persons who engage in cryptocurrency transactions are not known; digital signatures serve as identities of those who are involved in such transactions.
The RBI has issued at least three releases, including one in April 2018 (set aside by the apex court), cautioning both the regulated entities and the public against the 'risks' associated with cryptocurrency.
Armed with them, many large banks, both private and government-owned, have dissociated themselves from cryptocurrencies.
The RBI's May release is unlikely to reverse the trend.
Why is the RBI against cryptocurrency? They can't be slotted. They are neither a commodity, nor a currency, nor part of the payments system.
Simply put, cryptocurrencies such as Bitcoins, Ethereum, Litecoin, Cardano, Polkadot, Steller and many others, defy classification.
The regulator doesn't consider this as a currency as it is not issued by the central bank and doesn't have sovereign backing.
Its price fluctuates; it has poor storage value; and it's not widely accepted.
It's also not part of the payments system, like a credit or a debit card or internet banking.
Since the transactions are anonymous, they are outside the ambit of public scrutiny.
This has serious implications for KYC norms and is fraught with risks of money laundering and terror financing.
The very nature of anonymity is also not in sync with the capital control regime as the transactions cannot be tracked.
Since August 1993, there is full current account convertibility in India but capital account convertibility is still a work in progress.
Current account convertibility gives us freedom to convert rupee into any internationally accepted currencies and vice versa, while capital account convertibility allows us to carry out all investment transactions across geographies without constraints.
Also, according to the RBI, a cryptocurrency cannot be classified as an asset since there is no future cash flow; its value fluctuates because of speculation.
Besides, there is no consumer protection. Once one misplaces the password, there cannot be any transaction as there is no central issuing authority for such currencies.
Finally, cryptocurrencies are a big energy guzzler.
El Salvador, the first country in the world to accept Bitcoin as legal tender, is reportedly exploring whether energy from volcanoes can be harnessed to power the mining of the cryptocurrency.
In February, answering a question in the Rajya Sabha, Finance Minister Nirmala Sitharaman said: 'A high-level inter-ministerial committee constituted under the chairmanship of secretary (economic affairs) to study the issues related to virtual currencies and propose specific actions to be taken in the matter recommended in its report that all private cryptocurrencies, except any virtual currencies issued by state, will be prohibited in India.'
Besides the RBI, executives from India's capital market regulator and insurance regulator were on the committee.
I hear that the committee has expressed strong reservations about cryptocurrencies as they could jeopardise financial sector stability (because they are not issued by any central monetary authority).
However, it is not against blockchain, the underlying technology for such currencies.
Blockchain is a system of recording information in a way that makes it difficult or impossible to change, hack or cheat the system.
It is a digital ledger of transactions. The committee is in favour of exploring the enormous possibilities of blockchain for various purposes, including keeping land records.
Finally, it has recommended a central bank's digital currency.
What's that? A wallet or an electronic purse issued by the RBI.
While the Federal Reserve, Bank of England and even the European Central Bank are moving towards the so-called central bank digital currencies (CBDCs) at a snail's pace, China has already claimed success of its first pilot project of digital yuan currency.
Around 181,000 consumers were given yuan 55 free in digital wallets to spend at the Double Five shopping festival in Suzhou City, near Shanghai in eastern China, between May 1 and 5.
Despite the RBI's strong reservations, investment in cryptocurrencies by Indians has been growing even though we lag other markets, ranking 18 out of the top 25 countries by estimated Bitcoin gains in 2020, according to Chainalysis.
The US tops the list ($4.1 billion) followed by China ($1.1 billion), Japan ($900 million), the UK ($800 million) and Russia ($600 million).
A recent Bloomberg report quoted a banker who had invested more than $1 million into crypto assets, saying that with no clear income tax rules at present he was concerned about the possibility of retrospective tax raids if he was publicly known to be a big-ticket crypto investor.
He has got contingency plans in place to move his trading to an offshore Singapore bank account if a ban was to be introduced.
The Cryptocurrency and Regulation of Official Digital Currency Bill 2021 was to be introduced in Parliament's Budget session, but the government is still discussing it with the stakeholders.
It is supposed to ban all private cryptocurrencies and prepare the ground for a CBDC in India.
If indeed that happens, the RBI will feel happy because in its lexicon, cryptocurrency is a phenomenon -- it's not an asset but a Ponzi scheme.
But, will the government ban cryptos?
The cryptocurrency story in India may not have an abrupt end.
As lobbying and counter-lobbying intensify, right now, it looks like a T20 match.
We need to wait till the last over is bowled.
Tamal Bandyopadhyay, consulting editor with Business Standard, is an author and senior adviser to Jana Small Finance Bank Ltd.