IIT-B director denies controversy over wearing khadi at the convocation ceremony next month.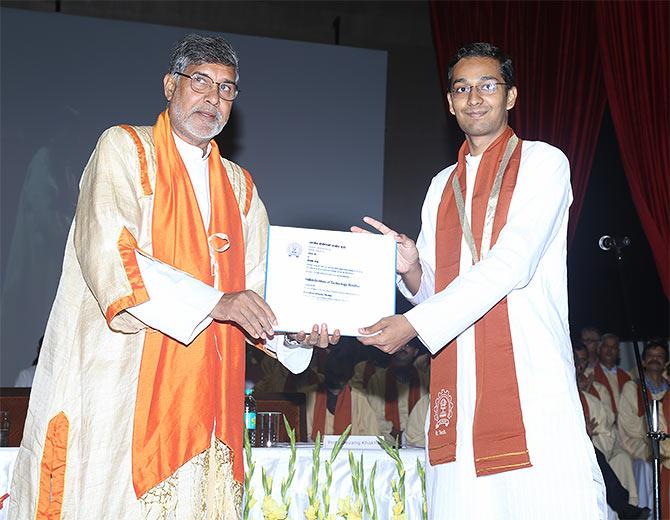 IMAGE: Nobel Laureate Kailash Satyarthi, the chief guest at last year's convocation at IIT-B, presents a graduation certificate to a student. Photograph: Kind courtesy, IIT Bombay
The decision to present a khadi uttaria as a memento to graduating students was the initiative of the Institute of Academic Office at the Indian Institute of Technology-Bombay, an autonomous body, which did not confer with IIT-B Director Devang Khakhar before taking this decision.
An online notice (external link) announcing IIT-B's 'Invitation to the 54th Convocation', warns students that 'Those who do not take the 'Uttaria' will not be permitted to receive the degree in person on 13th August 2016.'
The same notice says: 'Uttaria' will be issued in the Academic Section from Monday the 8th August, 2016 to Thursday the 11th August, 2016 between 10.00 am & 5.00 pm on production of their Institute Identity Card. The 'Uttarias' will not be issued thereafter. Those who do not take the 'Uttaria' will not be permitted to receive the degrees in person on 13th August, 2016.'
Professor Khakhar, left, below, said that wearing of the uttaria is compulsory every year for students who receive their degrees and IIT-B gives it free.
The IIT-B director spoke with Rediff.com's Prasanna D Zore.
Could you clarify whether graduates at IIT-B's convocation this year will be wearing a khadi angavastram or a khadi stole? There are newspaper reports saying that the students will be given a white khadi angavastram...
Every year the students wear white clothes for their convocation and the institute (IIT-B) gives them a coloured uttaria, which is actually a long stole which they wear. And depending on their degrees they wear different colours of uttaria.
This year we placed the order -- not me, but the Institute of Academic Office of IIT-B -- for these uttarias with khadi as the fabric. That's all. Only the fabric will be khadi this time.
How many of these uttarias have been ordered for this year's convocation ceremony?
I don't know, but there will be enough for the students who will pass out this year.
Have you ordered 3,500 uttarias?
Yes, but maybe it will be used for more than a year. We will use them next year too. Each year, about 2,000 students graduate from IIT-B. They may have got a few extra so perhaps next year too they can be used.
These uttarias will be given to the students as a memento on their passing out.
People are linking the usage of khadi as a fabric for these uttarias to Prime Minister Narendra Modi's call to use more khadi by Indians.
Was there any pressure on IIT-B to use khadi uttarias instead of the uttarias you use every year?
There was no communication from any ministry about this. This is an entirely... not even an initiative of the institute (IIT-B).
It is the Institute of Academic Office which chose khadi this year and it is their prerogative.
The Institute of Academic Office is one section of IIT-B.
Are they required to confer with you before making such a decision?
No. I was not a part of this decision. The Institute of Academic Office has the autonomy to make their own decisions in these matters.
Your advice to Indian students to excel in their academics or overall personal development...
Every student should make an attempt to excel in their studies so that they can prepare themselves well for their careers and be able to contribute to the progress of the country.
Three things that they must do to get into an IIT...
IITs are not the only institutes of excellence in this country. There are many good institutes outside of the IITs.
What does it take for a student to get admission into an IIT?
They should have strong interest in technical subjects like physics, chemistry, maths, first of all.
Photograph published only for representational purposes.