Standing tall at 5 feet 11 inches, Nisha Yadav from Jaipur has made her mark in the modelling world.
A regular face at Lakme Fashion Week, she studied law at Rajasthan university and is a practising lawyer.
Way back in 2019, when Nisha had just started walking the ramp at LFW, Smriti Irani shared her inspiring story (external video) revealing that the model walked 6 km one way daily to reach school.
Nisha grew up in a village close to Kotputli in Rajasthan. Her father is a farmer.
Before heading to school, Nisha and her sisters would bathe and feed the buffaloes on their farm.
"Back in my village, roads are not wide enough to accommodate four-wheelers. You can walk it out, or take a bike or cycle," she reveals in an interview with Anita Aikara/Rediff.com.
Nisha has six siblings -- five sisters and a brother.
"It is because of papa that my sisters and I are educated.
"People in our village would ask him why he was encouraging us to study.
"They would say 'tu kyu paise waste kar raha hain? (why are you wasting money?), teri ladkiya aise kya bada kar lehgi? (what will your daughters accomplish?)?'"
"But he believed in us and wanted us to do well academically."
Today, Nisha's sisters are all well placed.
The eldest is a software engineer. One of them is an IAS officer, another sister is a sub-inspector in the Delhi police.
Another sister is completing her PhD. Nisha practices in the high court as a lawyer.
"The youngest, my brother, has studied medicine. All of us have chosen very different career paths."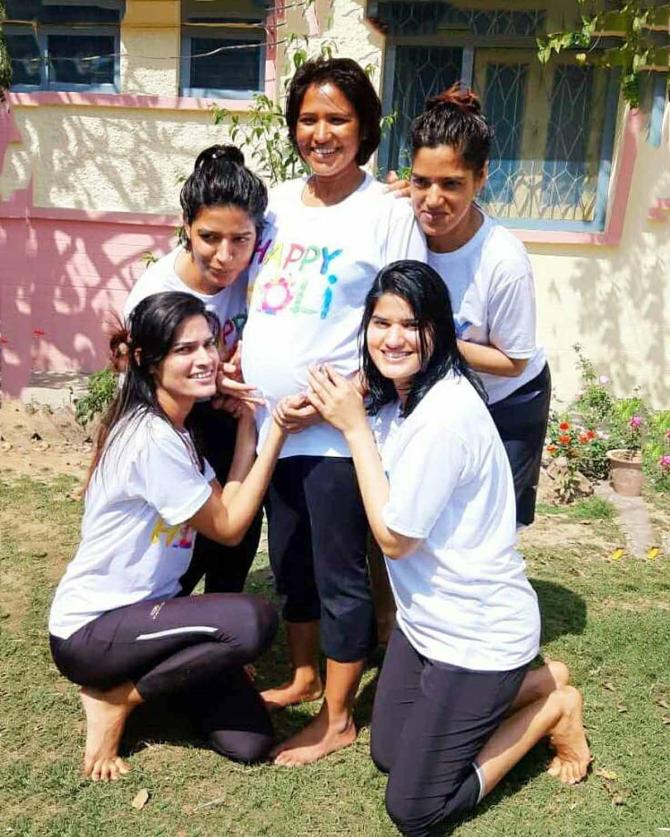 Nisha studied in a government school and could barely talk Hindi or English when she joined an engineering college in Jaipur.
That's probably why the extremely talkative girl barely spoke in her first year.
"I feared people would make fun of my pronunciation and poor command over Hindi and English."
"I used to get pocket money of ₹1,500 and didn't own a phone in my first year of engineering.
"Every weekend my batchmates would party or go explore Jaipur.
"Even though I wished, I couldn't step out with them because I didn't have that much money.
It was at engineering college that Nisha got introduced to fashion shows that would take place during college fests.
In her final year, she read about a beauty pageant and decided to participate in it.
"I won that pageant and my photo was published in the newspaper," she says.
"I wanted to pursue modelling, but I also had to complete my master's in economics from Ajmer."
WATCH: Nisha Yadav tells Rajesh Karkera/Rediff.com about modelling during COVID.
After finishing her master's, Nisha started studying for the Union Public Service Commission examination.
"I used to study for 18 hours a day and would get frustrated."
That's when she heard about the Miss Rajasthan pageant and decided to give it a shot.
On the same day, Nisha had to give an SBI probabtionary officers entrance test.
"I left home to give the test, but as I had already filled the online form for the beauty pageant I went there instead."
"I wasn't carrying any make up, except for foundation. So I put on a lot of it.
"I looked very funny as I was all caked up. The other contestants laughed at me."
Nisha was shortlisted among 28 girls and and 15 days later she was invited to participate in the finale.
"A day before the finale, I informed my family. My father was initially upset, but he eventually agreed.
"I didn't win the pageant and was very disappointed. I felt it was unfair because I deserved to win."
"At that time my family told me to stop pursuing modelling and focus on my studies. So I got back to studying," she recalls.
A year later Nisha enrolled in a government college and started her law studies."
"But I kept feeling that I was cut for modelling." So, she kept trying.
Every failure and rejection was met with renewed energy and enthusiasm.
"I have zeal," she laughs. "I'm a proud daughter of a farmer."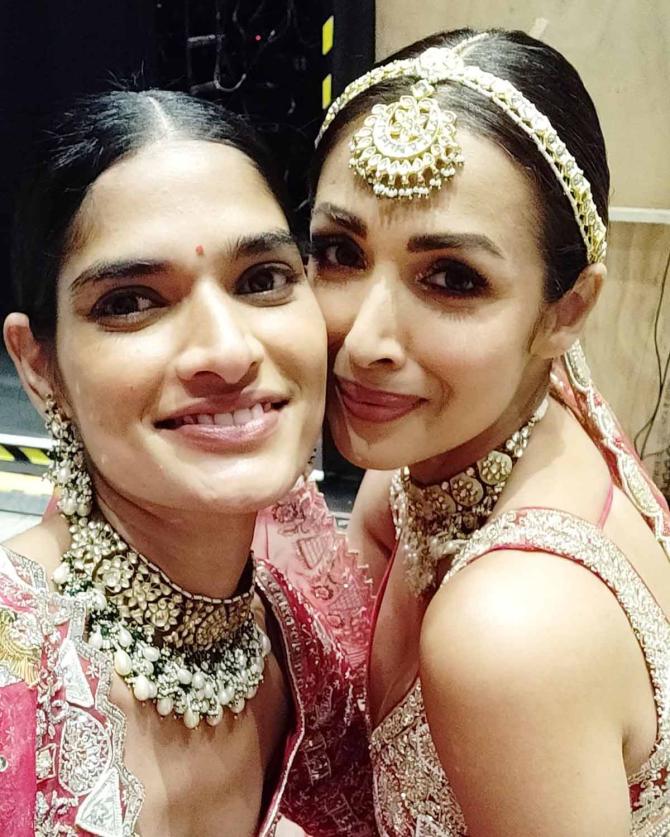 Recalling the time she wore a bikini for India's Next Top Model, Nisha says, "I was extremely conscious to wear a bikini. I thought it won't look good on me."
"I also kept thinking what papa would say as I hadn't told him about it."
"When my sister spoke to him, he asked her what a bikini is and she said, 'chaadi-baniyan'.
"My father was so livid. 'Yeh bhi din aageye hain kya?'," he asked Nisha.
"After a lot of coaxing, he was okay with it."
"Even today several people taunt him, saying 'teri beti chaadi-baniyan pehenke paise kamati hain'."
"But he does not react. He knows what I'm doing and that's important."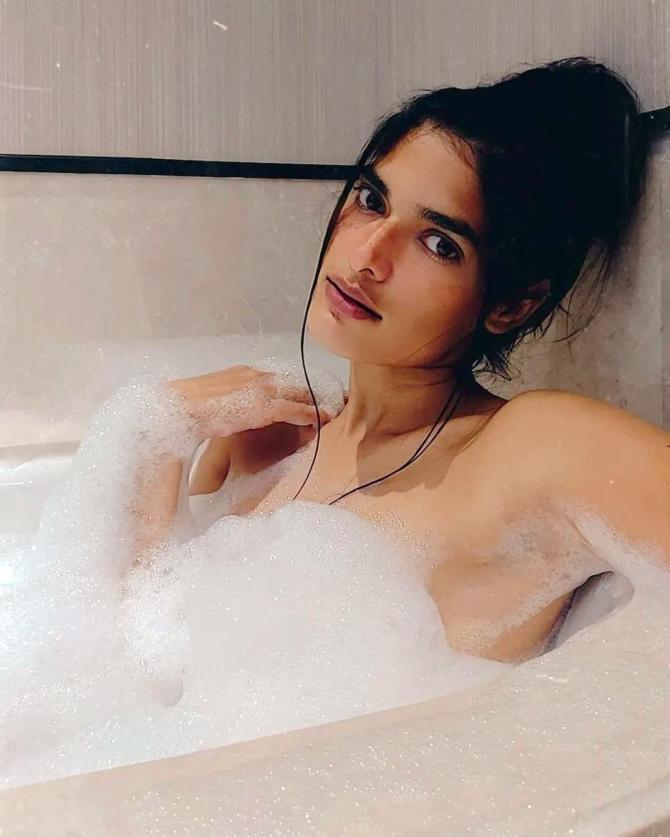 Nisha was the first runner-up in the India's Next Model competition and moved to Mumbai after the event.
She spent six months in the city and left for Jaipur to give her second year law exams as she wasn't getting a modelling break.
"My family was staying in a rented house and my parents wanted me to get a job. I decided to leave home and return only when I made a mark for myself."
She moved to Delhi and decided to start an internship in advocacy.
Post the internship Nisha discovered that she had a lot of free time.
So, once again she started pursuing her modelling dreams, and six months after India's Next Top Model Nisha got a chance to walk at LFW in 2019.
"It was such a big opportunity as I got to walk for 10 designers," says the model who hopes to walk for Milan Fashion Week.
At LFW, Nisha met Minister Smriti Irani who introduced the model on her Instagram page.
"That's when my life changed. The hard work had finally paid off."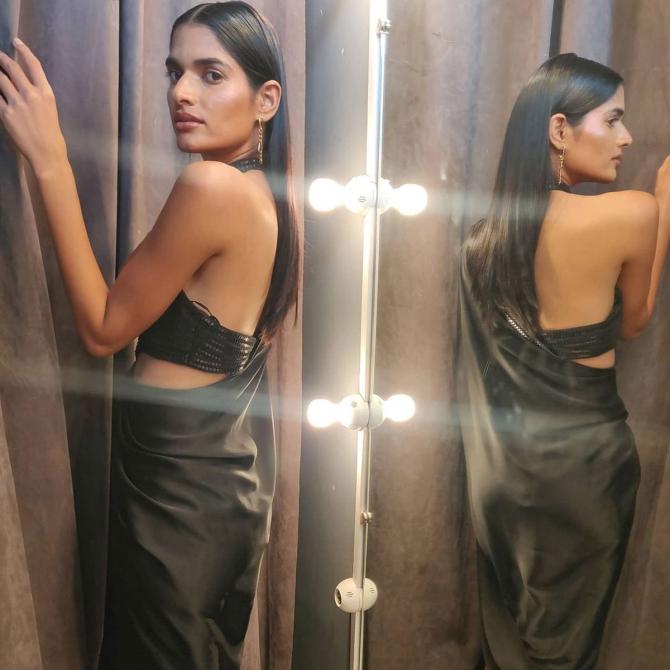 Coming from a small town and having experienced a tough time getting recognition in the fashion industry, Nisha feels that aspiring models should be prepared to fight it out.
"If you want something, be prepared to fight for it," she advises.
"Stand by your dreams. Work hard to make it a reality. If needed, don't be afraid to fight with your family."
"Struggling models, please join an agency at least for a year. It helps establish yourself in the industry, especially if you don't have a godfather here."
"Right now, there's no limit for age, gender and weight when it comes to modelling.
"If you deserve to be a model, give it your best."