This season of LFW has been a "colourful, bizarre, exciting adventure" for 20-year-old Rediff.com's Kshamaya Daniel, who viewed it for the first time.
Day 4 was my favourite and final day at Lakme Fashion Week.
I headed to JioWorld Garden, BKC, north central Mumbai, straight from college, and got dressed and made up in the bathroom which, for some reason, was packed that day.
There were two other girls getting ready, on either side of me.
There was a model crying in a stall because she hurt her ankle and didn't want to walk the next show in heels (I felt terrible for her and gave her a Band-Aid).
Actor Shenaz Treasurywala was next in line to use the bathroom and kept berating people who tried to cut in front of her.
And I heard the lady in the last stall talking on the phone; the conversation ended with "Haan bhaiya, mai bathroom main hoon!"
My main agenda for the day was to interview a Lakme makeup artist. I'd had an interview with one of the head MUAs pending since Day 1, which, unfortunately, she never had time for.
She was adamant that none of the MUAs below her could be interviewed and had instructed them not to speak with press without her permission. It was simultaneously strange and frustrating.
While I was backstage trying to poach one of the junior MUAs, I did watch a rehearsal of the Payal Singhal show.
As soon as rehearsal was over, I saw one model grab her friend and drag her towards the green rooms saying, "Come, let's go do incline push-ups."
In fact, my entire experience at fashion week was characterised by the interesting quotes I overheard. I should have done an Overheard@LFW feature.
When I was backstage for Caprese x Shivan and Narresh on Day 3, I saw the two of them fussing over one model's outfit. "This is looking sh*t yaar," one told the other. Even designers have qualms.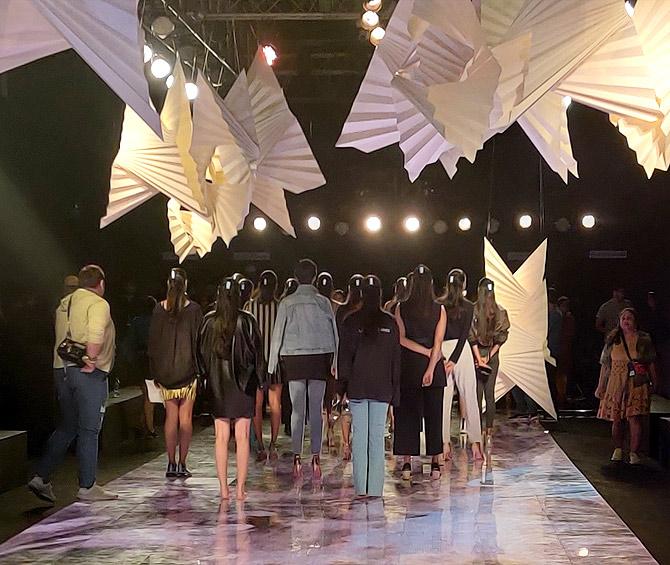 A rehearsal backstage for Payal Singhi.
The Punit Balana and SVA by Sonam and Paras Modi shows happened at 3 pm.
Actor Tara Sutaria was Punit Balana's showstopper and I managed to get a glimpse of them together as they exited the show. Tara looked gorgeous in a powder pink lehenga with gold embellishments. Punit, quite cutely, matched her in a powder pink tracksuit. His Off-WhiteTM shoes cost more than my college education.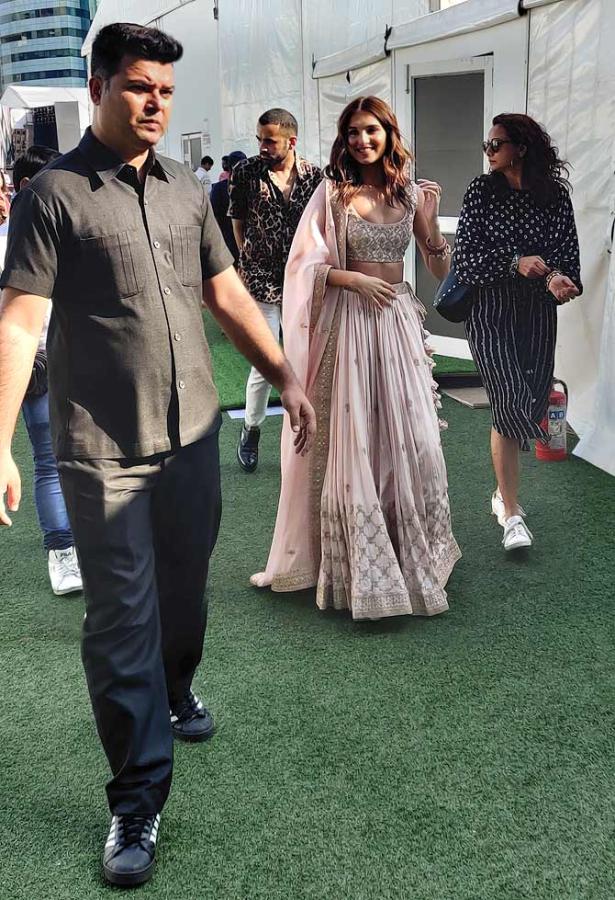 Tara stuns in a Punit Balana creation, fresh off the runway.
Tara Sutaria, Punit Balana and entourage walk from the runway to the celebrity green rooms.
The showstopper for SVA was Alaya Furniturewala.
She wore a beautiful lehenga with a unique story that I interviewed her about. She was pleasant and candid and I'm happy that she was my first celebrity interview, because she was so easy to talk to. Back when she was one of the famous teens of SoBo, I'd heard a lot of strange things about her, but what I saw at LFW told a different story.
Interview with Alaya Furniturewala
Many other celebrities like Shraddha Kapoor, Tanishaa Mukerji, Soha Ali Khan, Mithali Raj and Sara Ali Khan were also around on Day 4 -- unfortunately I didn't see them, except for one of them.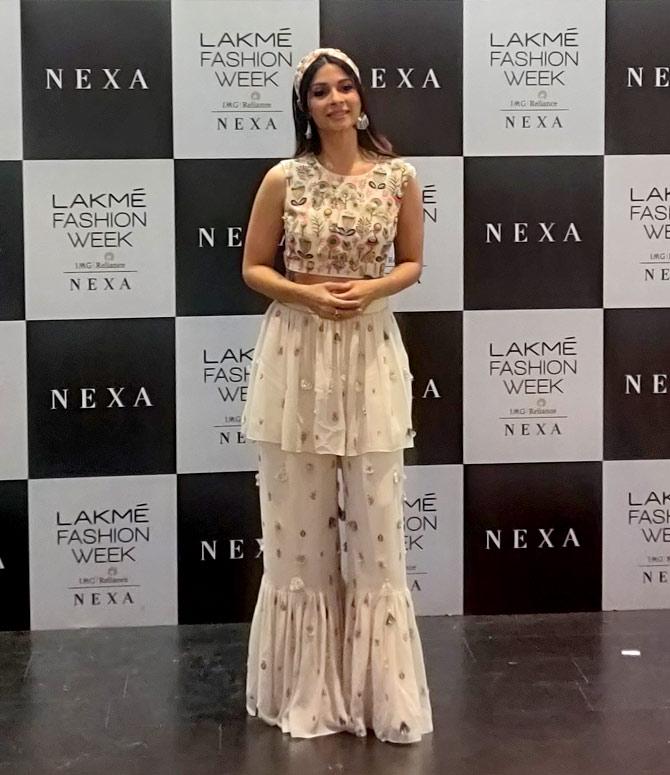 Tanishaa Mukerji poses for some press shots.
Rohit Bal had a pop-up show at the Central Avenue -- the first designer to hold an open-air show this season.
It was an anticipated event and I saw people running about, trying to find seats.
Seating was limited, just the usual couches and benches that are generally scattered across the lawn, and once those were full, a velvet rope guarded by almost 20 bouncers was set up to cordon off the area. Anyone else who wanted to watch the show had to do it from behind the rope.
The show started late, as every LFW show I watched this season tended to do, so in the meantime, I interviewed Zander, a seasoned Korean and Nepalese male model, who caught my eye because of his really cool outfit.
Interview with male model Zander.
The Rohit Bal show began soon after and I was quite confused as to what was happening.
I'd simply been told that there was "a Rohit Bal pop-up at the Central Avenue" and I'd assumed that, like all the previous Central Avenue events, Rohit Bal would be interviewed on stage.
I wasn't expecting a fashion show, so when, one by one, shirtless, jean-clad male models began to walk across the lawn, weaving through the audience, I was a bit puzzled.
The next lot of models wore skin tight black T-shirts or bomber jackets with their jeans.
Last, but not least, Rohit Bal himself walked out as a velvety smooth voice over the speakers said, "Jeans by Rohit Bal." Bal, with a wide smile on his face, began to dance, encouraging his models to join in.
The idea was super cool and execution was flawless -- this was probably my favourite show.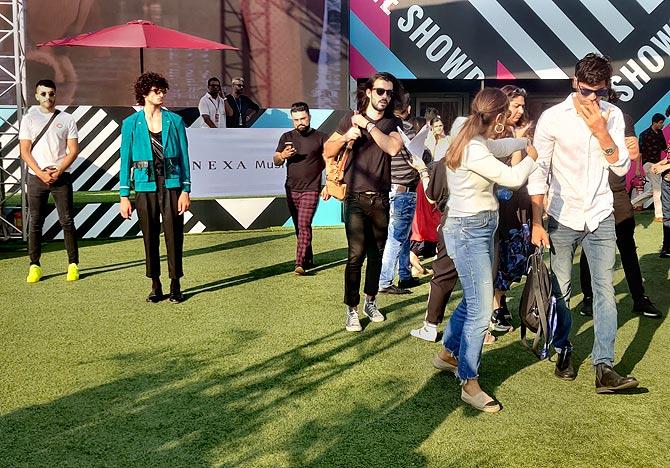 A rehearsal for Bal's show.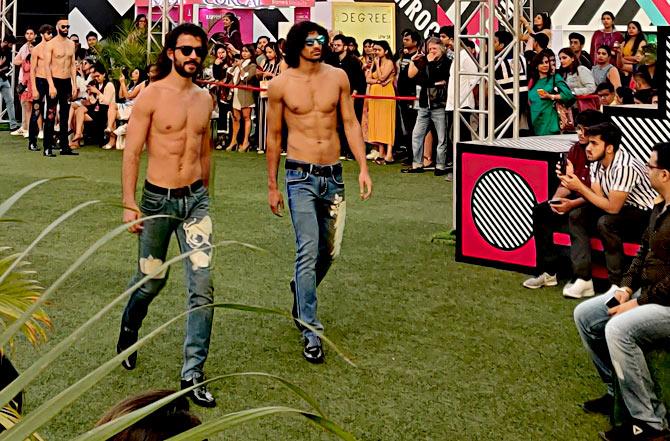 The first few models to walk out were shirtless. The entire collection consisted of jeans for men.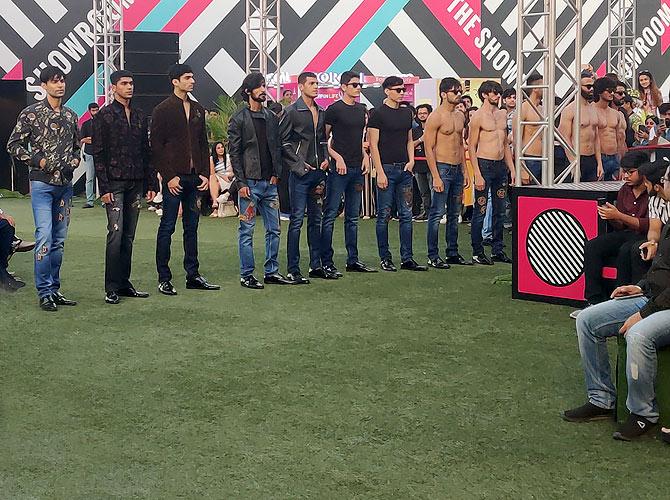 The show took place in the open on Central Avenue.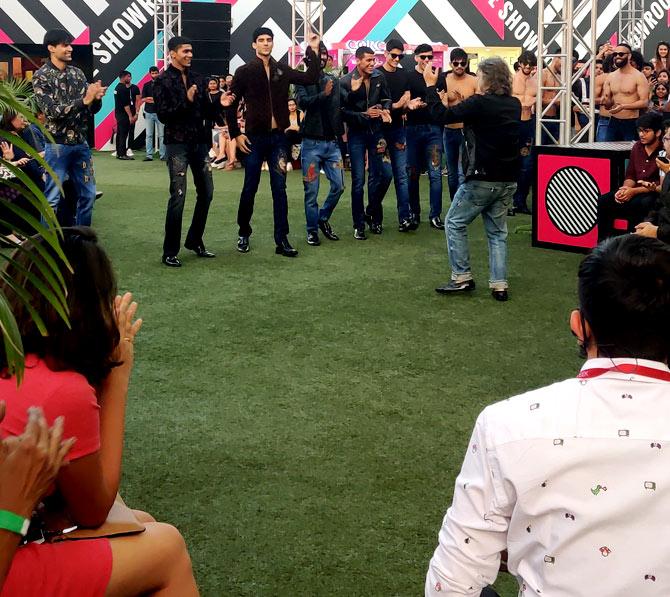 Rohit Bal dances with his models.
SEE: Have a look at Bal's magic
Jade by Monica and Karishma, held in the Atelier, was a highly anticipated show. I was beyond lucky to get my hands on a pass.
This would be my first show in the Atelier. Between Rohit Bal and Jade, I did some exploring and saw tonnes of interesting stuff. Backstage, rehearsals for the 9 pm Pankaj and Nidhi were ongoing and the clothes were being prepped. Their collection was all sparkles and sequins and holographic colours.
Outside near the celebrity green rooms, two photographers who were waiting to get a photograph of Payal Singhal's showstopper, cricketer Mithali Raj, were attempting a bottle flip, unsuccessfully.
I got approached by a talent scout who asked me if I would like to model for her agency.
I went to Gate 4, to try and get an interview of a Lakme security guard and instead got another overheard quote. "Yeh mujhe har din kyu rokh deta hai? Inko samjha do!" a perturbed blogger complained to the security guard about a volunteer who was manning the registration desk. Lol.
During my exploration, I also solved a very interesting mystery. Since Day 1, I'd noticed that it was really easy to get an electric shock if you touched things here and there. I'm talking door handles, other people, even the plants! It was absurd.
And it wasn't just me, everyone was experiencing the same problem.
A colleague of mine finally explained it to me. The entire venue was carpeted with rolls of artificial grass connecting everyone and everything. That, coupled with the insanely high amount of electricity being used at an event like LFW meant it was shock city. Wow, bet you weren't expecting that!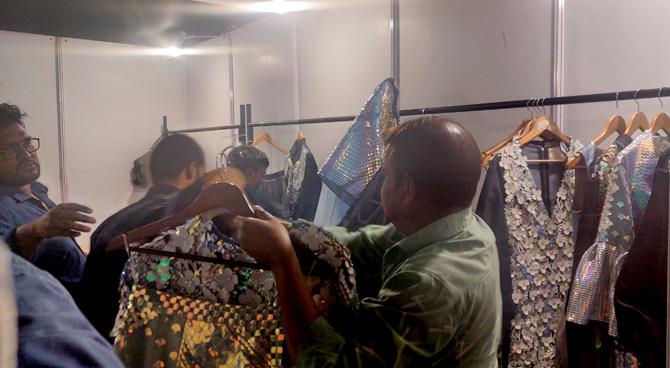 The Pankaj and Nidhi collection gets steamed before the show.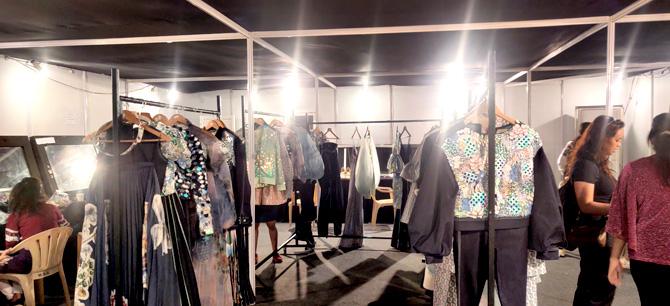 Steaming done!
My last stop for the day, and for the season, was Songs of Summer from Jade by Monica and Karishma.
Each seat had a card with a Summer Sonnet printed on it. Flower boxes with fresh wildflowers lined the aisles.
The runway was not really a runway, rather an open space with a circular, see-through dome in the centre that the models walked around.
The collection was a fusion of Indian and Western with each piece somehow looking more Indian, but also more Western.
The "runway" was carpeted, though it shouldn't have been because two models tripped, but managed not to fall.
At the end of the show, designers Monica and Karishma came out to take a bow as scented rose petals were showered on the audience.
I assumed there was some sort of machine designed to release the petals at a set time, but when I glanced upwards, I saw a man perched on top of the metal light scaffolding with a big bag, tossing rose petals down onto our heads. I tried desperately to get a picture, but the lights were too dim, sadly.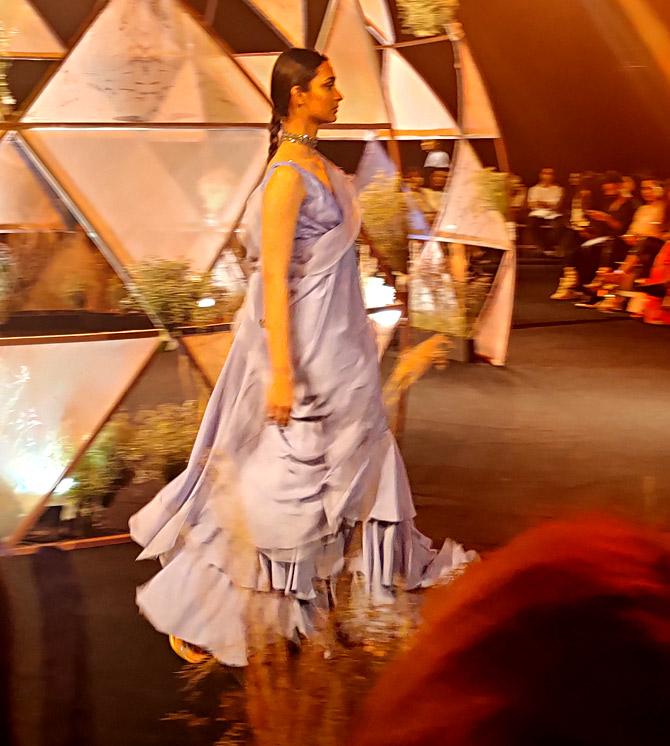 A dome sat at the centre of the runway.
The collection was the perfect mix of Indian and Western. Sony Kaur (above) walked for Jade.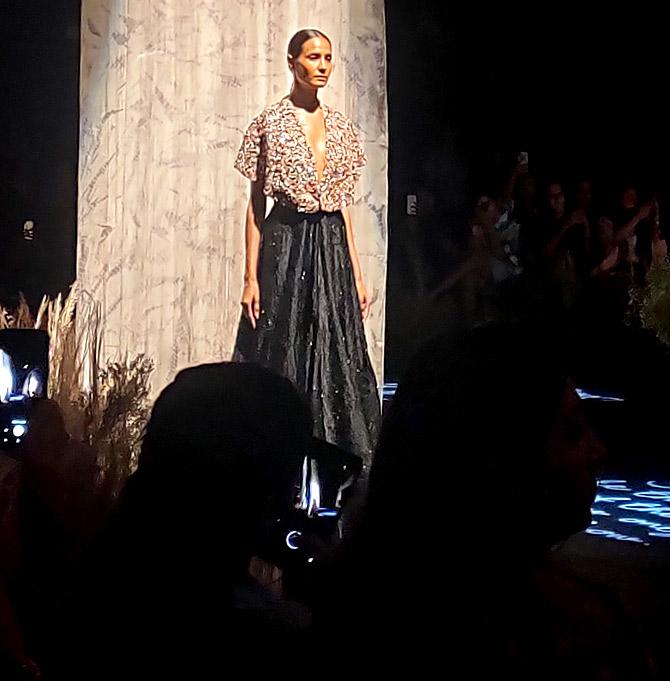 How do they stand so still?
Shruti Chauhan (above) looks stunning on the runway.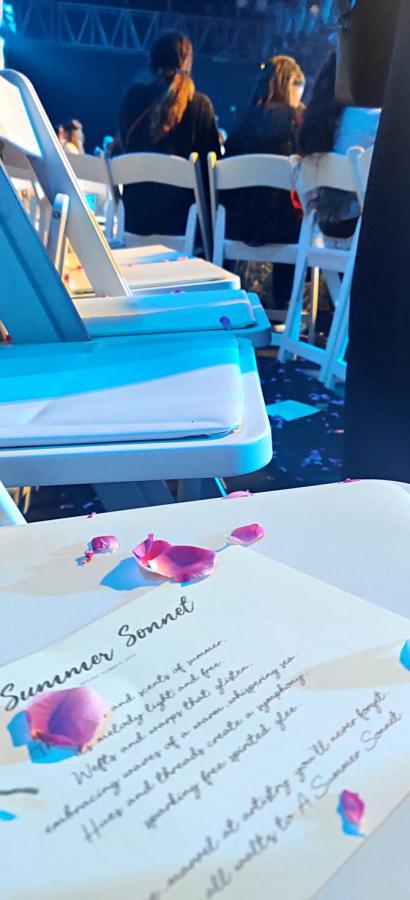 Petals rained down on the audience at the end of the show.
Lakme Fashion Week was an otherworldly experience.
Never before had I met such people. Or seen such things.
In fact, I'd never even seen a fashion show before. I was so nervous on my first day that my stomach hurt, but by the end of Day 4, I was interviewing models without even having set questions on hand.
It was unfortunate that I didn't get to see Day 5, but I'm walking away with lots of valuable new exposure and skills.
Thank you for coming along with on this colourful, bizarre, exciting adventure!
As always, I leave you with my pictures of the day. Enjoy!
Green was Captain Suresh's colour of the day.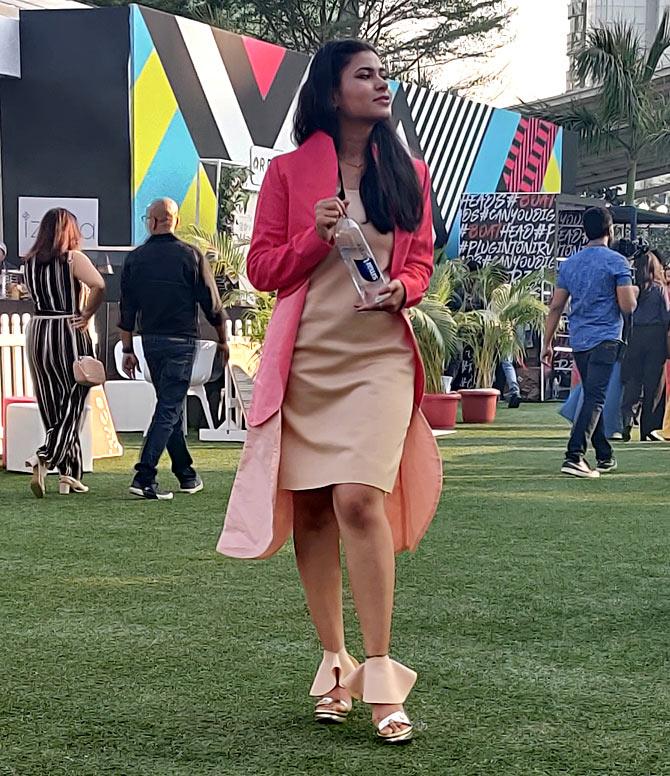 A Smart Water shoot. What's smarter? The water or her shoes?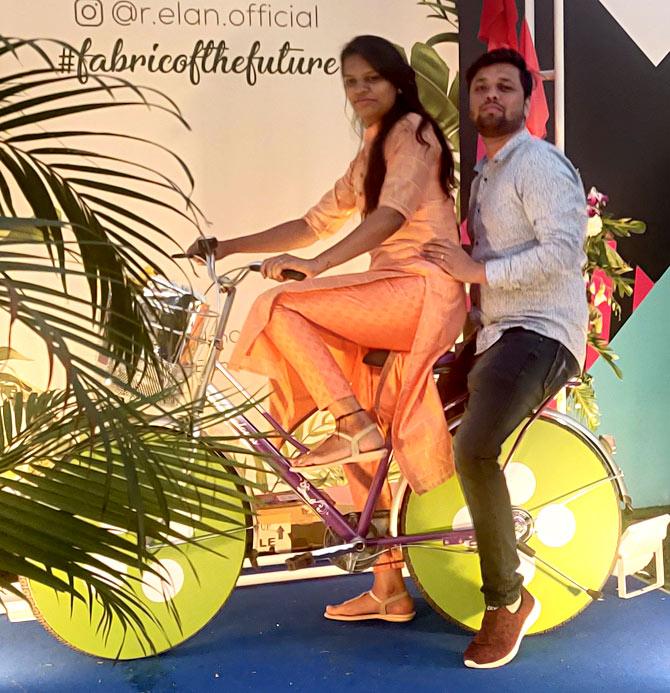 It's still Valentine's Day for these two!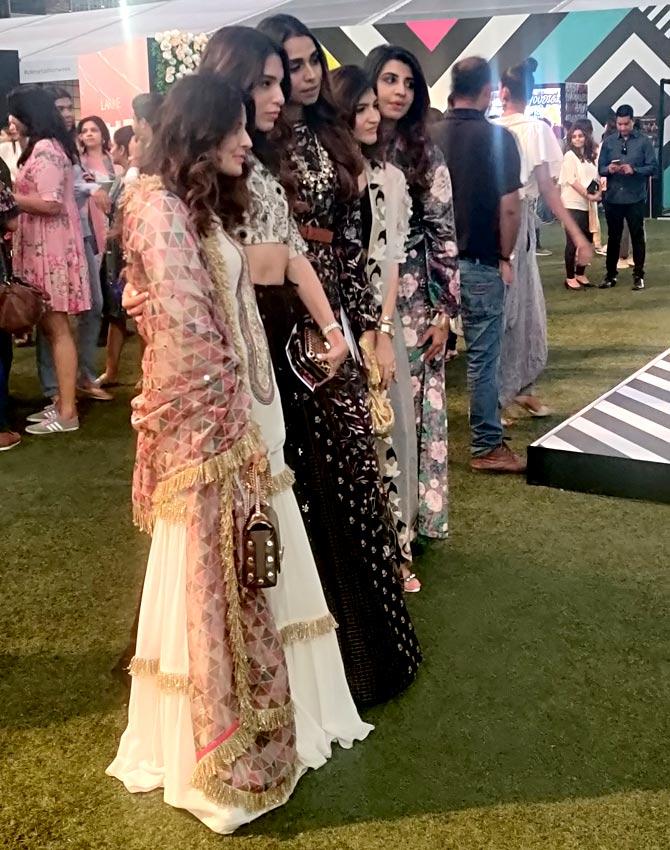 Some bloggers pout for the camera.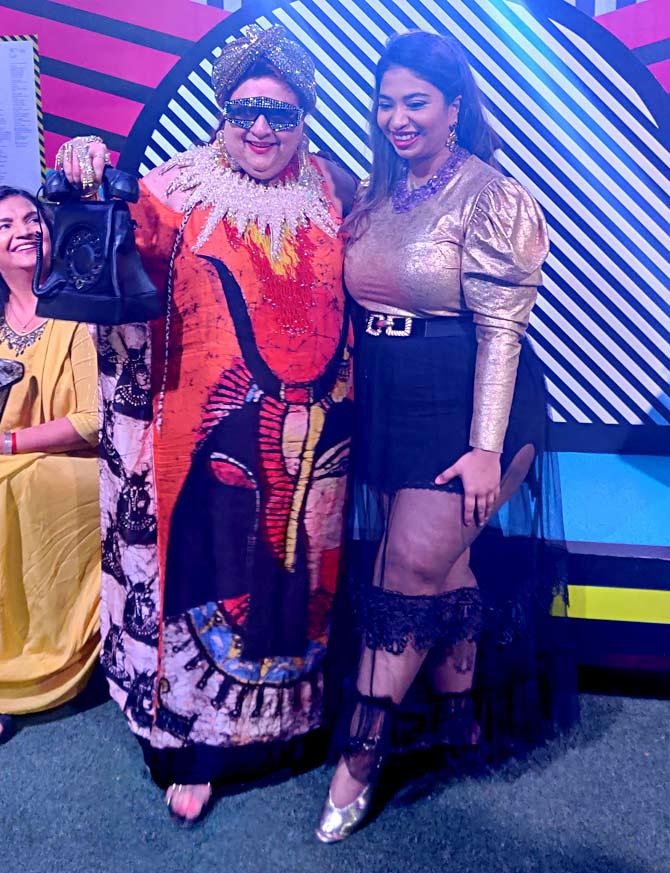 Susan, The Material Girl, embodies fashion week. She deserves my last hurrah!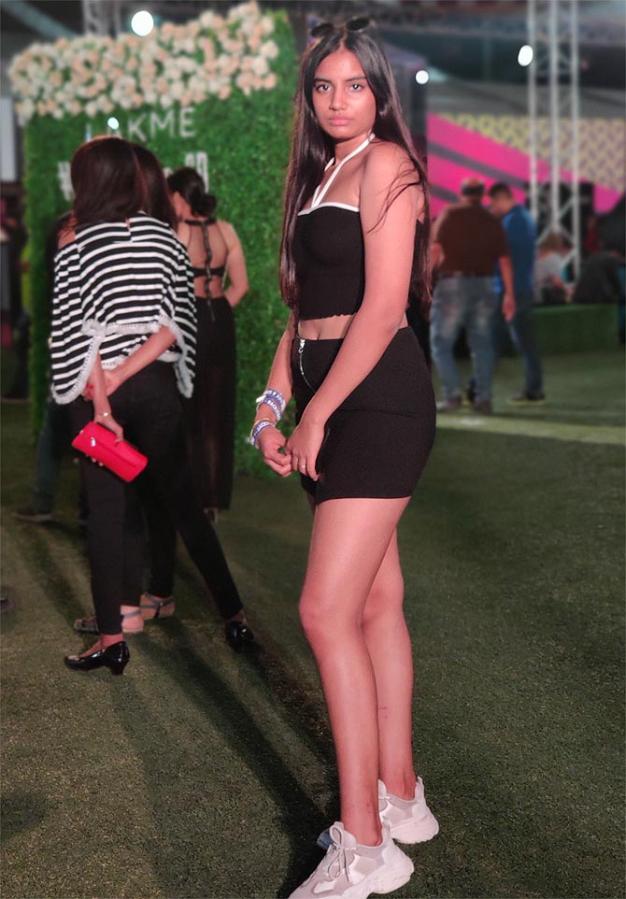 Until next season!
Day 1 and Day 2 LFW Diaries: How a 20 something found her groove at LFW
Day 3 LFW Diary: Footloose backstage at the LFW