Must-read fashion tips from designer Anand Kabra.
Designer Anand Kabra has returned to Lakme Fashion Week after a three-year hiatus.
Rediff.com's Prasanna D Zore chats with the Hyderabad ka chokra about his fashion, his inspiration and the one Hyderabadi look every Indian must experiment with.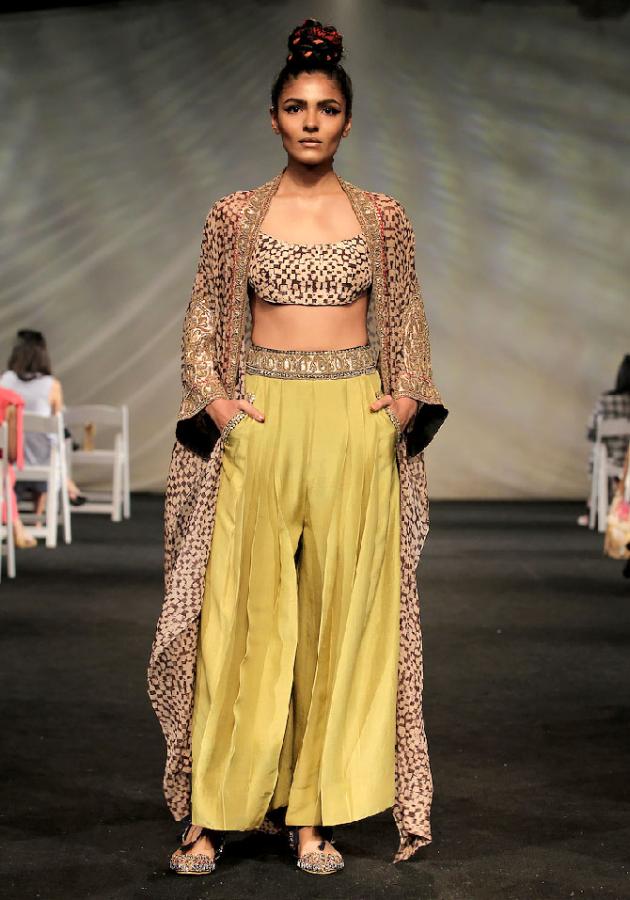 One style statement every Indian must know about Hyderabad?

The state (now Telangana; earlier Andhra Pradesh) has a very rich history in textiles.
What makes Hyderabad more special to me is the Ganga-Jamuni tehzeeb (culture) that exists side-by-side. By that, I mean the local Telugu culture and the Nizami culture which exist side-by-side.
There is some cross-filtration that has happened and that's what makes Hyderabad so unique.
The fashion, the embroidery, the food is unique because of this Ganga-Jamuni tehzeeb that has come into play.
One Hyderabadi look that every Indian must experiment with...
There is this beautiful silhouette from Hyderabad which is called the Khada dupatta.
It is basically wearing a sari with a salwar and a kameez.
The old interpretation is very heavy and cumbersome but that, reinvented, can be such a graceful outfit.
What inspires your designs?
For me, it is lot of emotions and visuals that come across (as inspiration).
My collections are very emotion based.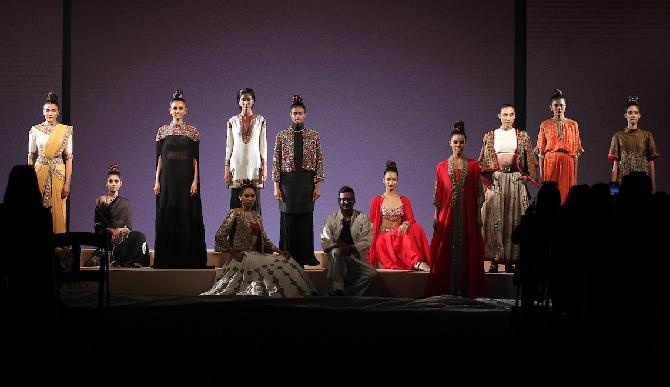 One Indian celebrity you would like to dress?
It is different people at different phases.
It cannot be one (celeb) in particular but I do have my favourites from time to time.
What dictates your personal style?
It has become very utilitarian for me. It is all about comfort and minimalism.
I don't wear too much colour and like to wear black and white all the time.
There is a lot of Japanese philosophy in my personal clothing.
This philosophy dictates very zen, very minimal, very straight lines that make you look taller, leaner, like a column.
They have this beautiful trouser called the Hakama trouser and I like wearing something which is wide and voluminous at the bottom.
These are the small principles that I try to interpret for my wardrobe.
Silly fashion mistakes Indians make?
They don't edit what they wear.
What I mean by this is there is so much going all at one time; if you remove some of it, the impact will be so much more.
In terms of being over-accessorised, over made-up, over-clothed, they should just edit and make themselves a complete picture.
One fashion tip you always follow...
When I am looking at myself in the mirror, it is about proportion.
It could be anti-fit, it could be skin-tight but I like the proportion to make sense to me.
Fashion tips for young readers...

Whatever you wear, wear it with confidence.
Let's not become clones of each other; it's always nice to see a certain individuality that comes into clothes.
Experiment with your style.