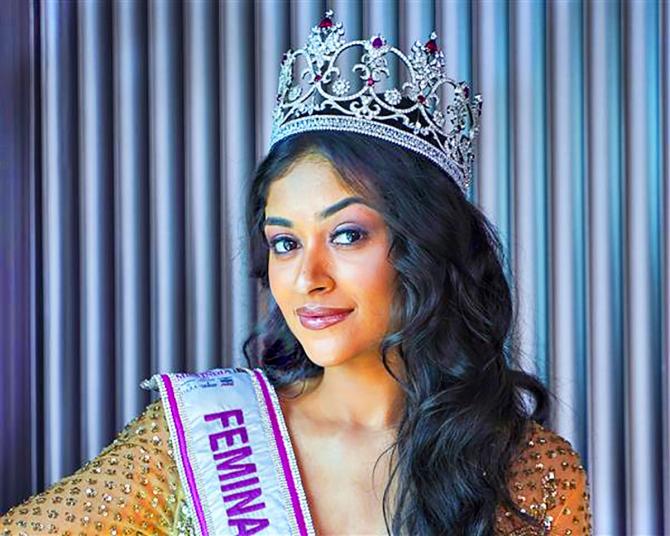 Hardly a fortnight ago, Nandini Gupta was just a college student, a charming, willowy, brown-eyed youngster, leading a humdrum routine, like millions of other teenagers, who adored her music, her dance and Priyanka Chopra.
She attended the Lala Lajpat Rai College in south central Mumbai working towards a degree is business management; her dad Sumit is in business in Kota, Rajasthan.
Today she is the prettiest girl in India in 2023.
From Ms Gupta to Miss India overnight.
And can she even go the PC route? Time will tell.
Nandini hasn't yet come to terms with the incredible catapult her young life has taken and exists in an elated, surreal, daze.
But she tells Subhash K Jha that she is determined to remain the ordinary 19 year old she always was, while embracing every challenge or chance that comes her way.
Not for her, letting stardom go to her head. Super, Nandini.
From Kota to the world, your life must have changed completely during the last ten days?
I am still in a daze.
Oh yes, it is definitely going to be a completely different life for me. I am looking forward to what lies ahead for me.
Let's do a quick flashback to the time your name was announced as Miss Femina India? How did it feel?
To be honest, it was a moment that is yet to register.
Before the announcement there was so much uncertainty in my mind and so much nervousness...
Even if there were other winners I'd have been happy for them. But the whole uncertainty was very difficult.
Even after my name was announced I couldn't believe it.
Even as I returned home after winning, it still didn't register that I had won this crown.
It must have been a haze?
Yes! I just couldn't believe it. It took time for me to realise what I had achieved.
What are your plans? Do you see this crown as a responsibility toward family, country and yourself?
Oh yes, most definitely this prestigious crown comes with a big responsibility.
I see it as an opportunity for growth, not only for myself. but also as a representative of India.
I see this as a chance for me to make my country proud.
Have you become very self conscious as you are being watched all the time?
No I don't feel that. I am the same 19 year old. It's just that I have a different lifestyle now.
I have a different time to wake up and a different time to sleep. Otherwise, nothing has changed.
The 19 year old within me is very much alive.
Good! Please keep her alive. Do you see yourself heading for Bollywood sometime soon?
If I get opportunities (to act in Bollywood films), then why not?
I will take every opportunity that this crown has given me. Why would I say no to anything that I haven't even explored?
One of the judges was Kartik Aaryan. What was it like interacting with him?
Oh, it was beautiful!
He is someone I had seen on screen. And then to see him in real. And so normal and down-to-earth.
In fact, Kartik and Bhumi Pednekar and the presenters Ananya Pandey and Manish Paul made my time on stage less anxiety-filled.
Do you look forward to working with Kartik?
Oh yes, of course why not! If the opportunity comes, I'd love to.
What are your immediate plans?
Just to finish college, to do the things I always wanted to do, to see the places I want to...
Feature Presentation: Ashish Narsale/Rediff.com