'We are trying to empower teachers in the entire country because online teaching is very, very, complicated.'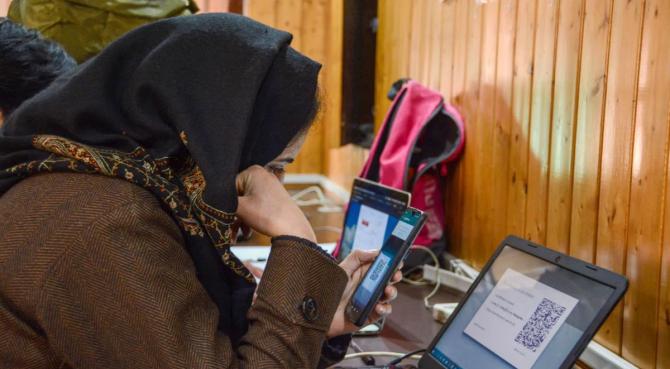 Mubeen Masudi and Bilal Abidi, IIT-Bombay batchmates and friends have developed an app for online teaching that works on 2G.
The Wise app was lauded in a tweet by the education minister and is a blessing for students in Kashmir where there is no 4G service (the state government restored 4G in two districts as a trial on Sunday, August 16).
"The technology behind our product is that any teacher who can use a smartphone, will be able to teach the class online seamlessly," says Masudi, who gave up a job in Gurgaon to start a successful engineering and medical coaching institute in Srinagar in 2012.
"It's literally that simple," Mubeen Masudi tells Rediff.com's Archana Masih.
You ran a very successful coaching institute in Srinagar, how did you transition to online teaching and how did you manage with lack of Internet connectivity in the Valley?
Initially, it was a struggle to transition RISE online and given the challenges of 2G, it was way more difficult for us than for other people.
We decided to start our classes on Zoom. Zoom does work on 2G with some fixes. In April I started three courses for class 10 students in Kashmir. We got more than thousand registrations in two days. I taught them physics, chemistry and mathematics.
I was teaching them daily, now I teach them once or twice every week.
What about the students that were enrolled in your institute? How did they continue their coaching after the August 5 clampdown and then the Covid lockdown?
We have not been in 100% lockdown because there were windows in December, January when we did have physical classes.
We would start classes very early in the morning and were able to function throughout the day on most of the days. Classes were not held as regularly, but we did have physical classes.
But since the Covid pandemic, we have not been able to have any regular classes.
There was no possibility of online classes after the August 5 clampdown because there was no Internet connectivity at that time.
When we were forced to shut down again after Covid, I thought we could transition online because during the Covid lockdown 2G was available.
But we have had very significant attrition, many students have left because not everyone has a smartphone and it's not a great experience on 2G.
Not every student sees value in online education, more so because of 2G.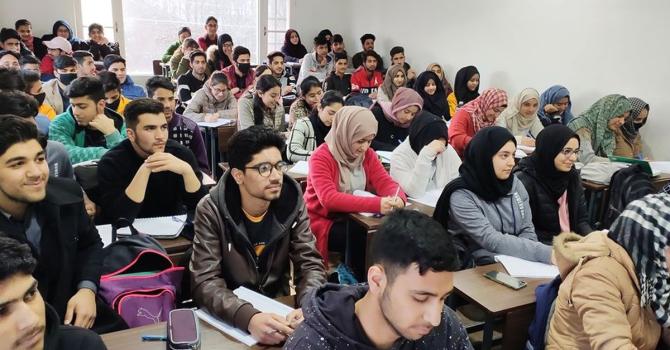 How did you make your app work on 2G?
The problem is Zoom does not work properly on 2G. We tell the students to keep their camera and mic off and instead of using our camera, use a whiteboard.
I use a tablet to teach instead of using video because that takes less data.
The teaching experience that we're able to provide students in Kashmir are far better than any other tuition institute.
I saw that the students are suffering and despite these students being enrolled at tuition centres, which are offering online classes, they chose to register with us. In two days I got more than thousand registrations.
How long did it take to create this app?
Me and my friend who is a batchmate from IIT Bombay -- the two of us decided to create this product, which enables teachers to think of it like zoom, plus Google Classroom plus WhatsApp all at one place.
It makes online teaching very easy for teachers. And they can do assessments, discussions, study material resource sharing all at one place in a very, very simple manner.
And because I have the context of Kashmir in mind, the application is not heavy and works on 2G.
We worked 12 to 14 hours a day of work for the past one-and-a-half months.
We are trying to empower teachers in the entire country because online teaching is very, very, complicated.
If it is complicated for me, it is a nightmare for an average Indian teacher.
It's a constant struggle to juggle across applications. You need to be comfortable with Zoom, Google Forms and have to manage your discussions on WhatsApp.
It's almost like literally the Whatsapp University and actual University happening on the same place right now.
It's very challenging.
The second thing I realised that I can't reach each and every student in the country and I also do not have the skills.
I shifted my attention from teaching kids to empowering teachers.
What response have you had teachers who have started using it?
We've just been live for 22 days and have had over 1,000 teachers all over the country using it.
100 to 150 teachers may be from Kashmir, but the rest are all from different parts of the country. They have found it very helpful, even on Play store, we are rated 4.9.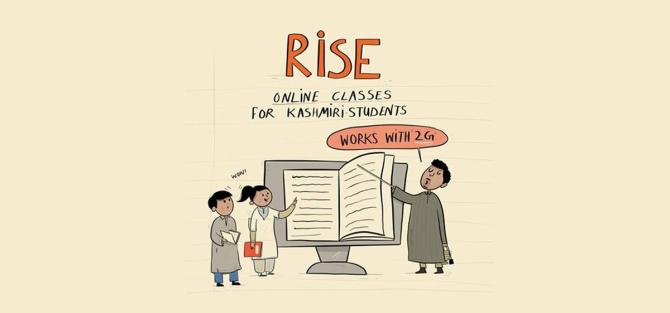 Do you have a sense of who are the teachers using the product? How many are from smaller towns or government schools?
I don't think we'll have that granular level data, but I'm in conversation with most of these teachers. They are either private school teachers or government school teachers in tier one cities.
Then there's a third set which is very diverse like I know a person in Assam conducting UPSC coaching on this platform.
Ayesha Aziz, who holds the record for being India's youngest student pilot, has launched her aviation course on this.
My former students studying in the USA have launched a course on this for US college admissions. In two days, 100 students had signed on.
There is this set of people who are doing interesting things on this app. This is basically a teacher enabling tool.
A friend of mine is using it for leadership development workshops for rural NGOs. He says he is using this because the existing tools in the market are very complicated.
My belief is that anyone who can use WhatsApp can use our product. It's literally that simple.
The education ministry just tweeted about our app and complimented us. This app is there for anybody who wants to use it.
We are adding incremental features based on teacher feedback, and trying to reach as many teachers as possible.
Ironically, technology was supposed to democratise education. Covid was a good opportunity where everyone could go online, at least those who have smartphones, but the problem is that due to the complicated tools that are available, the tech savvy teachers are very comfortable in teaching online, while the non tech savvy are struggling.
Instead of democratising education, technology has further divided it.
Technology should not hinder a teacher from being a teacher.
The technology behind our product is that any teacher who can use a smartphone will be able to teach the class online seamlessly.
How has the response been in your home state of Kashmir itself?
It has been great. I have a pre-existing credibility here because of the work I've done in education. I may not have that in the rest of the country, but when I talk to teachers or opinion leaders within education, they take it seriously.
A school in Pulwama has just started using the app and I'm talking to the medical college and other colleges in Srinagar. Some private schools are also reaching out.
In addition, after the minister of education tweeted about us, it has got a strong response. I got a call from the J&K government about this app.
*Image published only for representation purposes.
Feature Presentation: Aslam Hunani/Rediff.com