A workshop on the LGBTQ+ community throws light on challenges they face. Meghna Chadha reports.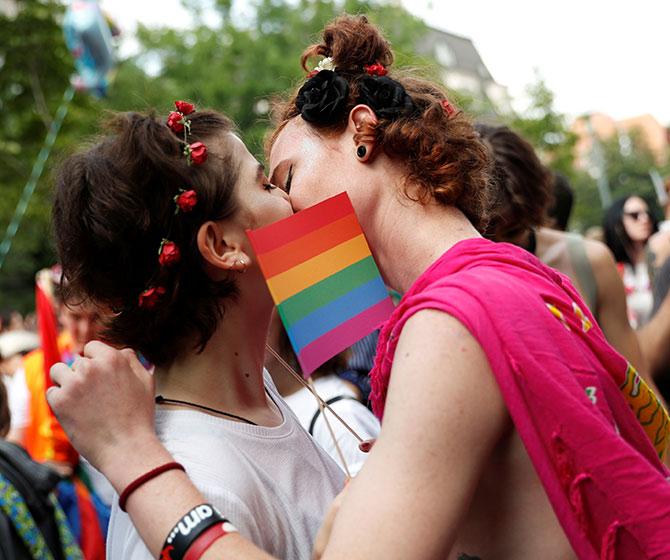 The LGBTQ+ community -- the term used for someone who identifies as lesbian, gay, bisexual, transgender or queer -- has been recognised more than ever before, since the Supreme Court decriminalised homosexuality or Section 377 in September 2018.
However, despite the apex court verdict, society is yet to accept them as "normal".
"We don't need a flag that's straight from all the corners; we need a flag flexible and inclusive enough to not get torn."
"There isn't a flag big enough to cover everyone," says Deepak Kashyap, psychotherapist and wellness counsellor as he shows a picture from a pride parade, during an interactive workshop on the emotional and mental well-being of the LGBTQ+ community, organised by the Keshav Suri Foundation in Delhi.
"People will try and stretch it but that's okay.
"We don't need a flag that's straight from all the corners, we need a flag flexible and inclusive enough to not get torn," he adds.
The workshop consisted of two sections.
The first session concentrated on community building and living in a post Section 377 India, to help the community members define their identities as queer individuals.
This included the philosophy and practices within the LGBTQ+ community, to understand how they can move ahead to build an inclusive and respectful queer landscape in the country.
"I don't want 100 per cent agreement from you. But don't take opportunities away from me," says Kashyap.
The second session was on emotional first aid -- developing emotional resilience for the queer community.
The agenda, however, was to understand the stigma and struggles around mental health and the importance of having a community to help them survive.
"Mental help is expensive, non-accessible, not sex-positive and not queer-positive," says Kashyap, adding, "You're never too far from a hospital, in India, but you're always too far from a mental health resource."
He shares examples of people he knows who went to psychiatrists but they tried changing their "sexuality".
Kashyap also draws attention to the regular advertisements printed in Hindi and regional newspapers asking people to "get rid of homosexuality".
During the question-and-answer session, a queer female reflected on her life in the mid-20s. How she often felt "out of place" and "tried therapy".
But her then psychologists tried talking her out of it.
Even as she struggled to cope with the tremendous family pressure, the psychologists told her there was something wrong with her.
She lamented that if she had got help then, it would have "saved" her from years of trouble and self-doubt.
Kashyap remarks, "Most psychologists and psychotherapists are not queer-friendly".
Efforts are being made to change that.
The Health Professionals for Queer Indians, formed by Dr Prasad Raj Dandekar that helps mental health professionals to understand the needs of the LGBTQ+ community, educates and sensitises professionals through conferences to focus on conversation and not conversion of the community members.
"A majority of them have to hide their sexuality and pretend to be someone they are not, leading to a lot of pressure and depression."
"The mental health issues are the result of ostracisation and discrimination against the LGBTQ+ community.
"A majority of them have to hide their sexuality and pretend to be someone they are not, leading to a lot of pressure, and depression among other issues.
"If they visit doctors and are unable to reveal their sexuality to the professional, then it's futile because they will be medicated for something different because the professional is unaware of the actual problem (anxiety, discrimination, etc.).
"The doctor needs to be aware about the challenges faced by the community," Dandekar says.
When asked if there is a change post reading down of Section 377, Kashyap says, "We are confusing the change of the law with the change in the culture. These fights are not only won in Courts but are won in the hearts and minds of the people you live with."
While the law has changed, the education, corporate, religious and social system needs to catch up.
Dandekar says corporates like Godrej, TCS, and Reliance are taking initiatives in this direction.
By training HR and changing company policies, companies are slowly becoming more inclusive.
However, he feels they can add more to it by sending emails against discrimination and helping form a community where members of the LGBTQ+ community feel safe.
This is important for corporates, according to him, as it increases employee productivity, brings down the attrition rate, helps in networking and gives a good first impression.
Despite all these "inclusive" intiatives, until society decides to accept the LGBTQ+ community as they are, the road ahead will be a long and arduous one for them.