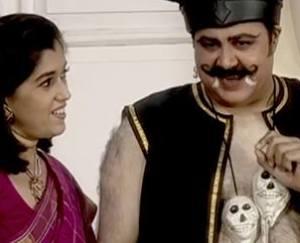 Ever wondered what financial advice would the Sarabhais of Sarabhai Vs Sarabhai churn out? Read on to know!
Sarabhai vs Sarabhai was a comedy series which created a new benchmark for hilariousness! A break from the same old saas-bahu sagas, this series had everyone hooked onto it. The entire family, irrespective of their age could relate to the Sarabhais.
The Sarabhai's were an upper middle class, Mumbai-based, Gujarati family. Each character in the family was so typical, that the interaction among the family members was what made it humorous. A perfect recipe for humour, the Sarabhais had us all in splits! What would it be like if each Sarabhai family member were your financial advisor for a month? We thought about it and here's what they would have advised.
Jaldi karo, Maya ke aane se pehle meri advice sun lo! Indravadhan Sarabhai (played by Satish Shah)
The head of the house (of course, when Maya is not around :P) and a man with a great sense of humour! How else would he have survived the mad Sarabhais?! He understands each family member well and is the only one who can challenge Maya's opinions in the house.
A doting father to momma's pet Rosesh and the sensible son Dr Sahil, it is him that they look up to for solutions. He is also empathetic with his "middle class" daughter-in-law, Monisha.
Indravadhan would definitely advice you to spare a thought for your loved ones and access their financial needs. Accordingly money can be earmarked and set aside, invested or an insurance plan can be availed. As a responsible family member, you must prioritise and plan for your family's current and future financial requirements.
That is so middleclass. Don't mind haan beta! Maya Sarabhai (played by Ratna Pathak Shah)
Sophisticated, bitchy and fabulous, seems like she never had a bad hair day! Maya has the final word in the house. There are many things she does not appreciate about her "middle class" daughter-in-law, Monisha. Monisha is disorganized; orderliness is nowhere on her to-do list. Maya being a stickler for all things sophisticated this obviously does not go down well with Monisha.
Maya would definitely advise you to get a planner and jot down all important dates for payments due. Loan installments, credit card payments or insurance premium, timely payments pay off in the long run. That obviously demands financial discipline and a smooth tracking system. When it comes to documentation, the papers need to be segregated and filed neatly. This will not only help you keep a track of your money better, but also help your loved ones save the trouble of gathering documents during emergencies when you are not around.
Padoske mall main 50 per cent discount chal raha hai! Monisha Sarabhai (Played by Rupali Ganguly)
Expect her to greet you with a big smile and news about discounts/sales! She spends her time watching saas-bahu dramas on television, looking out for money saving discount offers and fretting over her mother-in-law's continuous taunts about being 'oh-so-middle-class'. If only our dear Monisha could be less lazy and more smart and organised, she could be leading the Sarabhais to riches with her smart saving plans.
Well, Monisha would definitely advice to spend that penny wisely. Shop around a bit before going in for a purchase, compare prices and then part with the cash. Also, watch out for offers throughout the year. When there is a good deal out in the market on things you anyway had an eye on, grab it! You just need to be alert and that itself could make your pocket heavier.
Yeh ghar pagal hai! Sahil Sarabhai (Played by Sumeet Raghavan)
Apparently the only guy in the house to display a shade of normalcy, Sahil Sarabhai is the elder Sarabhai son. It is no easy job to be a husband to crazy Monisha and a son to uber sophisticated Maya! Over a period of time he has learnt from experience and knows how to strike a balance while keeping both of them happy. If not for his ability to balance out things, the Sarabhai household would be more of a mad house than it already is!
Sahil would advise that striking a balance in life is the key. Diversify your investments by evaluating risks and returns. Avoid extremities for they will only add to stress over the long run. Plan long term, balance out your investments and remain level headed even when markets scream panic.
Momma ka purse, jaise hospital ki pyari koi nurse! Rosesh Sarabhai (Played by Rajesh Kumar)
Obsessed with his mother and poems, Rosesh is mother's pet and a poet. He writes poems which he then forcibly reads out to his family members. Silly but endearing, Rosesh's poems lack of meaning and meaningless rhyming have made him popular. The only advice we could take from Rosesh is that when in doubt, ask Momma! Momma in this case being a subject expert.
Roshesh does not pretend to be intelligent when he is not! He would definitely advise us to seek help when we are not sure about the financial decisions we are about to make. Speak to experts, read blogs, subscribe to books, and basically just gain knowledge from the subject matter experts instead of taking chances.
There you go! With the Sarabhais themselves sharing their valuable advice you are now fully equipped to make intelligent financial decisions. Our only advice being, take it with a pinch of salt. Many people find finance a dull topic and we sincerely hope that the tips shared by the hilarious Sarabhais were fun and help you to think about and plan your finances better.
Image: A still from the television serial Sarabhai Vs Sarabhai
The author is a credit expert with 10 years of experience in personal finance and consumer banking industry and another 7 years in credit bureau sector. Rajiv was instrumental in setting up India's first credit bureau, Credit Information Bureau (India) Limited (CIBIL). He has also worked with Citibank, Canara Bank, HDFC Bank, IDBI Bank and Experian in various capacities.