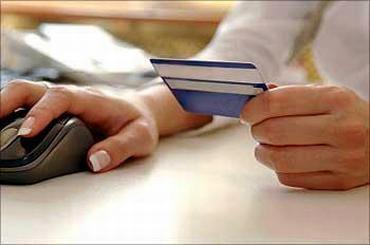 Here's why VCCs are the best options for credit and debit card holders for avoiding phishing and frauds
With the introduction of information technology life has become easier and convenient, making everything just a click away. But the picture is not as rosy because it has also increased the susceptibility towards increasing frauds as well. In that case, virtual credit cards are the best option for all credit and debit card holders.
What is a Virtual Credit Card?
A virtual credit card (VCC) is an exclusive online payment solution with complete online security while shopping on Internet. It is like an add-on card issued on the user's primary credit card.
Virtual credit card is a one-time usable card which comes with a preloaded amount that is valid only for a specified time period. VCCs do not have any plastic or physical existence and they are created to be used only online. Also the virtual card does not have any fee associated with it.
The key details of the virtual credit cards like the card number, expiry date, CVV number etc. are used when using the card online, but the user's primary card details are never shared with the merchant online.
So, while using the virtual credit card online, users need not worry about losing their card or carrying their card safely in their wallet.
Many banks offer virtual cards instantly these days. Some of the major banks are
ICICI Bank: ICICI VCC
HDFC Bank: HDFC NetSafe
Kotak Mahindra Bank- Kotak netc@rd
State Bank of India: SBI Virtual Card
Axis Bank: Axis e-wallet card
Validity of the virtual card
The virtual credit card is only valid for a single use and automatically expires within 24 hours even if the VCC is not used, which makes the credit card fraud or misuses minimal than a real a credit card.
Along with this, one has to understand that if they hold a VISA card, then the virtual card which one will get will be VISA one and if it's Master Card, then the VCC will be a Maestro one.
Most of the banks issue a virtual credit card which is valid internationally and users can use them on the websites outside India. However, some banks like State Bank of India still issue virtual credit cards that are only valid in India. So, users should always check if the card is valid internationally or not.
Can virtual credit cards be created using a debit card?
The answer is 'Yes' for most of the banks. Even if one has a debit card and not a credit card, they can use their debit card to create a virtual card online. In recent times, people want to transact online always, but there are times when they do not hold a credit card. But now it is easier for them as they can now create a virtual credit card and use it to transact online.
Refund from the merchant site
In some cases, it might happen that users get a refund of the amount paid through VCC to the merchant site. This may be because of some defect in the product or due to some problem in the services or some other situation. As, the payment is made through VCC (which has already expired as it has been used once), users can get the refund back. The refund will automatically be credited to the user's main card.
In case where the VCC is not fully utilised, the balance amount of the VCC gets credited to the main card within a certain period of time, as per the bank's policy. For example, if a VCC is generated for Rs 1000 and it is used only for Rs 800, then the remaining Rs 200 will be credited back to the user's main card and the VCC will lapse.
Conclusion
The VCC technology is fairly new in India, though it has been around for several years abroad. Now by using the VCC, credit card holders can be completely assured that their credit card details will not fall in wrong hands and they can easily avoid credit card frauds and phishing.