Photographs:
Rediff Archives
Niketa Agarwal, fundsupermart.co.in
Pointers for gullible consumers to protect themselves against fraudulent practices that may lead to loss of vital information and money.
The dubious phone call
Few days back, I received a call from a person stating that he was a part of 'XYZ' bank where I had an account. He said, "Madam, we are running a verification check on our customers to improve the fund transfer system as a safety measure to stop phishing and frauds."
The highlight was that he did not ask me my name or account details because he already had that information with him. He just asked me to answer affirmative or negative when he checked my details.
After running the check, he told me, "You would receive a message on your mobile phone right now, mentioning a payee has been added through fund transfer along with a PIN number." He assured me not to worry as it was a part of the routine verification process and in reality, nobody would be added as a payee nor money would be transferred from my account.
In order to complete the verification check on my account, I had to share with him the required PIN number that I would receive on my registered mobile number with the bank. The entire conversation was extremely professional and flawless. 
As soon as I gave the person the PIN number, my complete savings account balance was wiped out. I immediately called up the customer care of my bank and questioned them about their verification check process. They replied that they were not conducting any such verification and I should file a FIR as my account has been hacked and I have lost all my savings!
After that I ran from pillar to post but my money was gone. On asking if they have any insurance for incidents like these, I was informed by my bank branch manager that they do not have any provision for insurance on Internet frauds. They provide insurance on the theft of their debit cards but not in such cases.
Source:
http://rbidocs.rbi.org.in/rdocs/PublicationReport/Pdfs/WREB210111_C6.pdf
http://www.rbi.org.in/Scripts/bs_viewcontent.aspx?Id=1660#ann1
Disclaimer: This article is for information purpose only. This article and information do not constitute a distribution, an endorsement, an investment advice, an offer to buy or sell or the solicitation of an offer to buy or sell any securities/schemes or any other financial products /investment products mentioned in this article or an attempt to influence the opinion or behavior of the investors /recipients.
Any use of the information /any investment and investment related decisions of the investors/recipients are at their sole discretion and risk. Any advice herein is made on a general basis and does not take into account the specific investment objectives of the specific person or group of persons. Opinions expressed herein are subject to change without notice.

How to avoid Internet banking frauds

Know your Internet banking
Money swindling through the Internet has showed a phenomenal increase in the past few years. Despite the latest technology used by the banks to secure the details of their account holders, the information is still widely being compromised. The hackers gain valuable information through numerous processes like:
Spams
Electronic junk mails or messages which require a customer to enter their personal information in order to purchase something. These differ from genuine mails as their purpose is to gain vital information of the customer like their username or password.
Phishing
Fraudulent sites bearing similar names to genuine portals to obtain personal information of a customer
Spyware
Softwares that get installed in your system to obtain customer data. These differ from the original software as they get installed on a consumer's computer without her/him being aware of it. It then stores the information of the customer for the offender to access it.
Nigerian scams
Forms of lottery scams in which people overseas promise huge amounts and charge a nominal price for the lottery.
Unsecured network connections
All the information can be availed if you are using unsecured network connections.
False phone calls
Telephonic conversations that may ask you to reveal your personal account PIN or other critical information linked to banking account.
Keeping the above modus operandi of Internet frauds, people should keep certain things in mind while accessing their net banking accounts. This would help you protect your privacy and avoid compromising any account related data.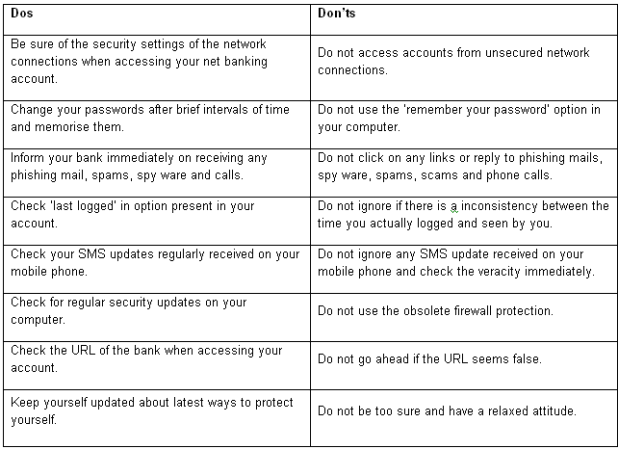 How to avoid Internet banking frauds

Role of the regulator
The RBI addresses this topic at a consumer level and has certain norms and guidelines which the consumer needs to be aware of. These guidelines include:
The Information Technology Act 2000 that requires the usage of a specific technology for the authentication process of the consumer. Any other authentication process used by a bank can be considered illegal
Banks have high stakes involved if they fail to protect the critical information of their customers and therefore, should be well equipped with proper risk control measures
Banks have a duty to inform their customers the duration and the situations in which mobile transactions can be stopped as they are immediate and difficult to stop even in fraudulent cases
In the case when a customer disputes a transaction during processing, the transaction should be refuted. The banks should have a grievances policy and a compensation policy in such incidents
Consumer grievances through mobile transactions are covered under Banking Ombudsman Scheme 2006
The Consumer Protection Act, 1986 requires the banks to insure themselves against Internet banking frauds in order to help their customers in such incidents
The banks have a duty to educate their customers about the risks and their responsibilities through various modes of communication
Apart from this, RBI has issued certain norms and guidelines for the banks that aid in curtailing Internet banking frauds including:
Creation of a special committee by the banks to investigate frauds above INR 1 crores with immediate reporting to the Audit Committee of the Board (ACB)
Formation of committees by the banks to follow up and keep a track on the various branches of the investigation
Presence of a separate 'Fraud Risk Management' group to handle and inform people about various fraudulent cases
Formation of 'Fraud Review Councils' by the risk management groups of various banks to have a tab on the new fraud cases and the methodologies used
Filing of police complaint by the banks in cases of frauds exceeding INR 1 lakh and INR 10,000 in the case of internal breach
Conclusion
The presence of net banking today makes life easier for you. Although the banks try their best to keep a tab on Internet banking frauds, with improving technology coupled with ignorance or carelessness of people, fraudsters continue to con consumers. RBI has undertaken initiatives to minimise the number of such incidents as much as possible. It reviews its guidelines and policies and modifies them keeping the interest of the customers in mind.
In addition, the banks today also have multiple filters before a transaction through internet banking is completed so, it has become difficult for hackers to siphon off money unless some of the filters are broken with the help of customers. Therefore, one should be vigilant and aware to avoid occurrence of such incidents.