Typically, you can create a basic gym for Rs 50,000, a mid-end for Rs 5 lakh and an advanced one for Rs 10 lakh.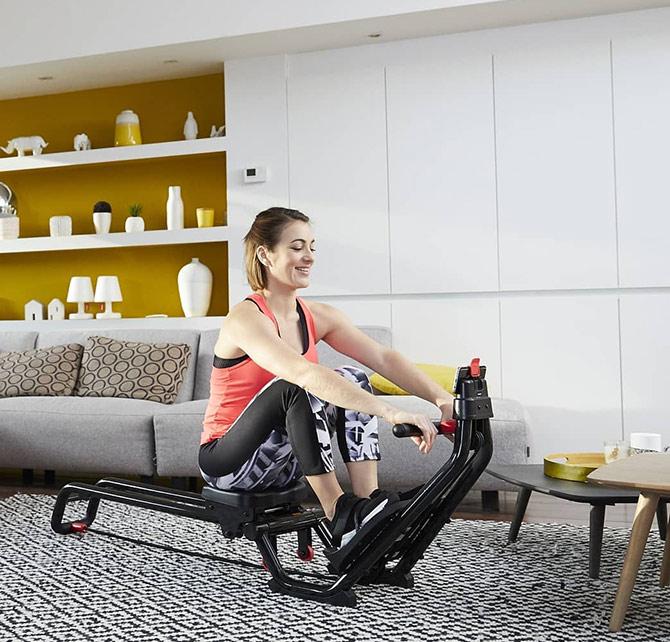 They say sitting is the new smoking.
Limited access to outdoors due to the risk of contracting COVID-19 has forced a lot of people to create a workout space at their homes.
For professional boxer Vijender Singh, an at-home treadmill has allowed him to work out unhampered by bad weather and other sundry inconveniences.
"As such," says Singh, "boxers don't require much space and my small room is enough to stock my basic equipment such as weights, skipping rope, dumbbells and treadmill."
Singh has had an in-house gym for years, but many others are now buying basic equipment to pump iron, jog or cycle at home.
No wonder, top gym chains, such as Cure. Fit, and equipment manufacturers/retailers like Decathlon, Live Fitness, Technogym, Precor, Cybex, Deneb and Polak, and Lifeline have reported a spike in the uptake of equipment.
Take the case of pilot-turned-fitness blogger and digital influencer Gaurav Taneja, who does his vlogs called The Flying Beast.
A former Mr India bronze medallist and a Mr Delhi titleholder Taneja says: "Even if they open up gyms and allow 20 people at a time, I'm not sure how many will actually follow the protocols. At least, I don't want to take any chances at a place where everybody sweats and uses the same equipment."
Three weeks back, he got a room in his house (12 ft x 12 ft) converted to gym space, with a "full range of professional gym equipment and not home-gym rubber quality," as he puts it.
"My gym can easily take on weights of 200 kilograms and more," says Taneja, who got help from a friend, a gym equipment manufacturer, to put up a home gym that cost him Rs 4.5 lakh.
"We are seeing tens of thousands of customers buy basic equipment, such as yoga mats, weights and dumbbells," says Ankit Nagori, founder, Cure.Fit. "This is a mass solution where you pay Rs 5,000 to acquire a good yoga mat and two to three dumbbells of different sizes."
Cure.Fit's first solution is for smaller spaces measuring 80 sq ft. For Rs 30,000 to Rs 50,000, you can get a cult-like look and feel, mats, a full set of dumbbells in the 0-to-20 kg range -- at least five different sets -- along with a resistance pad and belts to give you a full workout.
Machines are costly -- the cross trainer and stationary bikes are priced at Rs 25,000 to Rs 250,000, depending on the brand.
Treadmills are the most expensive and come in a price range of Rs 50,000 to Rs 4 lakh.
Typically, you can create a basic gym for Rs 50,000, a mid-end for Rs 5 lakh and an advanced one for Rs 10 lakh.
Minus-machine workouts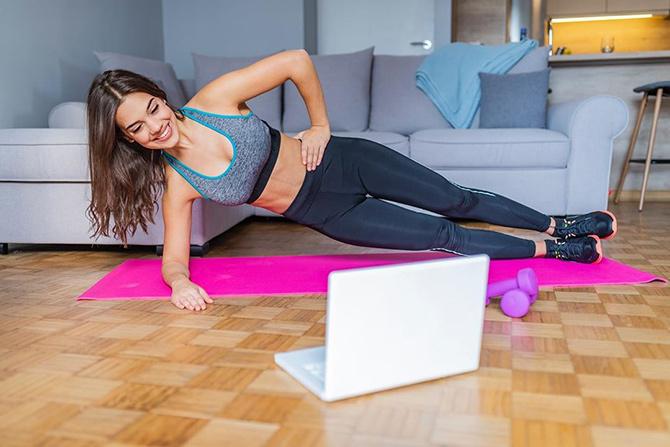 Today, many people swear by non-machine-based workouts and manage with just lightweights, bodyweight, yoga mats, barbells and dumbbells.
Most workouts are done through live sessions organised by gyms or personal trainers through Zoom classes. Some are run on YouTube where you require minimal equipment.
Mumbai-based fashion designer Sanjana Bubber, co-founder, Bubber Couture, says all one needs is a few good-quality yoga mats, weights and dumbbells, barbells and the rest of the workout is HIIT, Tabata, kickboxing, pilates, and yoga.
Bubber, who has always preferred outdoor fitness workouts and has been into marathon running, playing basketball, kickboxing says, "When the city started closing down and imposing limitations, I realised changes would have to be made to my daily fitness routine."
"I started this lockdown with a shoulder pull so I gave myself a week's rest before I realised I was in urgent need of equipment and a new fitness regimen," she says.
Bubber recommends to set up a home gym in a room that has a mirror or any reflective surface.
"I use my reflection in a switched off television screen for my workouts. The correct form is the key to fitness. It's important for you to see if your form of each exercise is correct or incorrect if you aren't using a trainer," she adds.
Gamification of workouts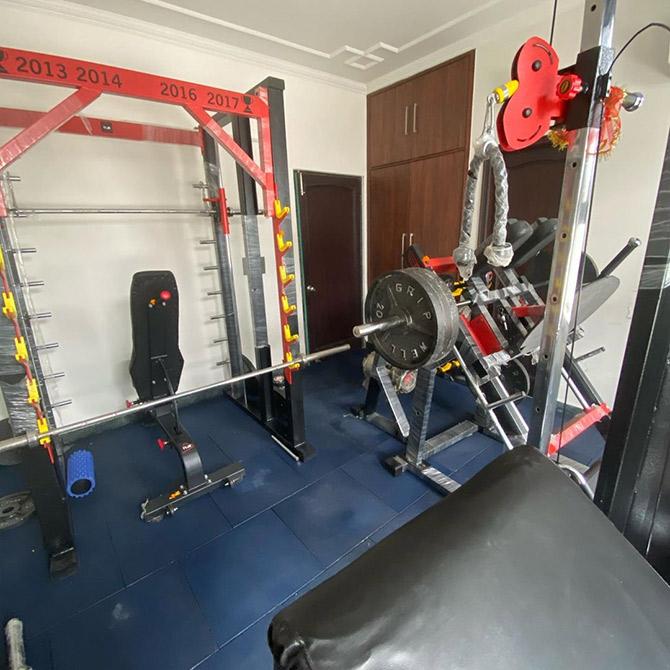 Today the quantity and quality of your workout can be assessed with the help of certain tech-enabled fitness apps that help track calories, energy meters and provide you real-time feedback on your workout.
As a result, working out at your home gym is no longer a solitary experience.
"The 'at-home' fitness industry is a much more mature market in the US and the adoption is still low in India but we want to take it to the next level," says Ashish Rawat, founder, Oga, an interactive digital workout platform that offers real-time feedback on how well a user is performing his workout.
More than the focus on equipment, what is harder is the motivation to work out from home.
If you are mentally motivated and set your own physical and calorie goals for each workout, the battle is half won.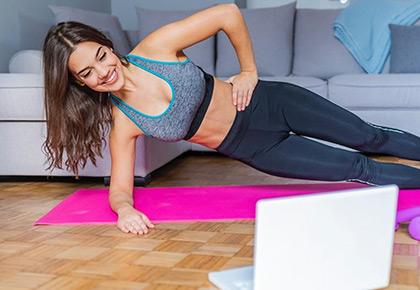 Production: Mahipal Soni/Rediff.com