'This generation wants to try different things, are ready to take risks and experiment with their careers.'
Nearly 30 million students graduate from educational institutions every year in India.
Many of them are looking for an internship to prepare themselves for their dream job.
Unlike a regular job, where employers look for skilled applicants, internships are meant to spot, hire and train raw talent, over a period time, to prepare them for formal careers.
In 2011, Sarvesh Agrawal, an IIT-Madras alumnus, ventured into the internship market with online site Internshala. His aim was to become the bridge between interns and recruiters.
Seven years later, Internshala has 2.5 million registered users and 75,000 businesses wanting to hire students.
Sarvesh, who works closely with millennials, tells Rediff.com's Divya Nair how the job market has changed in the last decade, what young graduates can expect and how they can prepare themselves for the future.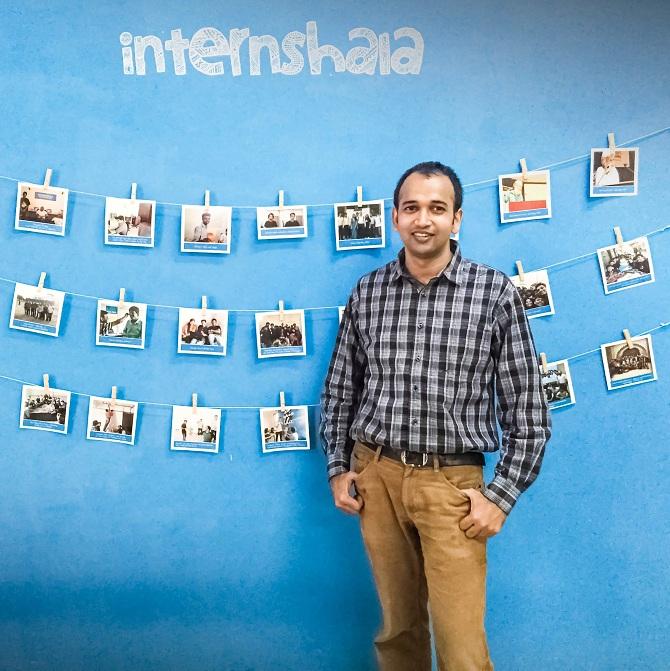 Sarvesh Agrawal, an IIT-Madras alumnus, started Internshala as a blog in December 2010. Today, the Web site generates Rs 3 crores annually.
Photographs: Kind courtesy Internshala
What do millennials seek in an internship?
The current generation of interns are different from what they used to be.
The mindset has changed. This generation wants to try different things, are ready to take risks and experiment with their careers.
They have different attitudes, aspirations and expectations.
Millennial interns are keen on real work. They don't want to fetch paper and coffee any more.
A lot of real work happens in start-ups which is why start-ups attract their attention.
Speaking about the change in attitude and functioning, let me share an example.
When I started working, if I had to take leave from work, I would be scared, and send an e-mail to explain to my manager what and why I would be absent.
My current team will maybe send a text message, if not an e-mail. They'll just inform (not ask/request for permission), and write: 'I hope it is okay.'
The way I see it, there is nothing wrong about it.
There is a massive positive shift in attitude. There is no hierarchy for them.
This lot doesn't care about established norms.
Also, they won't rebel for the sake of it. But they want to be heard.
They want to know why their ideas are not considered and demand an answer.
Why is it difficult to convert an internship into a fulltime job?
While the aspiration, desire and hunger is there, the skill gap remains the same.
We have candidates who don't have communication skills. They do not take the effort to understand why and where they lack.
And you can't blame them alone.
Even in the IITs, students are (studying) concepts of the 1970s.
It's not easy to update the curricula, because the process of updating it is longer.
You have to find the right people, prepare the content, get it approved... by the time it is made available, the content is outdated.
There has to be a way to make industry-relevant curriculum available to students.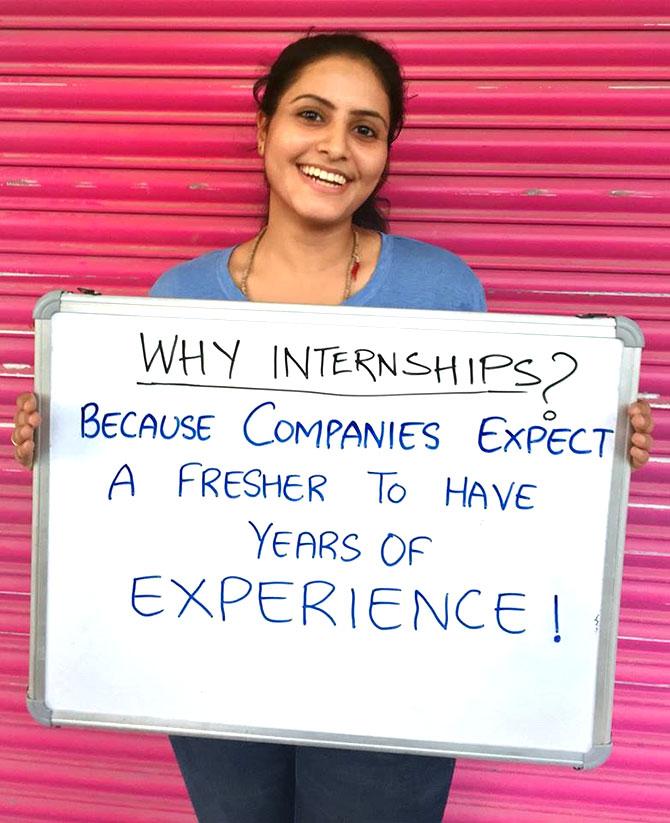 Internshala offers internships in India and internationally. Currently, it caters to 10 per cent of the internship market in India.
What role does the Internet and social media play in influencing a career decision in millennials?
The Internet has definitely made them aggressive. They are not afraid to question anything, anyone.
They are sorted. They understand some things better. They are curious.
For example, you may have situations where you will say: I could never speak like this to my manager.
I personally look at it as an opportunity for older ones to unlearn. There are times when the idea matters, not the approach.
Do you see any negative trends?
This is a very impressionable group (of millenials). They just see things as black and white on social media.
They do everything to create a certain sense of happiness in the virtual world.
But deep inside, the fear of loneliness, missing out is very much there.
Be it jobs or otherwise, the discontent is higher in this generation.
Maturity comes with age, experience.
This generation has a 'perceived sense of happiness' which is disconnecting them from the real world.
They often compare their life with peers saying things like 'How come this person is doing better than I am? S/he looks more happy.'
Emotional happiness at work is low compared to the previous generation of employees.
During the internship they are supercharged. They work like there's no tomorrow -- give it their all.
When they grow up, reach marriageable age, they begin to see things differently.
They see breakups, failure... that's when reality hits them. Not all are able to handle failures and setbacks positively.
Emotional wellbeing takes a toll which is why cases of depression are on the rise.
What kind of feedback do you get from employers?
There have been some cases where employers complain that new recruits stopped responding to their calls. Employers want candidates who are mature.
When I graduated, we got jobs on campus. Today, recruiters are careful about who they are.
Why are some still not getting the jobs?
There is lack of understanding, a skill gap, lack of communication and core skills.
That problem has always been there. It hasn't changed.

The Website offers internships in sales, marketing, content writing, fashion, engineering, product management, design, volunteering, human resource and finance.
How big is India's internship market?
Approximately 30 million students graduate out of colleges every year.
We have 25 lakh students registered with us, so we are only 10 per cent.
Having said that, in Jharkand and other states, internships are not so popular.
After their education, students (want) higher jobs and apply directly for employment.
What has been your success rate so far?
Of the 75,000 registered employers, nearly 500 top brands including Google, Reliance, HDFC Bank, BookMyShow regularly hire through us.
We have official internship partnerships with the AICTE (All India Council for Technical Education), MHRD (Union ministry of human resources development) and state governments to provide internships.
Even those who plan to return to work after maternity leave (take) the internship route to (re-join) the workforce.
What's your profit model?
We have two verticals -- internship and training.
Since the time we started, we have been very clear: We will not charge our students and we will only list companies.
We have a training vertical which is profit making.
We offer online training for as (little) as Rs 2,000 per programme for different skills like digital marketing, analytics etc.
These programmes fill in for the skill gap and help students/young professionals prepare for the jobs available.
Which sectors are high on hiring?
A lot of hiring happens in programming, digital marketing.
Every company has a social media page and they are always looking for people to maintain it.
Another domain is content writing. Companies want interns to write SEO (search engine optimisation) content for Web sites and improve businesses.
In design, companies are looking for those who can design logos, posters for Web site and online businesses.
Then there are traditional domains like marketing, HR, admin, data entry.
In the social sector, there is always need for volunteers.
How do you decide the stipend?
India is a large and old market for internship, most of which were traditionally unpaid.
When we started, we were very clear that we will not encourage unpaid internships except for (those in) social non-profit enterprises.
Today, 90 per cent companies listed on our site are willing to pay a stipend.
Of the 10 percent, 7 per cent agree to pay after counseling.
We see to it that at least internships happening through us are paid well. It gives them a boost, and value for the work.
I have observed that, traditionally, jobs in media, filmmaking, photography are not paid.
An office internship -- a 9 to 5 job for two months -- can earn you Rs 7,500 per month.
Depending on the duration of the profile and skills required, one can even earn up to Rs 50,000 in a month.
Is it fair for employers to not pay stipends to an intern and then expect interns to work long hours?
I have detailed this in a long post I had shared on LinkedIn (external link).
We at Internshala insist that a stipend is the right thing to do. It helps you get better candidates faster, increases accountability and ownership from both sides.
The guiding principle is that a stipend should be sufficient to cover basic expenses of an intern (food plus travelling in the case of a local candidate; plus rent in the case of an outstation candidate).
At Internshala, we pay Rs 15,000 per month for an in-office internship (a decent PG accommodation with 2 meals a day costs Rs 9,000 per month in Gurgaon) and Rs 5,000 per month for virtual internships (requiring 2 to 3 hours of work every day).
Should youngsters then pick an unpaid internship?
You could consider an unpaid internship, but do inquire about learning opportunities before saying Yes.
Your advice to our readers?
The sooner you start, the more opportunities you will have to explore.
In the first year of college, take up an internship in field volunteering, data, customer queries.
In the second year, go for something more technical, maybe in marketing or operations.
In the third or final year, pick a core internship.
Beyond a point, summer vacations are boring. There are only so many television serials and movies you can watch.
Before applying for an internship, do your homework.
Find what a company does and ask yourself: 'What is it that I can do for this company?'
Building your thought process, finding the gaps through the skills listed in the company's profile will help you prepare for the jobs available.
While a stipend can be a good incentive to work, let a stipend never be the sole criteria to decide the merit of an internship.
Always choose learning over stipend. Especially if you are getting to learn under a small company as against an established one, where you have a fancy internship, good money but very little opportunity to learn.