'#MeToo is a giant stride towards protesting sexual/verbal assault.'
'It is very important for us, as a society, to 'listen', to introspect and to understand that this is part of 'change' towards a safer society.'
'Hushing it up will only encourage the perpetrators who will begin to feel that they are invincible.'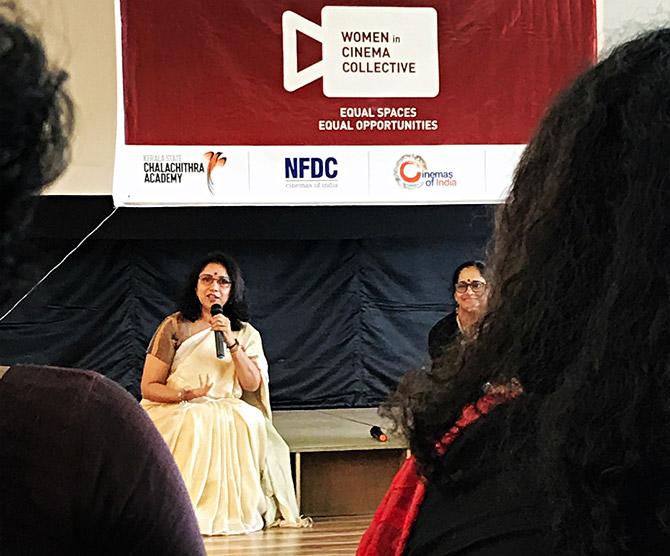 In 2017, when the MeToo movement gained momentum in the West, a group of Indian artistes had declared that India was ready for its #TimesUp moment.
Four actresses -- Rima Kallingal, Remya Nambisan, Geetu Mohandas and the actress who was abducted and molested in early 2017 -- quit the Association of Malayalam Movie Artists in June 2017 to protest against the reinstatement of accused actor Dileep in AMMA.
The Women in Cinema Collective was started by a group of female artistes and directors in 2017 to protect the interests of female actors and crew members and fight for equal opportunities (external link) and provide a safe working environment in the industry.
While WCC has a strong support of followers both online and offline, it has lately been the target of trolls and hate on social media.
"Due process by law is an important part of the #MeToo movement. Calling out itself is a big step, but most women are using this because they believe there was no 'due process' available," actress and director Revathy, president, Women in Cinema Collective, tells Rediff.com's Divya Nair.
At the WCC media meet, you mentioned an incident that occurred 25 years ago (Revathy said a 17-year-old girl had knocked at her door and how she and her grandmother calmed the minor through the night. Revathy later clarified that no sexual assault happened). Do you think people are overreacting that you brought up the incident now?
It was an incident that disturbed me. How can anyone knock on a woman's door and scare her?
If we ask around, I am sure, we will find many such instances where one would have endured that fear and kept quiet about it.
I shared that instance at the press meet only because I feel strongly that henceforth no one should ever have the impertinence to force someone into submission and in case that happens, we should have someone we can call, someone in the film unit we can trust.
This is where the role of ICC (internal complaints committee) is important with committee members who are committed to the cause.
I have been a conscientious person who has raised my voice for several causes.
Some people have misunderstood the context in which I spoke about the incident and are digressing by pointing fingers at me.
You have worked across the entertainment industry. Have you faced any such untoward incidents in your career?
Where there are men and women at work, there is always some harmless flirting.
Only when one crosses 'the line' it gets uncomfortable.
In most people's lives, there will be a couple in instances where someone crosses the comfort line.
It has happened to me too, but I was able to speak up and stop it before anything untoward happened.
My parents have taught me to speak up and never endure anything that I am not comfortable with.
That has given me the fortitude to oppose whenever faced with such situations.
Family support is very important, be it for a girl or a boy, to encounter and protest any kind of harassment or assault.
Why do you think the #MeToo movement took so long to come to India?
I believe that such movements happen when we are all ready to face it.
It takes a lot of courage to speak about such intimate things, as each girl who speaks might be hurting her immediate family, friends and her own self.
Also, we, as a society are always scrutinising the women and ready to point fingers at them, even if it wasn't her fault.
A woman is always asked to keep quiet no matter what, by parents, teachers, brothers, even husbands.
#MeToo is a giant stride towards openly protesting sexual/verbal assault and it is very important for us, as a society, to 'listen', to introspect and to understand that this is part of 'change' towards a safer society.
Hushing it up will only encourage the perpetrators who will begin to feel that they are invincible.
A section of the audience allege that the WCC is targeting actor Dileep or rather, one incident in particular. Do you agree?
Actor Dileep's arrest shocked everyone in the industry and outside, as for the first time an actor filed an FIR and the enquiry led to one of our own members in the industry.
The abduction incident definitely triggered in the formation of this collective and it is our foremost objective to procure justice for 'her'.
The WCC is not interested in targeting any individual, but is working as a watch dog in this case.
It is also essential to have a redressal mechanism in the industry and we have neglected this.
Rather, we seem to have brushed it aside for far too long simply by shutting one's eyes to the 'happenings.'
Every step that the WCC has taken until now, is towards a safer and equal workspace in our industry.
What exactly is the WCC's stand right now? What do you expect AMMA to do to make things right? How can they take stringent and fair action?
The WCC, then and now, raises our collective voice when there is injustice done to a woman in our industry.
AMMA did not follow their existing bylaws when making a decision in this 'extraordinary situation'.
We, Padmapriya, Parvathy and me as members tried our best to give them an informed solution.
The effort was made to help the association make the right decision which would then lay an archetype for the future.
Now, as a step towards progressing to where the rest of the film industries are moving -- AMMA needs to revamp their bye-laws, to be more inclusive and take steps towards the safety of their women members.
A redressal cell, where the complaints, however small, are officially registered, is essential.
In the end it is not just bye-laws and laws that can create a safe working environment, it is the attitude and sensitivity of the executive members, who are the office bearers that makes the difference and bring about changes.
They need to get out of the 'boys club' attitude and become a gender sensitive group.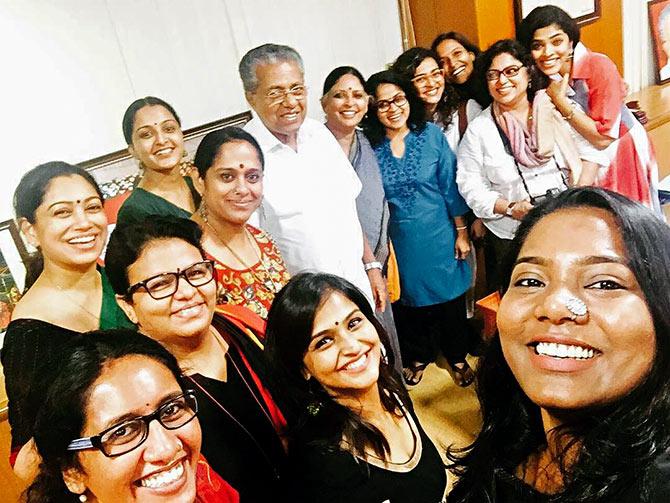 Did you ever feel threatened while supporting the WCC?
I am one of the founding members of the WCC and I believe in 'equal space', 'equal opportunities' and a 'safe working place' in our industry. How can I feel threatened?
If and when an artist/crew member approaches the WCC to help them file/report a case of sexual harassment, how does the WCC help the victim?
We are still evolving and are hoping to create all the necessary support in the immediate future.
At the moment we are an advocacy group that raises awareness about issues in our industry and finding solutions.
This is a path that has never been tread before so we are hoping to create the necessary redressal mechanisms within our industry. The process had already begun.
What happens when the person accused is powerful and tries to intimidate the victim to drop the case? How does the WCC help?
We stand by her as we are doing with our colleague at present.
Are you surprised by some/any of the names that have come up for allegations?
No. I am not surprised, but saddened by some names.
Do trolls and social media hate bother you?
I am not very active in social media, so I don't get affected by them.
Do you feel the #MeToo movement will bring positive change?
I do believe that #MeToo movement, will change the narrative forever.
The courage that some women have shown is laudable and it's heartening to see that more women are standing by them.
Social media as a platform has changed communication and helps an individual to reach out to the world personally.
Most perpetrators are scared of their image getting tarnished, so such people will think twice before attempting any kind of assault -- verbally or sexually, in future.
As people are named, the law too will get stringent towards sexual assault/harassment.
Society at large, will become aware of the existence of such situations and educate the future generation to safeguard themselves.
Will naming and shaming alone help? Or you think the accused (if proven) should be given tough punishment?
Due process by law is an important part of the #MeToo movement.
Calling out itself is a big step, but most women are using this because they believe there was no 'due process' available.
In our country, justice takes years, sometimes decades.
Justice delayed is justice denied and most get weary with the delay and it's all forgotten. This needs to change.
Sexual harassment/rape cases have to go into trial in the shortest period. Only then will more women have the courage to speak up.
When they speak up and justice is done, no parent or person in our society will tell victims to keep quiet.
Feeling empowered to speak up is the first step towards a safer society.
What advice/message do you have for readers who are scared to speak up against harassment?
When people are ready, they will speak up.
One cannot force or instigate anyone to speak up.
But in the mood of #MeToo, if anyone wants to speak up, I am sure there will be many who will support and walk along with them.
Personally, I feel the person who wants to speak up should meet a counsellor to be sure that they are ready as the repercussions can be distressing.
What advice would you give young actors/artists? How can they prevent themselves from being harassed or abused at work?
One should have the courage to speak up and say 'NO', and the other needs to understand that a 'NO means NO'.
I don't need to give any more advice/message to this generation as they have the biggest tool in their hands: The smart phone.
They know best how to use it. So, use it to help yourself and for your own benefit.