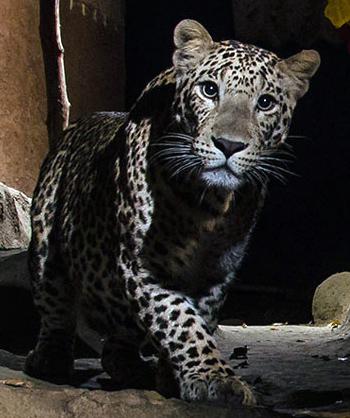 Nayan Khanolkar, Wildlife Photographer of the Year 2016, tells Rediff.com's Divya Nair his story.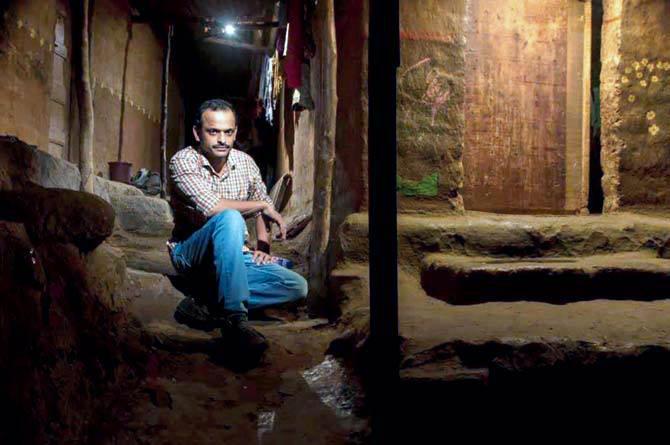 IMAGE: Nayan Khanokar has been documenting the life and times of leopards in Mumbai since 2013. All photographs: Kind courtesy Nayan Khanolkar
Nayan must have been around 12 years when he first flipped through the pages of Maneaters of Kumaon by Jim Corbett. Soon, he got immersed into a world lesser known to mankind -- of intelligent, 'harmless' maneaters and colourful, rare birds.
The Dombivli boy found a mentor in Dutch photographer Frans Lanting -- Nayan and his bunch of friends would excitedly travel to the British Council Library in Mumbai to study Lanting's cutting edge camera techniques and observations on wildlife photography.
Wildlife, in the early 1990s, Nayan says, was a concept as alien to Indian households as popular medicine and engineering was as viable career options.
"Unlike today, parents wouldn't buy you an expensive camera because you told them you like photography."
A decade and more later, Nayan continued his non-glamorous journey -- of juggling between the role of biology teacher by the day to make ends meet and a photographer by night to fuel his passion to understand "how animals and humans can co-exist in the same society."
"There were times when I have had to sell off my old equipment to arrange funds for my family needs. It was necessary too. If you are a non-commercial photographer, it's not easy," says the photographer who has been quietly documenting leopards since 2011 in Mumbai.
In October 2016, he received an e-mail from the National History Museum in the United Kingdom.
Titled 'The Alley Cat,' Nayan's nocturnal photograph of a leopard walking through a narrow slum road in Mumbai won him the Wildlife Photographer Award 2016 in the Urban category -- the same award that had introduced him to his first mentor when he was about 17 years old.
Nayan, now 42, is the fourth Indian to have won this coveted award, considered the Oscars of photography.
But it isn't the first time Nayan came close to winning it.
Nayan tells Rediff.com's Divya Nair why wildlife photography is not for everyone.
Why photography?
I always loved to read. About birds, plants and animals.
In Dombivli, I'd join my friends and go searching for birds. I'd go trekking with my group to the Sahyadris and see more rare kinds of birds.
I enjoyed every new information I got about birds and animal life.
I come from a middle class family and in those days, our financial condition wasn't well enough for my parents to buy me a camera. Wildlife photography was unheard of in the '90s.
So I used to read a lot about camera techniques and try them on my friend's borrowed camera until I saved up to buy one of my own.
I was 27 when I bought the Nikon F90X. The entire equipment cost me about Rs 1.5 lakhs (Rs 150,000).
IMAGE: The Alley Cat. Winner 2016, Category: Urban. Wildlife Photographer of the Year 2016, Natural History Museum.
Nayan would place cameras in the path of leopards to document their movement and understand their co-existence in urban Mumbai.
It took four months to capture this particular winning shot.
How did you get interested in leopards?
When I started off, I was a bird photographer.
In 2011, I read about how a group of women burned down a leopard with kerosene in Uttarakhand.
The women stood around it and were seen rejoicing as the animal was reduced to charcoal.
I was very angry and disappointed. I wanted to do something about it.
That's how I got interested in leopards.
In 2013, I read incidents of leopards being killed in Mumbai. I decided to research, to find out more about what is causing this imbalance and conflict.
Tell us about the winning photograph.
I have been researching leopards in and around the Aarey Milk Colony (in Goregaon, north-west Mumbai) since 2013.
Unlike what most people think, I do not walk behind leopards and chase them to click pictures.
It's a scientific and creative process, one that needs a lot of patience, planning and precaution besides execution.
For months, I studied the movements of leopards with the help of tribals and forest officials.
I found volunteers who could help me fix my equipment at the right places so I could record their movements.
I modified sensors and lighting equipment and waited patiently.
I scanned through multiple video recordings tracking their movement through the night.
In fact, I pre-visualised this image almost a year ago.
I rejected 1,700 images before finalising this one.
What was your reaction when you won the award?
It was a rush of nostalgia. I thought about Frans Lanting, the photographer who made me dream about wildlife and photography and how I'd flipped through those transparencies as an excited young boy.
Twenty years later, I am in London to receive the award and there are these leading photographers who I have admired and learned from discussing my work.
One of them was National Geographic photographer Tim Laman.
I told him how much I have admired his work and that I could not believe I was standing next to him.
I had applied in 2004 and 2005 as well. In 2004, I was one of the finalists, but in 2005, I misplaced my transparencies so I could not make it to the next round. It was disappointing.
So, this award is special in many ways.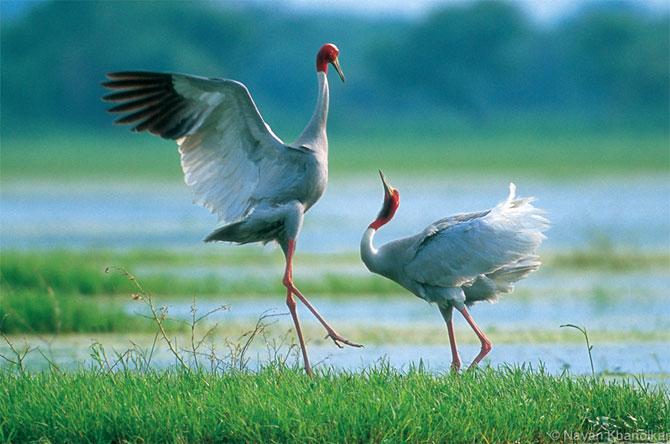 IMAGE: The Sarus Crane captured at the Keoladeo National Park, Bharatpur, Rajasthan in August 2003.
Is wildlife photography challenging?
There are many challenges.
First is the social challenge of being accepted by your families.
Non commercial photographers like me do not look at wildlife as a money making profession.
So, one has to have an alternate first career as financial backup.
Besides that, there is always the fear of your equipment getting stolen. Mine was stolen on two occasions and it was an expensive loss.
If you are shooting in the wild, one has to be really careful with the equipment.
During the process, you are likely to meet people who may not want to get shot on your camera -- they may or may not be involved in something illegal and your assignment may seem like a threat to them.
You also need to convince the forest officials about the credibility and purpose of your research, that you mean no harm.
How do you prepare for an assignment?
Be it any project, I spend at least two months on research.
I survey the place, read about the subject I am planning to shoot, interact with the locals and forest officials, get the desired permissions etc.
Then I read about camera techniques and how I can shoot and deliver the image differently. I am not easily satisfied.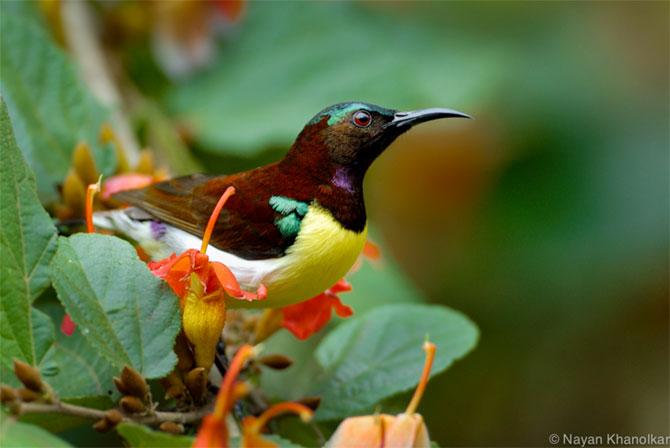 IMAGE: The Purple-rumped Sunbird, captured at the Cotigaon Wildlife Sanctuary, Goa, in November 2008.
Have you ever felt scared that the animal you are going to shoot might attack you?
No, I plan in advance. I do not take risks.
I do not follow the old school of photography where you chase down your subject and risk your life for that one picture.
I place cameras in their path and use technology and modify my equipment to get the best shot.
Have you ever been attacked?
No. Never.
Once, I was so busy installing my equipment in the forest that I did not notice that a leopard was standing behind me just six feet away.
I turned and it quickly vanished in the wild.
The weirdest things you have done to get the perfect shot.
I have sat on the forest floor through the night to get the perfect shot.
In Bharatpur, I spent about four days exploring nature day and night to get the best photographs of rare birds.
When I am on an assignment, I have gone without sleep for days.
You are a teacher. Where do you teach? How do you balance time?
I have a master's degree in plant taxonomy from St Xavier's, Mumbai. I teach biology to medical aspirants and Class 12 students at different coaching institutes in Mulund and Ghatkopar (north-east Mumbai). That keeps my family going.
It helps that I am a freelancer and can plan my timings based on my assignments.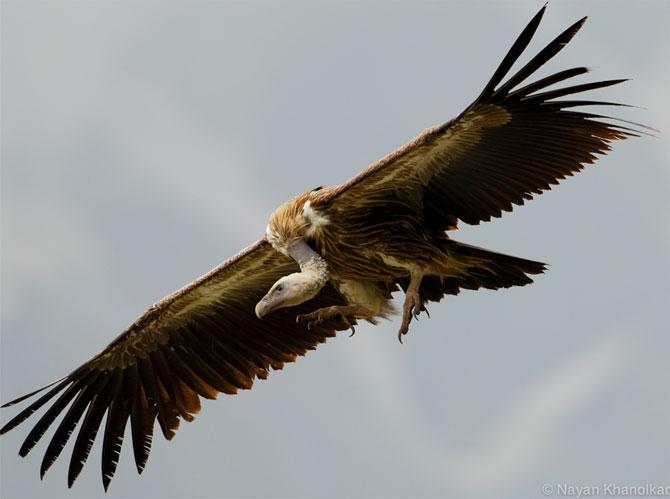 IMAGE: The Himalayan Griffon, captured in Manali, Himachal Pradesh.
Do you think photography helps conserve wildlife?
When I took part in the competition, there was only thing on my mind. That the best of photographers from different parts of the world will be sending in their entries.
I thought it was a great platform for me to present the man-animal conflict in India. All this while we had only read papers and research material on how animals and humans have and can co-exist.
Through this photograph, I wanted to reach out to 96 different countries and share the message.
I wanted them all to think about it. After winning the award, the media is suddenly getting interested in leopards.
I want people to change their perception that leopards are not just man-eaters.
If an intelligent animal like the leopard is trying to attack humans, it is a natural defence mechanism; a counter attack.
We have encroached their open spaces and boundaries.
We have left them with no choice, but to venture out of the wild.
Instead of killing them it is time we find ways to co-exist.
As you can see from my photos, leopards have adapted well to the urban life, it is urban humans who are having a problem.
What have been your most remarkable findings about leopards in Mumbai?
Leopards are extremely intelligent animals and have now learned to adapt to urban life, without getting noticed in the day.
According to forest officials, there are about 35 leopards at the Sanjay Gandhi National Park.
A 2012 study conducted under the 'Mumbaikars for SGNP' initiative revealed that 40 leopards have been killed near the Ghodbunder Road (near Mumbai) stretch between 1994 and 2011.
About two leopards are killed every year in road accidents.
This is despite the warnings issued to vehicle owners in the area that leopards might be spotted in the night.
The numbers are dwindling and it's not a positive sign.
The Ghodbunder stretch is the only access for the animals and if we cannot find a way to facilitate that, it is an environmental issue.
What, according to you, are the mistakes photographers make?
According to me, a photographer need not spend excessive amount of money in upgrading equipment every few years.
Sometimes it helps to buy a second hand model and modify it with existing technology.
You can play with light and motion sensors to get the right image.
International photographers take help of engineers; I chose to study camera technology myself to understand how I could make best use of light and lens capacity to capture the best image.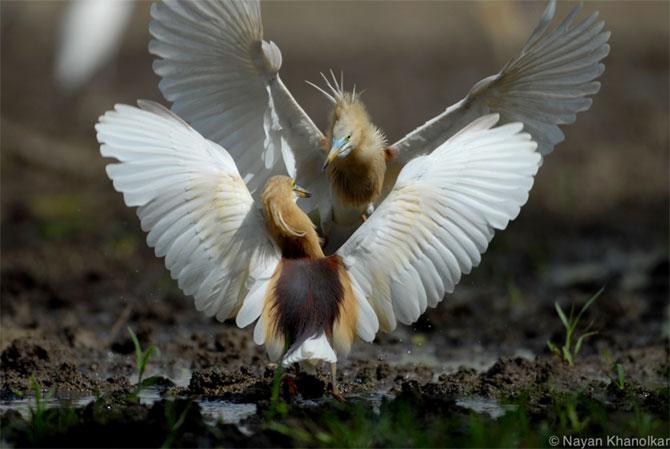 IMAGE: Pond Herons captured at the Keoladeo National Park, Bharatpur, Rajasthan in October 2008.
How has life changed for you after winning the award?
Ever since the news has been out, my inbox is flooded with countless requests from young photographers and parents asking for advice.
I wrote to some parents saying that it took me 20 years to get here and I do not shoot to make money. It is my passion.
What advice do you have for aspiring wildlife photographers?
In India, there is a misconception that everyone who has a camera is a photographer.
A commercial wedding photographer can also pursue wildlife photography as a hobby.
Travelling in a Gypsy in a safari and aiming your camera at a bird or animal may get you a good frame, but does it tell a story? Do you know your subject well enough?
Therein lies the difference.
Anyone can be a good photographer, but a wildlife photographer is a different ball game.
You are a researcher, a conservationist and a person with a vision and a mission.
Every wildlife image has a story behind it.
You have to be the person who captures it well and presents it to the world.
How can one make money out of wildlife photography?
There are plenty of photographers in India who shoot for money.
You can work for wildlife magazines, shoot pictures for catalogues, make documentaries and films for Indian and international clients. But there is always the caveat.
You have to compromise on your personal likes and creativity and meet the client's requirements. Plus, there is a deadline to adhere to.
It doesn't appeal to me. I like to work on my own terms.