Devika Narain earlier designed the weddings of cricketers Dinesh Kartik and Robin Uthappa.
Don't miss: How I designed Anushka and Virat's wedding wear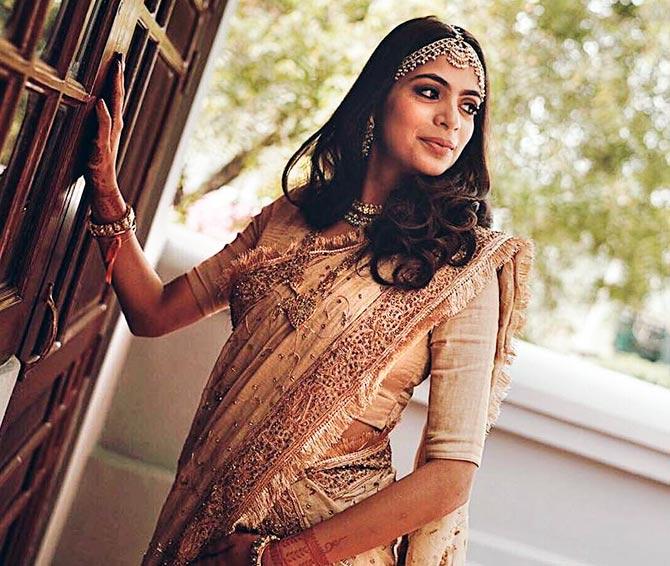 Devika Narain.
Photograph: Courtesy @naraindevika/Instagram.
It is possibly the biggest project -- or at least the most high-profile -- wedding that she has done so far. But wedding planner Devika Narain could not tell anyone that she had landed the wedding of the year.
'It's finally all settling in,' Narain finally said on Facebook yesterday. 'The cold is seeping back in and at this point I'm an odd mix of relief and immense excitement. We've been keeping a secret for a couple of months now and all of it has come to life today, in a beautiful Tuscan village, where Virat Kohli and Anushka Sharma got married. We're overwhelmed to have been chosen to be a part of such a special day. It means a lot to us to have had their trust, not just in keeping all of this a secret but to create a setting for their big day.'
While Narain designed the wedding, her husband Joseph Radhik -- they wed earlier this year -- was the official wedding photographer.
The wedding was so hush-hush that Narain and Radhik couldn't even tell their families about it.
But Narain is no newbie to cricketer weddings.
Her Devika Narain and Company, which was born on the dining table of a small rented apartment 'with the simple goal of creating spaces that were personal and uniquely Indian', was the one that also planned the weddings of cricketers Dinesh Kartik and Robin Uthappa.
Narain is known for her skill at designing big fat destination weddings. She has designed weddings not just in India, but also in Muscat, Oman, Mauritius, Thailand, Indonesia and now in Tuscany, Italy.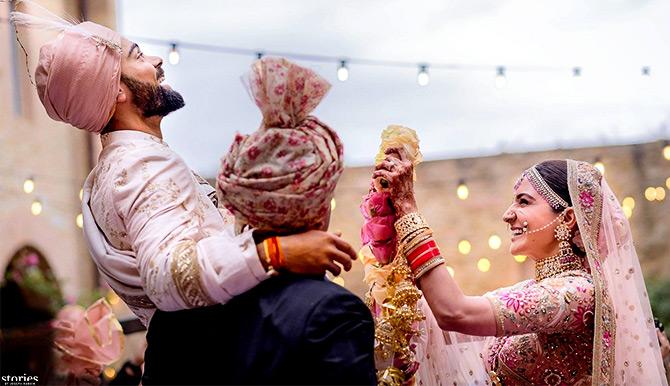 'Born and brought up Lucknow, growing up I could never have imagined that I would be leading a team of young designers in an attempt to change the landscape of the wedding industry,' Narain says on her website.
One of the things she often get asked is: How did she get started in all of this?
She says, 'For as long as I can remember I have always been a curious person and wanted to do something for myself.
'Growing up in a family that was always looking for an excuse to celebrate was a blast! Reasons like "because we're family" or "cos we just won a match" were always enough. Now I'm finding excuses to bring people together and bring back the happiness that has always been a part of celebrations.'
But, it didn't all start like that, she adds. She first pursued a literature degree, hoping to become a journalist. So, she headed to Delhi where she attended the Lady Shri Ram College.
'After several failed attempts at media jobs and a lot of angst trying to choose just one thing to be in life, I realized that my unusual combination of interests and skills was a strength, not a liability. I gave up the pursuit of a regular job and sought a creative life, despite my inability to draw.'
Much like Anushka Sharma's character Shruti Kakkad in Band Baaja Baraat, Narain too worked with another wedding planner in the beginning.
But after four years she decided to strike out on her own.
She says, 'Weddings, till this point had all been about theatre and showmanship and revolved around impressing your guests. I wanted to change all of that and be able to create weddings that were personal and truly brought people together to celebrate.
'These days, I spend my time trying to understand the psychology of spaces and see how they can contribute to celebrations and not just make a difference but also give back to society- all while I try to coach the best team of designers in the world!'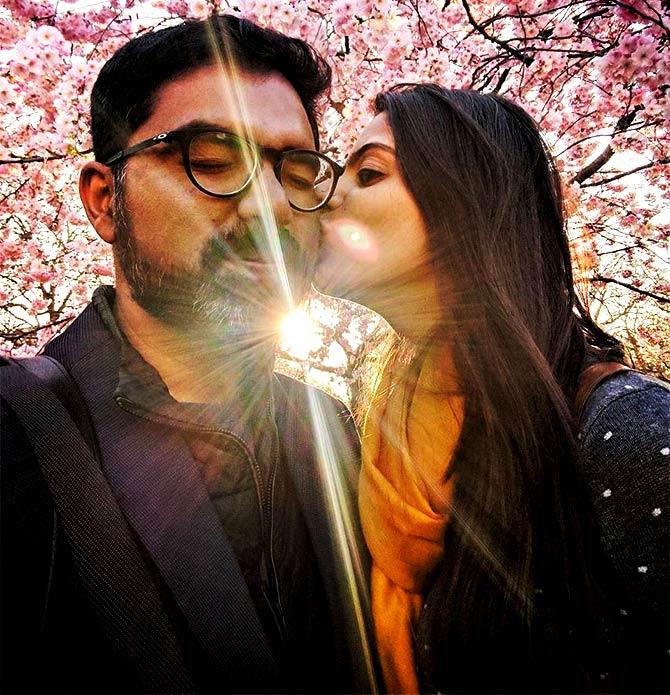 Narain and her husband Joseph Radhik, who is a well-known wedding photographer.
Photograph: Courtesy @naraindevika/Instagram.
For the Virat-Anushka wedding, Narain worked with Shaadi Squad, the wedding planners.
Shaadi Squaad wrote on Instagram, 'The past few weeks have been absolutely surreal and as we sit typing this out, it's sort of settling in!
'Four months of keeping a secret, hiding even from our own team, the secret recces, midnight meetings, vague conversations, and sleepless nights have finally manifested into this grand moment.
'Thank you Anuskha and Virat, for making us part of your family and trusting us to pull off something of this magnitude. You believed in us, even on those sleepless nights that we didn't!
'A huge shout out to everyone who stood with us through this and created magic all along the way -- @devikanarainandcompany (for transforming our mad plans into magic!), @storiesbyjosephradhik (for making everything and everyone look so damn good!), @theweddingfilmer (for making this weekend eternal for all of us! ), @ritudalmia (for bringing India to Italy!), @supertuscanweddingplanners (for being an extension of us in Tuscany). And above all of it, to our own incredible team, for being the pillars behind us!'
Virat and Anushka will follow up the Tuscan wedding with separate receptions in Delhi and Mumbai.