How robots may eradicate manual scavenging in India.
Nikita Puri reports.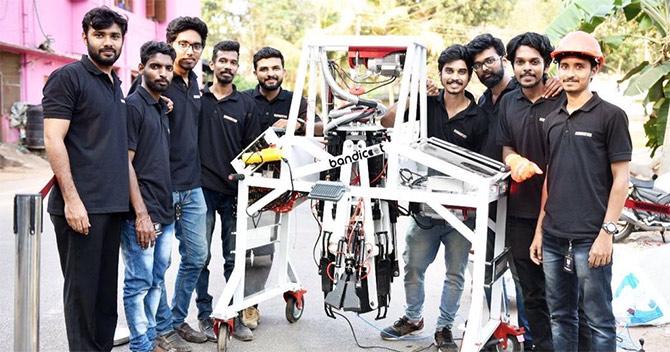 Every year, in accordance with the Malayalam calendar, lakhs of women pour into Thiruvananthapuram to mark Attukal Pongala, a festival where freshly prepared sweet pongal -- a combination of rice, jaggery and coconut -- is offered to the deity of the famed Attukal Bhagavathy temple.
Earlier this year, the air in Kerala's capital was filled with the scent of make-shift brick stoves cooking up pongal.
The event is usually a monumental sight: In 2009, it was even listed in the Guinness Book of World Records for being the largest religious gathering of women on a single day.
But this past February, a section of Kerala's citizens was waiting for another record to unfold long before the fire was lit to cook the pongal.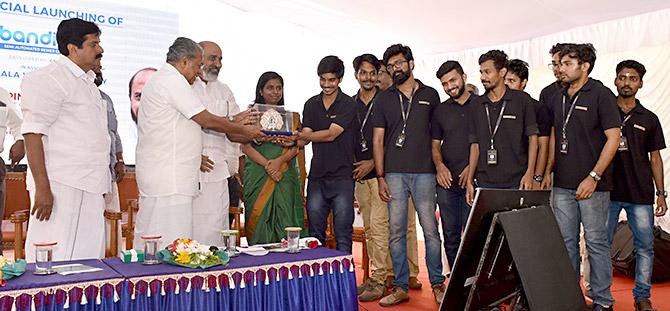 It was Bandicoot's first outing: A robot that has been tasked with dismantling the centuries-old practice of manual scavenging.
The launch event was planned before Attukal Pongala specifically to see if Bandicoot could help prepare the city to welcome lakhs of devotees who contribute to burdening the sanitation systems.
The robotic scavenger has been flexing its muscles for the Kerala Water Authority ever since.
Bandicoot, a semi-automatic robot, was designed and manufactured by a young team of engineer-entrepreneurs at a Thiruvananthapuram-based start-up, GenRobotic Innovations.
They like to be called, simply, GenRobotics.
"This is currently just a pilot project and needs more optimisation so that it can be used in different conditions, but this is undoubtedly a revolutionary step," says A Shainamol, former managing director, Kerala Water Authority.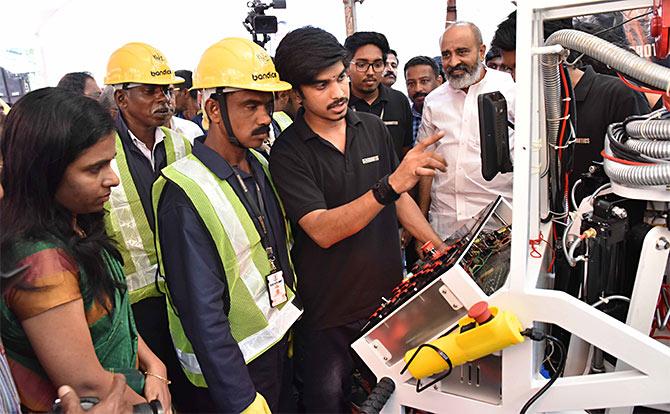 Bandicoot wasn't the team's first idea for a need-based product which could radically affect India's tech industry.
The first was a 10-ft-tall exoskeleton, a powered suit capable of carrying loads over 100 kg with ease.
"The suit's best use was in the field of defence and heavy industry," says Vimal Govind M K, chief executive officer, product architect and one of the four co-founders at GenRobotics.
"It was somewhat like the suit from Iron Man," Govind adds.
"It was something you'd have seen in Avatar," explains Arun George, another co-founder.
The other two co-founders are Nikhil N P and Rashid Bin Abdulla; all four are under 25 years old.
Supported by the Kerala Start-Up Mission, the 2015-born start-up is funded by Unicorn India Ventures, and by Rajan Anandan, Google India managing director, and Lalit Jain of Planetcast, a digital media services company, the latter two in their personal capacities.
The first of their robots was born out of Govind's childhood experiences.
The son of an army man, he would see soldiers carrying heavy loads, especially if they were out on the field.
A paper he presented at a conference in Singapore in January 2016 bagged him the best research paper award by the American Society of Research.

It was the publicity brought about by this award that prompted the government of Kerala to reach out to Govind and his team.
'Come back after the conference, and we'll give you the support you need,' was the message from Kerala IT Secretary M Sivasankaran's office.
By this time, Govind and his friends, who had come together to work on robotics through the Kerala Start-Up Mission, had gone their separate ways for lack of funding.
But following the Singapore conference and a spate of incidents related to manual scavenging, in 2016, Sivasankaran asked if they could create a robot to clean manholes.
"They were asked to find a solution to manual scavenging because of their expertise with robotics. They were approached because the problem was of relevance to them," recalls Saji Gopinath, chief executive officer, Kerala Start-up Mission.
The condition of manual scavengers in India, 80 per cent of who die before they turn 60, is deplorable, to say the least.
In an interview with Vice, an international media platform, an Australian 'poo diver' talks about how in their sewage-treatment farms, working with 'brown gold' (solid waste) meant good money.
Besides, with a special suit that comes with a supply of oxygen, he was more protected in a sewer than the people who had to decontaminate the suit after he got out.
In India, the practice of manual scavenging (its definition limited to cleaning of dry latrines) was outlawed in 1993.
But it was only in 2013 that the amended Prohibition of Employment as Manual Scavengers and their Rehabilitation Act recognised the more hazardous forms of the practice, such as cleaning sewers and septic tanks.
The Act makes it necessary for municipalities to provide gas masks, safety harness belts and helmets to workers when they enter these hotspots of toxic gases.
In practice, manual scavengers aren't provided with any such protective equipment.
Not insignificantly, in India, manual scavenging is a caste-based occupation: it is the task of Dalits and 'untouchables'.
According to the Safai Karamchari Andolan, an organisation working for the eradication of manual scavenging, 1,300 manual scavengers died across the country in 2016.
In the first seven days of 2018, seven manual scavengers died in India cleaning choked sewer lines and clogged manholes.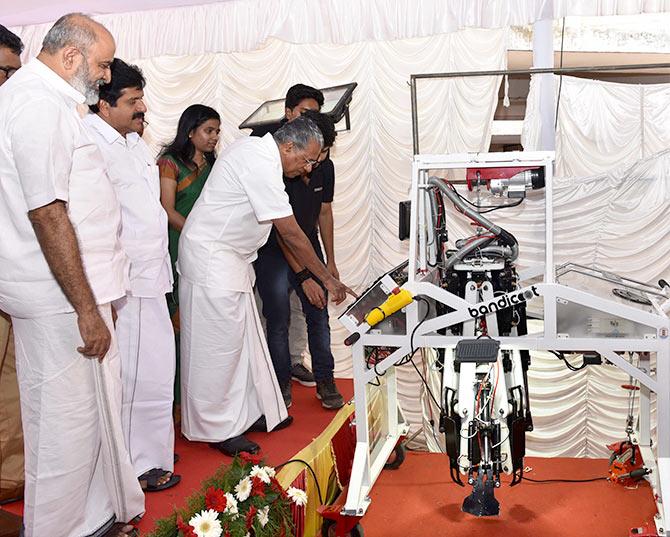 For the team at GenRobotics, an incident from 2015, where an autorickshaw driver tried to rescue two manual scavengers who had become unconscious in a manhole, remains fresh in their memory.
All three men died of asphyxiation that day in Kozhikode.
Cylindrical in shape, Bandicoot has spider-like arms that can move 360 degrees; these arms have scoopers meant to pick up solid waste.
This robot is a reflection of the strange times we live in -- where society is yet to catch up with laws, and the reverse is just as true.
"If a manhole gets clogged, before Bandicoot there really was no other way to unblock it except by sending someone down there," says Abdulla.
Now, every night as Thiruvananthapuram readies to go to bed, Bandicoot, operated by former manual scavengers, begins its rounds.
In making the lives of manual scavengers better, "Bandicoot doesn't eliminate jobs," Shainamol points out.
Almost three years after the Kozhikode fatalities, Sathish N, a sanitation worker in his late 40s, is one of the two trained by GenRobotics to operate the Bandicoot robot.
"Families of manual scavengers have often told us about the health problems they face because of their work," says Abdulla.
According to Sathish's wife, her husband could not bear to eat anything after coming back from work.
"She had to feed him forcibly," recalls Rashid.
"Bandicoot is a big relief to them."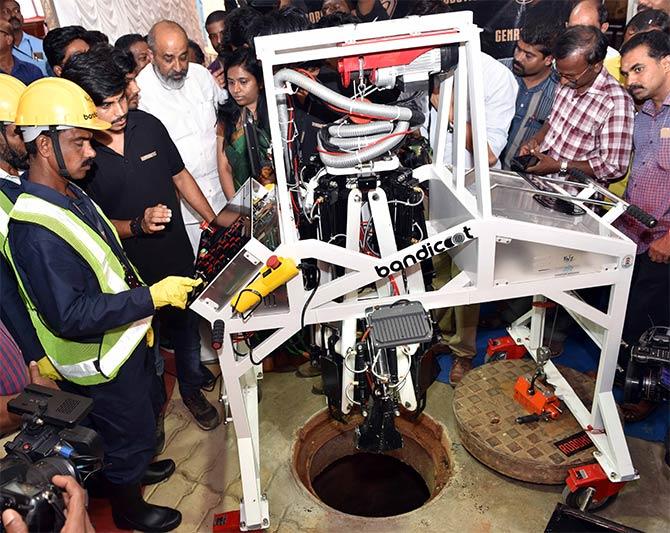 GenRobotics was registered only last June.
"They've managed to deliver in a strict timeline," says Gopinath, adding, "It was only after the robot was deployed that we have found that there is a big market for it."
Following its success, Kerala has asked GenRobotics for 50 more of its kind to be deployed across the state.
The robots are currently being made in the start-up's small office and shared labs. But they are hoping to acquire a factory unit soon.
Perhaps GenRobotics's vision of an India free of scavenging is too ambitious, one that could be put down to youthful idealism. But the fact remains that they have been steadily breathing life into their vision through metal and lines of code.
With sustained coordination from state governments, perhaps Bandicoot, as the team likes to say, could yet turn "manhole to robothole".