We asked you, dear readers to share tips, suggestions and stories of how you are preventing coronavirus.

Dr M Madan Kumar, 45, shares some tips:
I am PhD, former controller of examinations at Anna University Tiruchirappalli, Tiruchirappalli.
Here are some Do's and Don'ts that may help you overcome self-quarantine:
Things to do
1. Wake up early as usual and finish your morning duties.
If possible wash your clothes. It will consume your time and takes energy but I believe that even high profile social personalities have washed their own clothes.
This habit can be highly useful during tough times especially when you stay alone.
My father's elder brother is 93. He washes his own clothes -- a habit that has made him feel healthy both mentally and physically.
2. Do dress up, say your prayers and try to do something productive at work, in your business, etc.
Try to create, design and plan your routine in the best way you can. Following a schedule will serve useful in the long run.
3. Do find time to talk to your loved ones who are away from you.
Always be positive while communicating with elders and senior citizens.
4. Find time for friend/s with whom you can converse/discuss things every day or maybe once a week.
It's time to scroll through your phonebook and talk to your old friends.
Limit to one or two friends per day.
Make it a cycle and include a few friends in due course of time.
5. Do feel blessed always.
If you feel worried about being locked at home, imagine the life of a solider working in Siachen glacier or even deadly locations for years missing their families and loved ones.
They risk their lives every day and have been surviving in tougher conditions.
Most of us are fortunate to be at least in touch with our loved ones.
6. Be grateful to everyone right from sanitary workers to the highest administrator who is working meticulously to rectify and eradicate the misfortune in all aspects.
All those who are working are liable to get infected and affected by the pandemic but that hasn't stopped them from working and giving their 100%.
7. Do observe and obey the instructions as laid down and be responsible and obedient to the system.
8. Acknowledge the power of social media and utilise it to stay connected and updated with your loved ones.
9. Do allow children to interact with you and encourage them to ask questions.
Feel free to discuss about everything that is appropriate for their age.
Introduce the kids to relatives and friends through old albums and social networking sites.
10. Schedule your entertainment time.
Watching TV by simply scrolling channels may annoy you after some time. Similarly attending messages as and when your phone beeps will drain you sooner.
What you should avoid
1. Don't ever wake up late.
Once you wake up late, you feel bored and if it becomes a habit, you will end up getting stressed.
A person who wakes up with some commitment is always better placed than someone who doesn't have a plan.
2. Don't ignore your skills. For those of you who are unable to work from home and are waiting for the lockdown to be lifted, if you don't think or work daily, you may not be able to start your work immediately after the lockdown.
There are possibilities that you may lack the confidence or may have forgotten your skills.
This happened to me when I did a crossover and went back to my old profession. It took me several weeks to get into action.
3. Don't wait for elders to contact you.
Your parents/elders will be eager to know your status and may feel concerned about your well being. But they may hesitate to reach out to you thinking that they might disturb you.
4. Don't gossip among your friends or share bad comments about anybody. It may end up in bitter relationship when things come to light.
5. Don't feel bad about your current situation.
This will add to stress which is not going to help you in any way.
During war, when a researcher from Iraq was asked about their life said 'every day bombs will be dropped near their houses and somebody might be a casualty, but we don't miss happiness. Marriages will happen, some functions will happen and we learn to live happily even at the cost of bombs and lives.'
6. Don't try to help someone who is far away. Instead, try to reach out to someone near you.
Though we may not be able to physically reach out, we may be able to find someone by simply talking to them and solving their problems.
7. Don't under estimate warning and advice.
Lack of civil obedience will create major havoc, like it did in several other countries in the past few months.
Any natural hazard becomes a disaster only because of human errors. Even during earthquakes and tsunami, the structures made by humans and non adherence of coastal regulations create casualties.
In the tsunami of 2004, almost 20 to 30% of the casualties were because of ignorance, false bravado, and general civil disobedience.
8. Don't forward messages without verifying its authenticity. This will create panic and misguide the readers.
9. Don't be harsh to kids. They are more stressed out than elders since they are too young to understand what is going on.
Be kind and allow them to talk, ask questions.
Try to play board games and indulge in indoor games. Explore their interests while you still can.
10. Don't not let social media and gadgets get the better of you. Lack of controlled consumption is main source of stress, especially when you get bored.
Allow kids to use social media only with supervised interactions.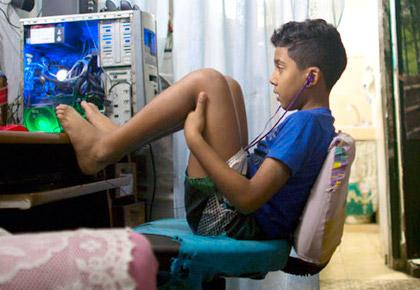 ---
Dear readers, how are you dealing with the lockdown and keeping the virus away?
Share your smart tips, ideas and suggestions with us and we will publish the best ones.
You can also get your children to share a drawing describing the current situation in the country or how to keep coronavirus away.
Write in to us at getahead@rediff.co.in (Subject: Keeping COVID-19 Away) along with your NAME, AGE and LOCATION.
Don't forget to share your photograph. We'll publish the best responses right here on Rediff.com.