We had asked you, dear readers, to send us a list of books you're reading during the lockdown.
Rediff reader Pooja Rakesh from Kochi, Kerala tells us why Ruskin Bond is her favourite author.
Since the day I can remember, my mother and I have been huge fans of Ruskin Bond.
One can find almost every single book he has ever written, lined up in our bookshelf. And mind you, it's not a small number!
So, when some three years ago we heard that Ruskin Bond was going to write a trilogy about his boyhood years, our joy knew no bounds.
We got the first book just a day after it was released, finished it within minutes and waited eagerly for the second book.
This cycle repeated with the second book.
The third book came out much later but it was worth the wait.
This set of memoirs has got to be my favourite out of all the books I've read.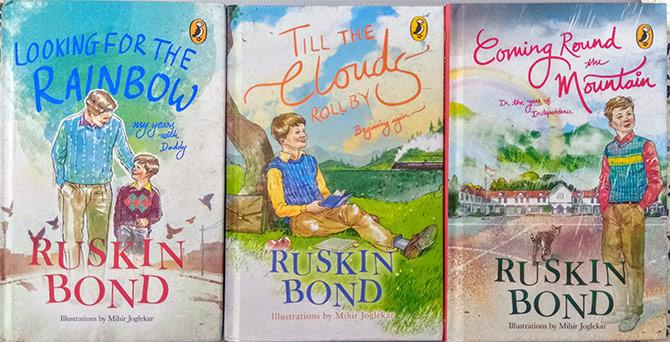 It is the plain simplicity of words, the characters and the experiences that make the books so lovable.
Out of the three, the first book is my favourite because of the rollercoaster ride of emotions that it takes us on.
A lump forms in my throat every time I read about the last day young Ruskin spent with his father before his death.
Reading about that wonderful stamp collection never coming to Ruskin breaks my heart. But just like how Ruskin bravely dealt with the loss of his father, his words help to lift our fallen spirits and again we are back to talking about the hills, mist and the singing birds.
Looking at these books inside the glass bookshelf fills me with solace as I can read all these books whenever, wherever and how many ever times I want to read them!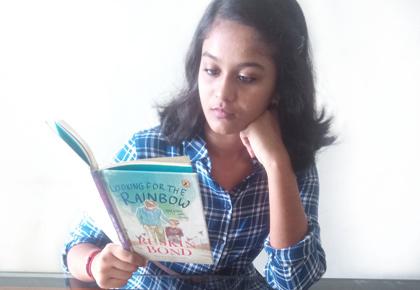 ---
Tell us what books you are reading during the lockdown.
Send us a picture of the book and what you like the most about it.
Simply write to getahead@rediff.co.in (subject: The book I am reading) along with your name, age and location. We'll feature the best responses on Rediff.com.
---