Mihir S Sharma comes up with an interesting list of books you could read during the lockdown.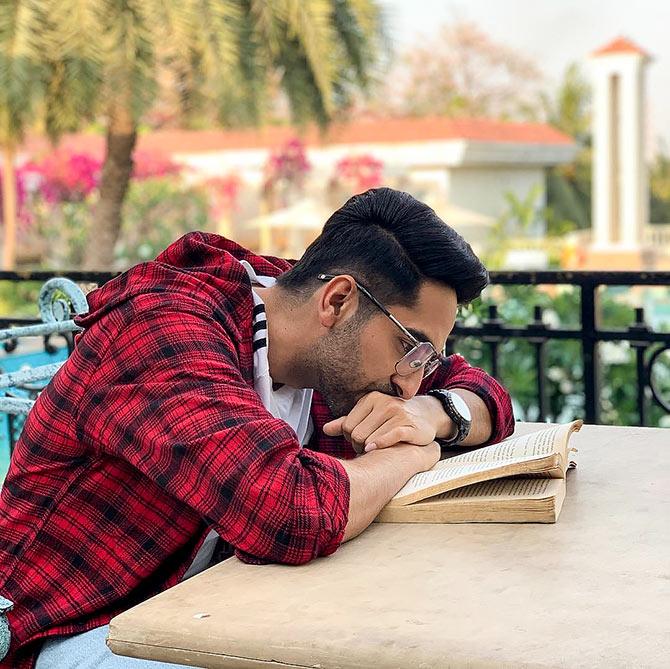 In these weeks of isolation, most of us will look around our houses for something to do. (Don't tell employers, but you learn when working from home how little actual time a full day's work fills.)
Many of us will turn, of course, to Netflix or Amazon Prime. But after a couple of days sitting in front of a television, you are going to start yearning for some more low-tech pleasures. And that's where books come in.
It's possible you want to escape the reality of what's happening to the world -- countrywide shutdowns, worry and concern, divided politicians. But perhaps you don't.
Certainly, a look at the most popular titles on the streaming video services suggests that people are flocking to documentaries and feature films about pandemics.
Once you're thinking about it, it's hard to stop.
When one starts searching one's bookshelves and memory for books set in times of an epidemic, you slowly realise that there is truly no shortage of them.
All I have at home is a copy -- probably decades old, because I certainly haven't re-read it recently -- of Albert Camus' The Plague.
Camus' book is unsparing in the details of the illness but also about what it does to society: how every weakness and division is not just revealed but serves the epidemic's ghastly purpose. It's a bit depressing.
But then it is hard to find a book about a pandemic that isn't.
Perhaps the best-received book about pandemic in recent times has been Emily St John Mandel's Station Eleven, which was published in 2014.
Ms Mandel does not like her book to be called science fiction, but it is hard to tell the difference.
Like the best science fiction, it creates a completely new world -- a North America 20 years after it was devastated by the 'Georgia Flu'. (Geographical names for diseases are fine unless they're Chinese, apparently.)
The narrative jumps back and forth between a post-apocalyptic journey across the American Midwest and the moment, two decades earlier, when the pandemic took hold; it's neatly plotted, full of revelations and links, and ends with a moment of hope.
As does Geraldine Brooks' Year Of Wonders, which is set not in an imagined epidemic, but a real one: the Plague Year of 1666, when large parts of Europe were devastated by the bubonic plague.
Even in these times, it is somehow more gripping to read something set in an epidemic that actually happened.
Ms Brooks, like Camus, took as her text the impact on a divided and problematic society of an epidemic disease; the small English village where it is set turns into whatever is the opposite of idyllic fairly soon, with superstition, lynchings, murders and elite irresponsibility running through its pages.
But it too ends on a somewhat uplifting note -- and, oddly, with a geographical salute to Camus' book that might have been lost on many of its readers.
Part of the reason that Year Of Wonders is more cheering to read is the nature of its protagonist.
If the book has a fault, it is that she seems to be a woman more of our times than hers.
The single best book written about epidemics -- in my opinion -- avoids that problem by ensuring both that the setting was 'real' and that the protagonist was 'modern'; you just had to introduce time travel into the equation.
Connie Willis' legendary Doomsday Book centres on an Oxford historian who, partly because of a pandemic in her own time, finds herself stranded in the fourteenth century as the Black Death -- the first European iteration of the plague -- sweeps through the English countryside.
Ms Willis, who is the most awarded science fiction writer in history, has written several books about time travel.
Each is brilliant -- To Say Nothing Of The Dog is a delightful and witty take on Victorian England and Three Men In A Boat, and Blackout/All Clear is the best Blitz novel of the past decades -- but Doomsday Book is very different from the rest.
Nothing else quite brought home to me what it must have felt like to be in the path of the Black Death: The all-encompassing dread, and the helplessness. Yet it is written with Ms Willis' characteristic light touch and is much more readable than you would imagine.
You will find no better use for Rs 600 in the next three weeks than on its Kindle edition.
Perhaps, however, you don't want to read about plagues, real or historical, or flus, Georgia or Wuhan.
You are stuck at home, feeling increasingly isolated, and wondering whether you really have everything you need.
In which case, perhaps you just need a dose of the original social distancing book: Robinson Crusoe. It does go on a bit -- but the first section, when Crusoe first finds himself alone on a desert island, is still a fascinating paean to individual enterprise amid isolation.
---
Tell us what books you are reading during the lockdown?
Send us a picture of the book and tell us all about the book and how it is helping you.
Simply write to getahead@rediff.co.in (subject: The book I am reading) along with your name, age and location. We'll feature the best responses on Rediff.com.
---