Dhairya is hearing impaired from birth. But his painting describing the current situation is loud and clear.
Dhairya Paresh Gangar, 9 studies at The Central School for the Deaf in Mumbai.
According to his mother Urvi, Dhairya keeps himself busy with drawing, craft and playing indoor games.
In the evening, they go to the terrace where Dhairya does some skating and exercises like skipping to stay fit.
Dhairya sent us this painting he made during the lockdown.
It features a police officer struggling to keep public safe at home and a health worker trying to keep the virus away.
It has multiple messages on the importance of staying home and simple tips on how we can help fight the virus.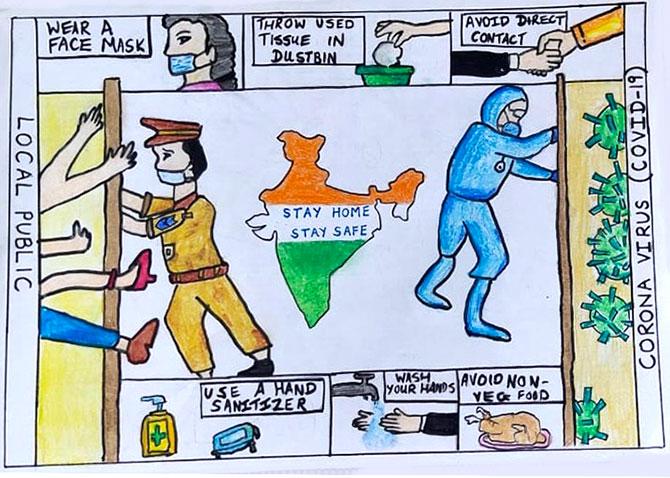 ---
Dear readers, tell us how are you keeping your kids busy at home?
Are you playing games, painting together or cooking?
If they love to write, paint, sketch or craft you can send us their most interesting artworks.
Send us your photographs, ideas and videos on getahead@rediff.co.in (subject: Keeping kids busy) along with your name, your kid's name/s, ages and location. We'll publish the best responses right here on Rediff.com.