These fashion lovers upped the style quotient at Day Three of the Lakme Fashion Week Summer/Resort.
Text: Anita Aikara/Rediff.com; Photographs: Hitesh Harisinghani/Rediff.com
Samidha Singh, fashion blogger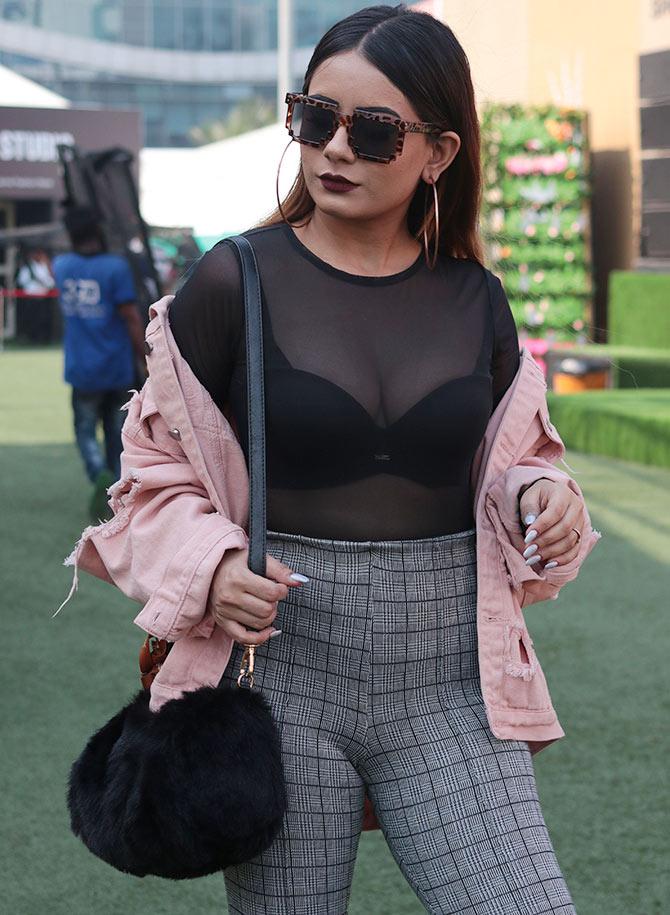 What are you wearing today?
My look today is a combination of separates from Instagram quirky stores.
I always go for street style because that is the easiest thing I can pull off.

You can team anything, anyhow, and that becomes a street style.
My style is easy, casual and a little bit tomboyish.
I have kept my make-up sleek and neat, but went fancy with the eyes. I chose a bold lip colour because it looks catchy.
Fashion mantra
I don't follow trends. I am wearing black on a sunny day, which means I don't really stick to fashion rules.
If I like it, I wear it.
I always choose comfort over style because, as a fashion blogger, I am required to keep moving around and I need to be comfortable.
If I am not comfortable then I am not in a good mood.
I don't believe brands make a difference; it's your choice that does.
On a regular day, I wear shorts, a cropped top, boots and shades.
* * *
Devangi Chopra, singer and fashion content curator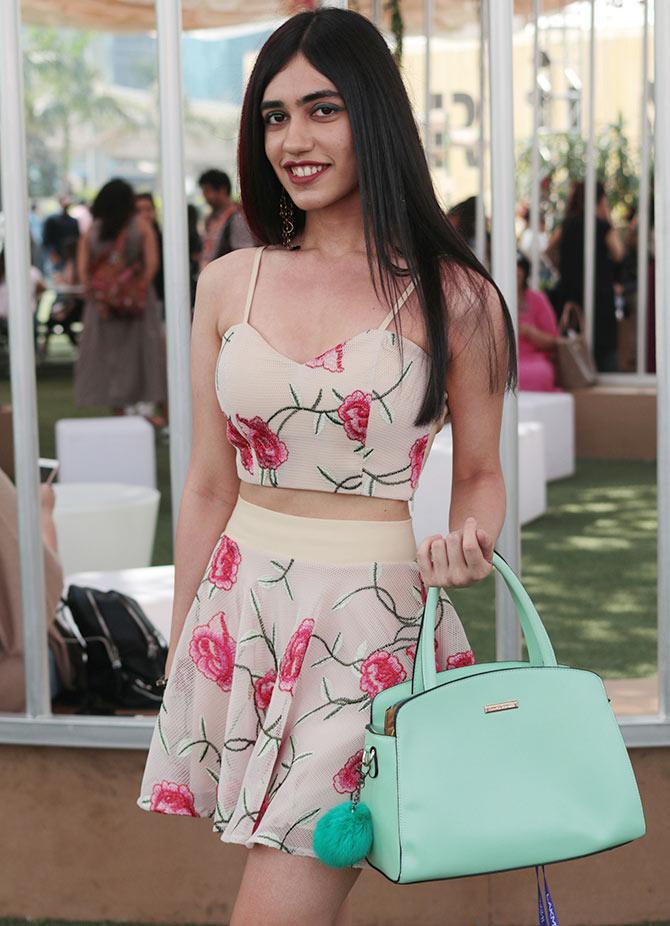 What brings you to Lakme Fashion Week?
It is my fourth year and I love the spirit of fashion here.
Everything is so lively.
If you know you're losing out on inspiration, this is the place to be!
What are you wearing today?
I am attending Anushree Reddy's show today and, since she is playing around with pink and florals, I wanted to dress appropriately for that.
It is spring-summer and florals are back.
I love wearing florals and find every excuse to wear them.
That's the gist of my outfit today.
I completed the look with silver heels, a green bag that's colour-coordinated with my winged eyeliner.
Ever since my sister's wedding, I have a lot of Indian jewellery which I have been teaming with my outfits.
For today's look, I chose traditional gold earrings.
I don't understand why people don't use the Indian jewellery that they spend so much money on, so I decided to use it today.
I normally like keeping a minimalist look and stick to my signature green winged eyeliner.
Green is a colour that inspires me; it is my favourite colour.
I try and incorporate green in all my looks.
What does fashion mean to you?
Fashion is something personal. For me, it is about believing in yourself and living it through your style.
I love free-flowing fashion and anything that keeps me happy.
People tell me they can literally see how happy I am through the clothes I wear.
Go with the flow is what I tell people when it comes to fashion; just be yourself.
Given a choice between comfort and style, I'd always choose comfort. Though a little discomfort is okay once in a while, like wearing heels.
* * *
Khushnaz Ashdin Turner, fashion blogger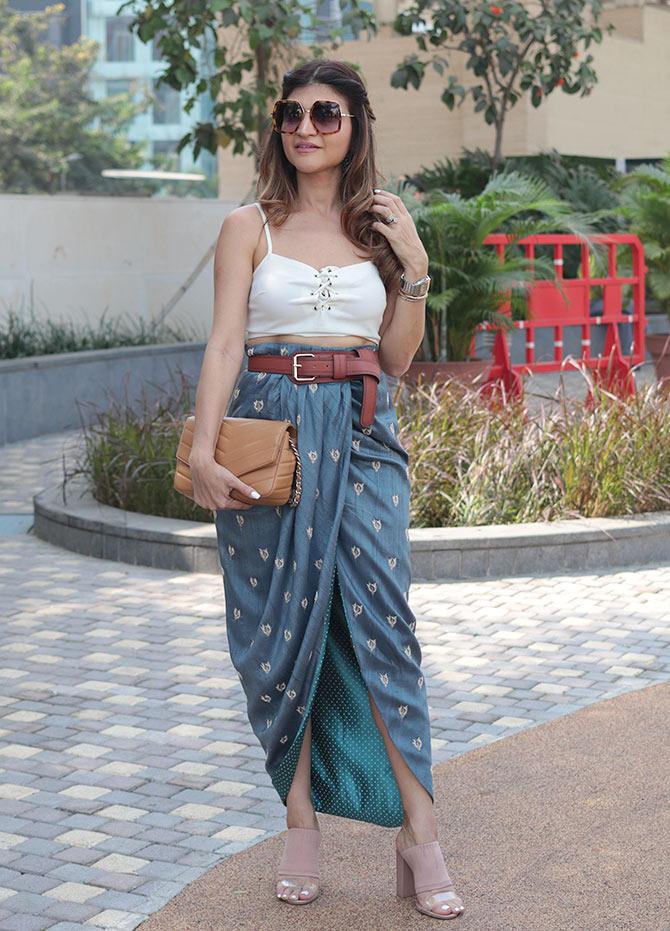 What are you wearing today?
I'm here to attend the SVA show by Sonam and Paras Modi. So I chose a tulip skirt from their collection.
I thought the skirt was appropriate for Fashion Week because it is slightly lighter than the heavy wedding dressing that SVA does. I like the colour.
I teamed it with heels from Zara, Gucci sunglasses and a Chanel bag.
White goes with everything and beautifully matches the embroidery on the skirt; that's why I opted for a white cropped top. You can't go wrong with white.
The earrings are from Curio Cottage.
My make-up pretty much stays the same.
Today, I am wearing a nude pink lipstick – it is my go-to lipstick when I don't want to be too dressy in the daytime.
What's fashion to you?
For Fashion Week, I have been out-of-the-box and quirky but my personal sense of style is a little understated.
Of course, being a blogger, I need to be abreast with all the trends and that's where I am right now.
When it comes to choosing an outfit, it is definitely about where I am going and what works for that event.
Fashion mantra
Just enjoy yourself and have fun with fashion.
* * *
Summiya Patni from the House of Misu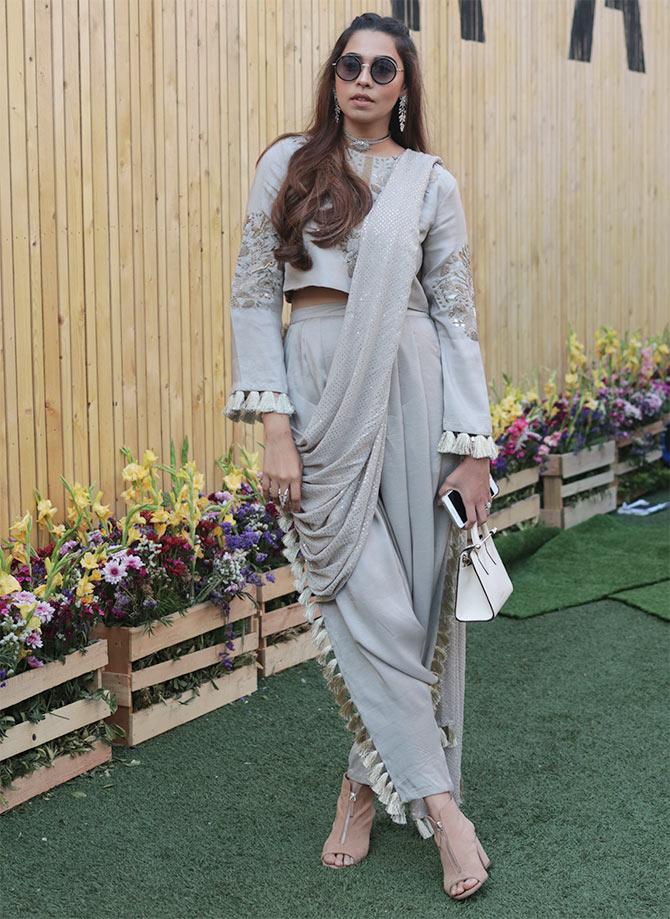 What are you wearing?
Today I am wearing at outfit by Payal Singhal.
I love her and am always looking forward to what she is doing. She has such a signature style and I like the fact that she always reinvents herself.
I chose boots with a traditional outfit because I felt I didn't want to wear mojris or heels in the day.
I wanted to keep it super casual and added a Western twist.
The jewellery is from my new collection from Shaze.
What does fashion mean to you?
Fashion is anything which is beautiful and you make it your own.
It is not about trends, at least not for me.
Fashion mantra
If you are confident in what you wear, you will always look stunning.
* * *
Ajuni Phillips, merchandising for TataCliQ Luxury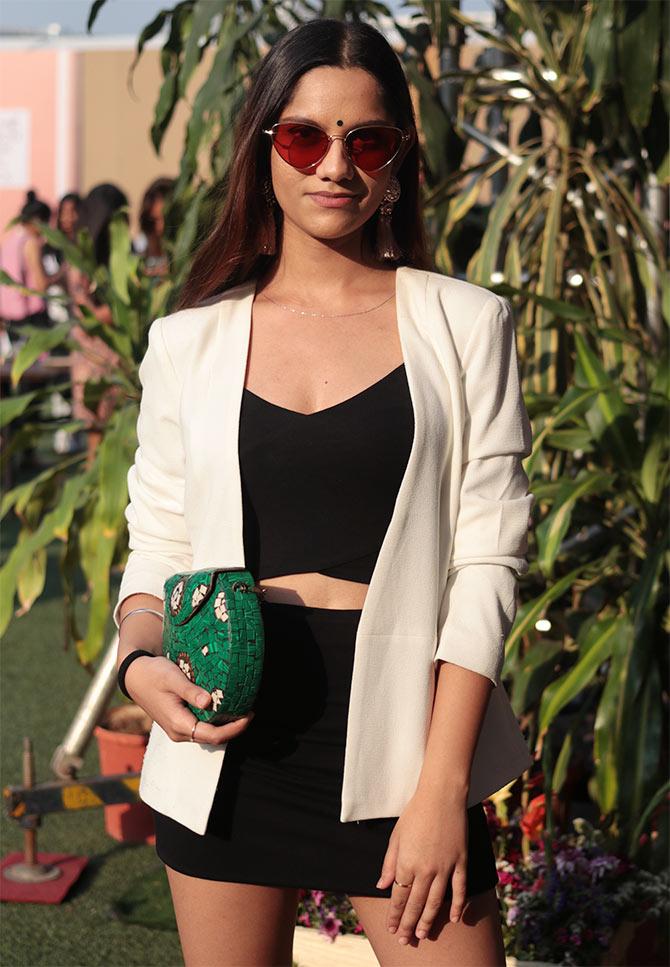 What are you wearing?
I love to mix and match Indie and western separates.
I am wearing a black mini skirt from H&M that I have teamed with a cropped top from Zara.
Lakme Fashion Week is mostly about Indian designers so I thought of wearing a look like this one.
Also, because it is summer, I chose to carry a green clutch, which I picked up from Colaba.
It is Fashion Week and I feel whatever you wear here becomes fashion.
What does fashion mean to you?
Fashion gives me a lot of self-confidence.
I used to be low on self-esteem. But, ever since I started dressing up, it pushed me to a different level.
Fashion mantra
I love playing around with colours.
I tend to use more colours in my accessories.