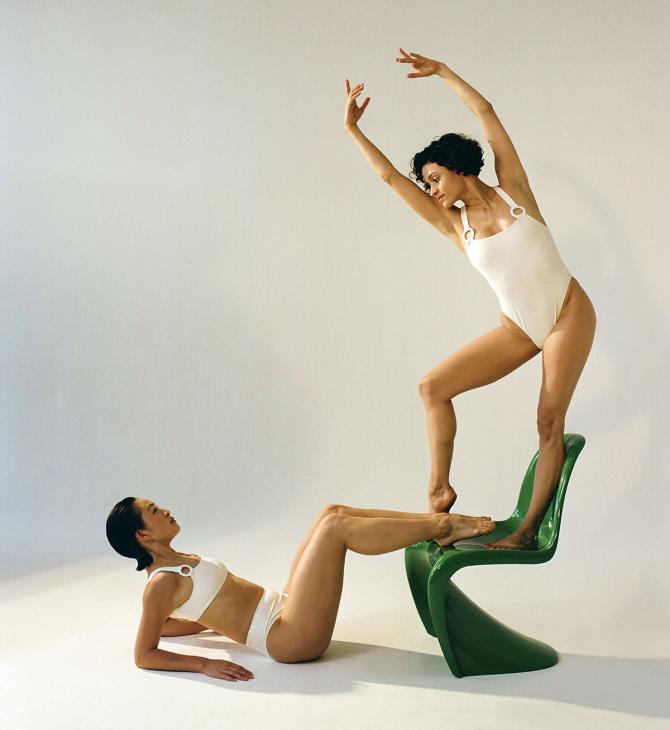 Fast fashion is known for causing a lot of pollution, but Vivek Agarwal, founder of OOKIOH, hopes to make swimsuits that care for the environment.
His eco-friendly swimwear brand is all about travelling, female beauty and living the moment.
As a teen growing up in Rourkela in the 1990s, he was fascinated by United Colors of Benetton when it first came to India.
The brand's photography shot by Olivero Toscani made quite an impression on him.
So when he launched his swimwear label, his fascination for UCB inspired him.
OOKIOH sources from an Italian mill and the fabrics are made from 100 per cent regenerated materials which take ocean wastes such as fishing nets and turns them into dreamy, luxurious swimsuits.
In an interview with Anita Aikara/Rediff.com, Vivek speaks about the difference he is making to the environment, he challenges he faced in the bargain and why it was so important for him to launch an eco-friendly swimwear brand.
Your first Bollywood influence?
As a nerdy kid, Bollywood was my escape, and I was consumed by it.
While everyone around me was focused on getting into the IITs, I was star-struck and wanted to be part of Bollywood.
I remember sketching iconic Bollywood menswear of those days and reinterpreting them in my preferred color combinations or changing the fit to suit my taste.
Back then, you were also fascinated by international brands like UCB?
UCB is ubiquitous now, but back in the early 1990s, it was one of the select international brands with a retail presence in India.
As a kid growing up in Rourkela and accustomed to tailored clothes from the neighborhood darji, UCB was a new world.
Its powerful imagery, both fun and provocative while bringing up racial issues, was fascinating.
It had a lasting impact on me and drew me into the world of fashion.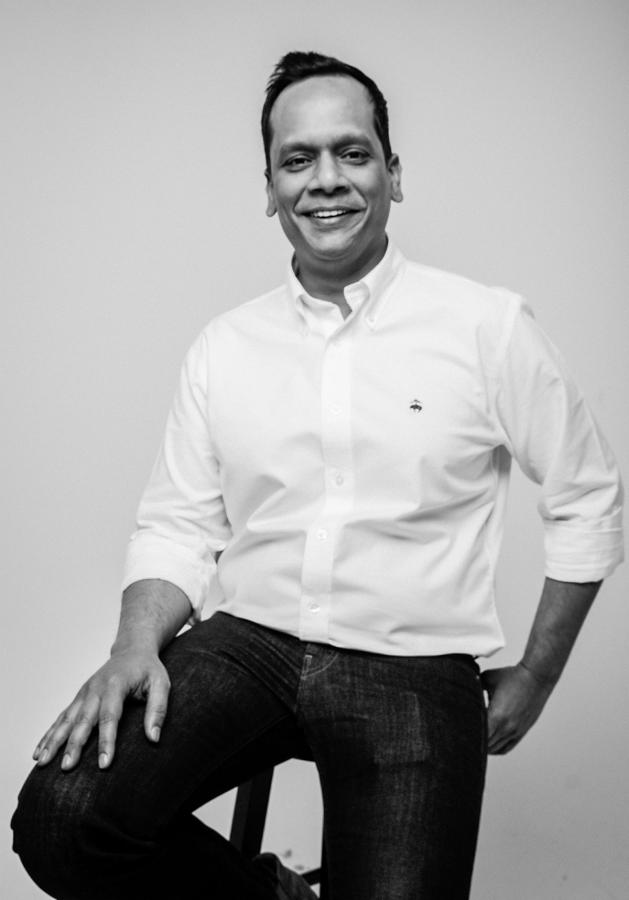 You did your undergraduate degree in mechanical engineering, worked in the iron and steel industry, had a stint with real estate and then went on to pursue your childhood dream.
What made you make the shift?
My childhood dream was having my fashion label, and, fortunately, I have fulfilled it.
The shift came when I took a deep look at the past and evaluated what I want to do for the rest of my life and what would make me happy.
I realised that doing something in fashion would be it, and I just jumped in.
Challenges you faced initially?
I still do, but it gets easier with time.
Initially, I had no context or idea of what the business entails -- from pattern-making to grading, I learned everything on the go.
It was a big learning curve, and I made some mistakes, but that is part of the process.
I was fortunate enough to have a good team on my side who understood my vision and helped me get through them, but I had to pay my dues.
Some of the technical challenges I overcame by having the right talent to support me.
As for not having a network base in the industry, which sometimes delay things, is a work in progress.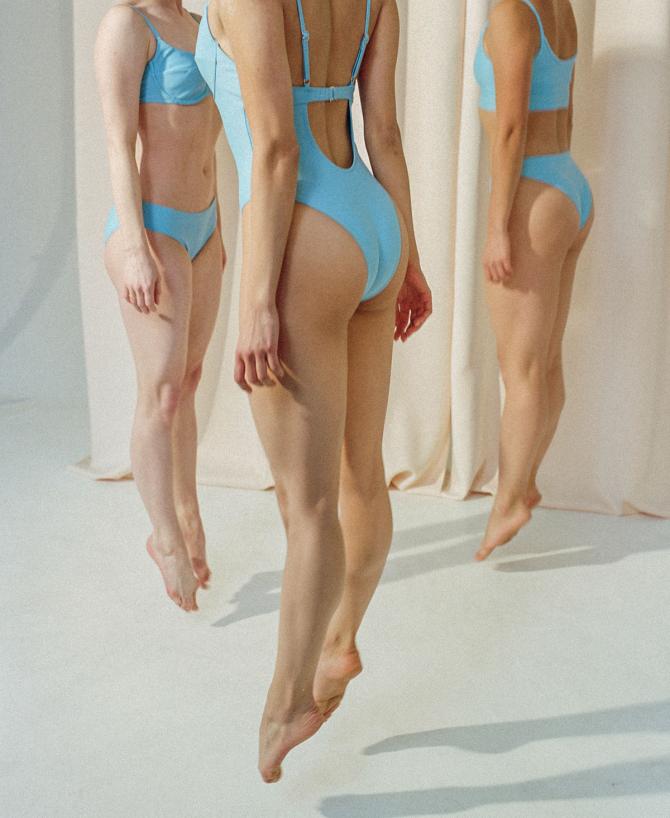 Is it true that your invested all your savings into OOKIOH? Isn't that a huge gamble?
Yes, and it was a gamble. But I had a plan, and my gut told me it would work out.
Entrepreneurship, by definition, is risky, and I have never been averse to risk.
Yes, there are ways to mitigate risks, but I knew exactly what I wanted, how I would go about it, and where it will end up.
I am happy to report that I am on my way there, and it is turning out exactly the way I envisioned.
Although 2020 did slow down the process, we are on track.
How do you stay sustainable?
We are doing our bit using environment-friendly fabrics made of recycled fishing nets, recycled nylon, and recycled plastic bottles.
We are also constantly working on reducing wastage as much as we can by eliminating unnecessary packaging materials, using biodegradable packaging, reducing our carbon footprints by moving production closer to consumption, etc.
We still have a long way to go -- zero wastage and carbon positive are the goals.
There is some wastage currently, but we don't dispose of our unused fabrics and cut-offs.
We are storing them with the hope of being able to make something out of them in the near future.
The challenge is in the design process, everything else is relatively easy.
The material development -- creating eco-friendly alternatives to nylon and spandex -- is still in the early stages, so we are limited with options.
The fabric we currently use has a two-way stretch compared to four-way found in most nylon-based swimwear, which creates a fit problem.
We have to be aware of it while designing our swimwear.
Additionally, because we are focused on producing affordable swimwear.
We have to make design decisions that have cost implications while staying true to our design ethos.
These are the design challenges, but other than that, the manufacturing part, in my opinion, is relatively simple.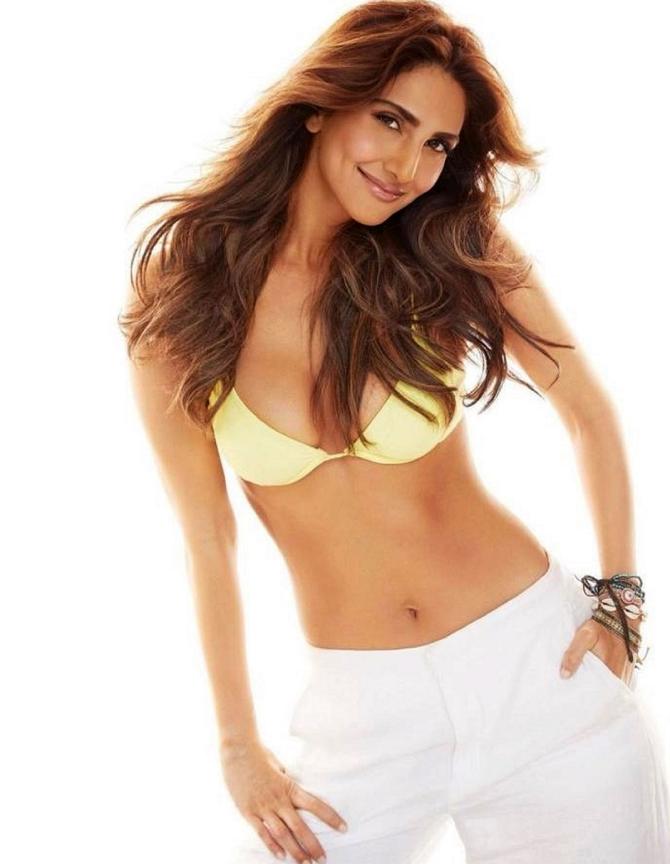 Several international celebs have embraced the swimwear... but what about the Indian market?
We did find some early supporters in Monica Dogra, Shibani Dandekar and Diva Dhawan.
But, the last couple of years kept us very busy, and we were focused on our primary market -- the USA.
Now that we are looking at expanding our customer base and with Goa and Maldives being on everyone's radar, we see some good traction here.
Our suits were recently worn by Vaani Kapoor and Shanaya Kapoor.
There are many more celebrities we would love to dress. It's a long way to go.
Why was it so important for you to launch an eco-friendly swimwear brand?
I didn't see an option to do it any other way.
Eco-consciousness is part of OOKIOH's DNA.
I believe we owe it to the planet and future generations to do our bit.
Is your packaging eco-friendly as well?
No, it doesn't eliminate plastic yet.
But we will be able to accomplish that by next year.
The packaging industry's biggest challenge is high order quantities.
While we have moved to more sustainable options for our recent launches, we are still using our previously ordered quantities for some orders.
I believe it is better to use them than discard them.
Who inspires the designs at OOKIOH? Does it embrace diversity in size?
While the designs are rooted in 1980s sportswear and 1990s supermodels, they are made for today, and women of all colours and sizes inspire us.
We test to ensure our colours look great on all skin tones, and we have designs that would work for all body types.
We are still a relatively new company so we haven't been able to offer as many size options as we would like.
We started offering XXL-sized swimsuits last year, and the goal is to offer more size options, including options for different cup sizes. We should be able to start offering more options by next year.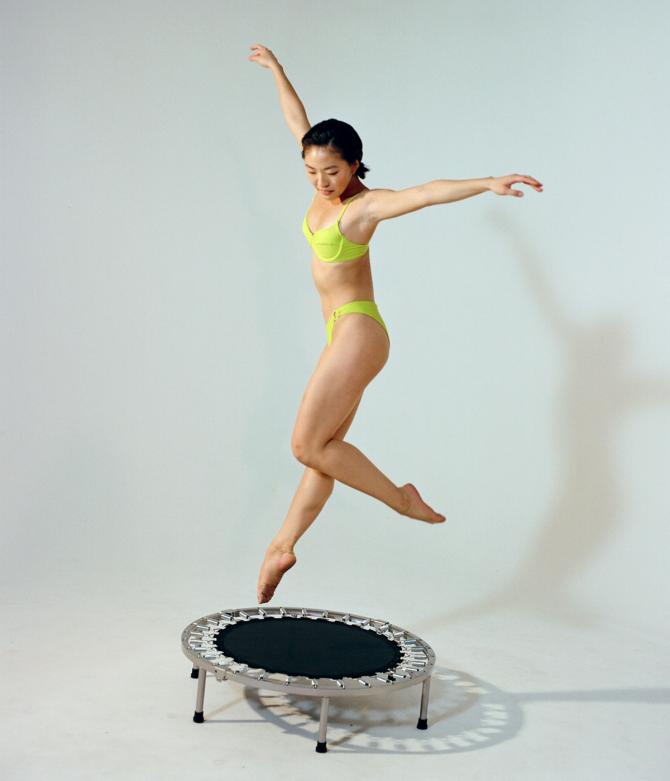 What about the pricing?
I wanted to make sustainable swimwear fun and affordable and not use sustainability as a markup tool.
That's why our regular line is priced under $100 while using the same fabrics as those prominent designers and brands whose prices are 50-300 per cent higher than ours.
In my opinion, affordability is a big draw to fashion, and that's why we need to use it to fight the damage done by the industry.
Your team is all-female?
Yes and that was a simple and easy decision.
I knew I wanted to do women's fashion, and it just made sense to get the most talented women to do it.
They know what they want and how they want it.
It made my job more manageable, and the results are for everyone to see.
Your message for young, aspiring entrepreneurs?
If you are convinced that you want to do something, think about it again, understand why you want to do it, and go for it.
Don't listen to the devil's advocates and most importantly, don't be afraid of failures.
Many of my friends, classmates and colleagues didn't take the plunge, because they are scared of failure.
I understand their fears, but I'd rather take my chance and take a leap of faith.