Ruchika Sachdeva of Bodice will present the Lakme Absolute Grand Finale at the phygital edition of FDCI x Lakme Fashion Week. Anita Aikara/Rediff.com delves into the designer's mind.
In 2010, Ruchika Sachdeva made her debut as a GenNext designer at the Lakme Fashion Week.
The first Indian to win the prestigious International Woolmark Prize in 2018, her minimalistic creations have been loved across the world.
A decade after her debut at LFW, Ruchika has been chosen as the finale designer for FDCI x LFW 2021.
The show will see Ananya Panday as the showstopper.
In an interview with Anita Aikara/Rediff.com, the designer speaks about winning the Woolmark Prize and how it helped her career, coming back to LFW and what's special about her collection this time.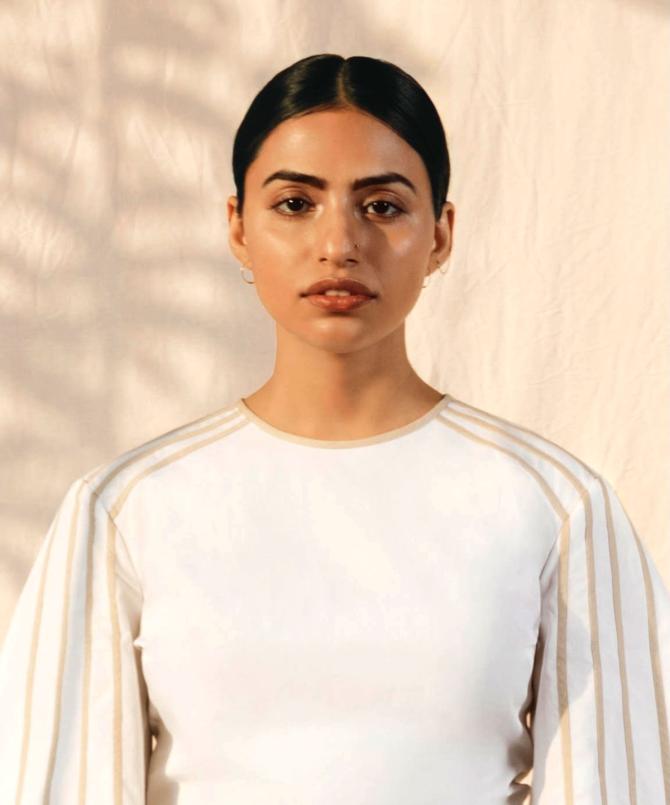 In 2018, you were the first Indian to win the International Woolmark Prize. How has the journey been?
What Woolmark did for us (the winners) is that it really opened us up to the international markets.
The global fashion industry is so massive that even if you're doing something, you might not always get the right platform to showcase your work to the right people... that's what Woolmark did for me, which I'm very grateful for.
The prize money can really help you. One of the reasons I applied to Woolmark was for the funding, because it's good to have that control and freedom without investors.
Winning really helped me and gave me a lot of stockists outside India.
I started to sell at a several prestigious stores in Toyko -- I love Japan for its design and aesthetics.
I also got to sell in many other countries across Europe and in the USA. Even today, those accounts still continue with us.
In 2010, you made your debut as a GenNext designer at Lakme Fashion Week. How does it feel to be back on the same platform after a decade?
It feels great! I must have done something right in life, in my work.
This is at a very special time when the Lakme Fashion Week has come together with FDCI in the middle of a pandemic in a public area in Mumbai.
We have not been able to step out freely, yet so many people are coming together and are finding a way out to celebrate fashion.
Very strangely, what inspired me back then still inspires me today. I am surprised!
The core thing is that I really question why I do what I do. The inspiration remains the same.
One of the core philosophies and value systems of questioning how much is enough when it comes to design elements or life... that has definitely remained the same.
Having said that, my craft has improved. I'm more comfortable with what I do.
I have progressed and evolved as an artist and as a creative person.
How are excited are you about the FDCI x Lakme Fashion Week finale?
I always compare a fashion show to a shaadi (wedding).
Whenever people say I have a fashion show, I say, 'Haan meri shaadi ho rahi hain phir se (yes, I am getting married again).' It is pretty much the same thing... the audience, the design, the set, the performance, the hair, the make-up, the clothes, everything in a different city. It is like a destination wedding.
The process is pretty long and pretty intensive. It takes at least a year to put a collection together.
It seems as though we are just making clothes as a fashion designer. To be honest, if I knew how much work it takes to be a fashion designer, I promise you I'd would have done something else. But I love it and that's why I am still doing it. It's definitely a labour of love.
The process starts with thinking now what; what do we want to create next!
It starts with textiles -- what are the fabrics going to be, and that needs to juxtapose with what we're feeling and the times we're living in.
This time, I added a lot of colour. I usually do a lot of neutral but, in the middle of the lockdown, I found myself reaching out for bright colours in my wardrobe. There's something to be said about bringing colour to your life, especially in these times.
What's going to be special is the colours, the place... And it's the finale, that itself is special.
For the fabrics, I have used a lot of silk and cotton, primarily because it is summer; there are different forms of cotton and different weaves of silk. I have stuck to natural fabrics.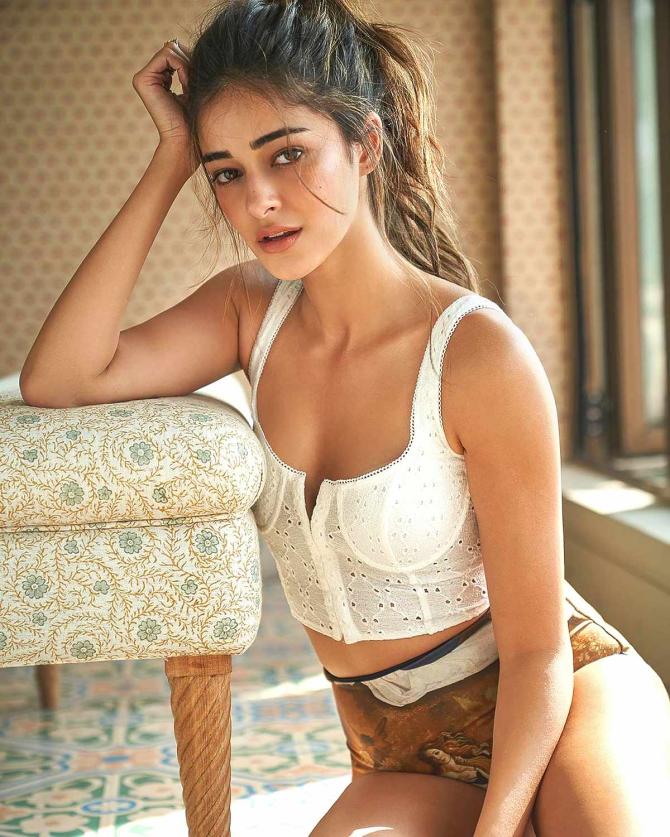 You're dressing Ananya Panday for the finale. Could you elaborate about her outfit and the look?
I'm still working on it and I hope to give her a outfit which helps her bring the best out and she feels confident.
She is a young girl. You know how it is to be young! One is so full of energy but, at the same time, we're still figuring ourselves out and still trying to find a place for ourselves.
It is exciting to work with Ananya on the outfit. I'm hoping it is going to be good and strong and has some impact.
Were there any challenges putting the collection together?
There was a challenge everyday.
The set is like a game and the whole idea is to play your life as a game.
There were so many challenges, but there were also so many small victories. It has been very satisfying.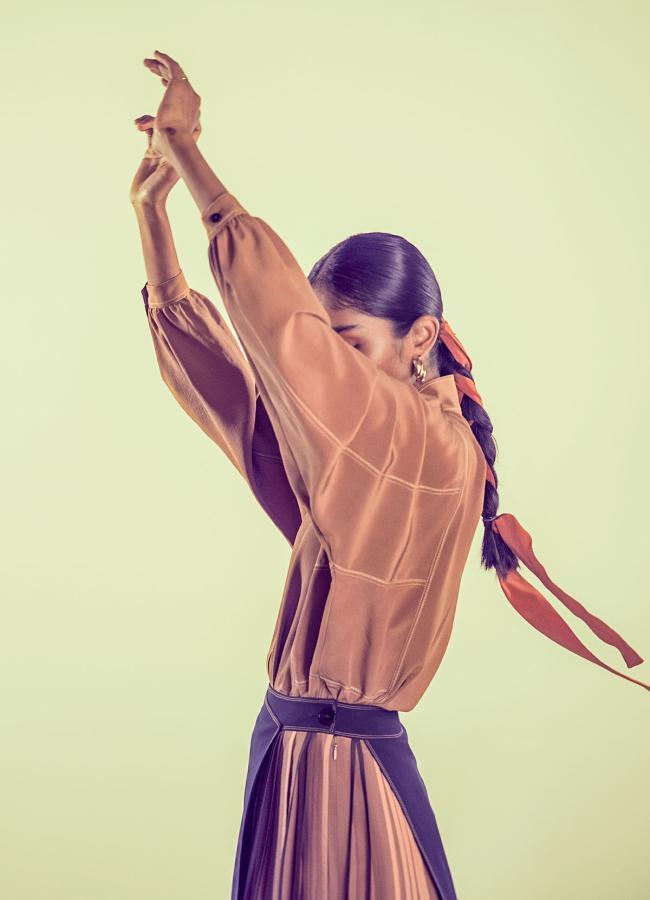 You have achieved a few milestones in your career. What would you like your next milestone to be?

Quite honestly, I don't think like that. But I would love for my outfits to be worn by a variety of women, a diversity of people, beyond boundaries and geographies.
My collection shouldn't be restricted to a particular country or culture; that would be very nice for me to explore as a creative person.
How do you think everyday fashion has changed during the pandemic?

People are realising the importance of comfort. That's something I have been working with all the time.
There was a time where it was perceived that you can't be fashionable and comfortable at the same time.
I feel that those assumptions have completely broken down.
Now people want to wear things that are comfortable, things that are long-lasting, things that are not trendy and don't lose their meaning in a few seasons.
That has really made a difference.
It is making people think about the way things were happening normally and how it could happen differently.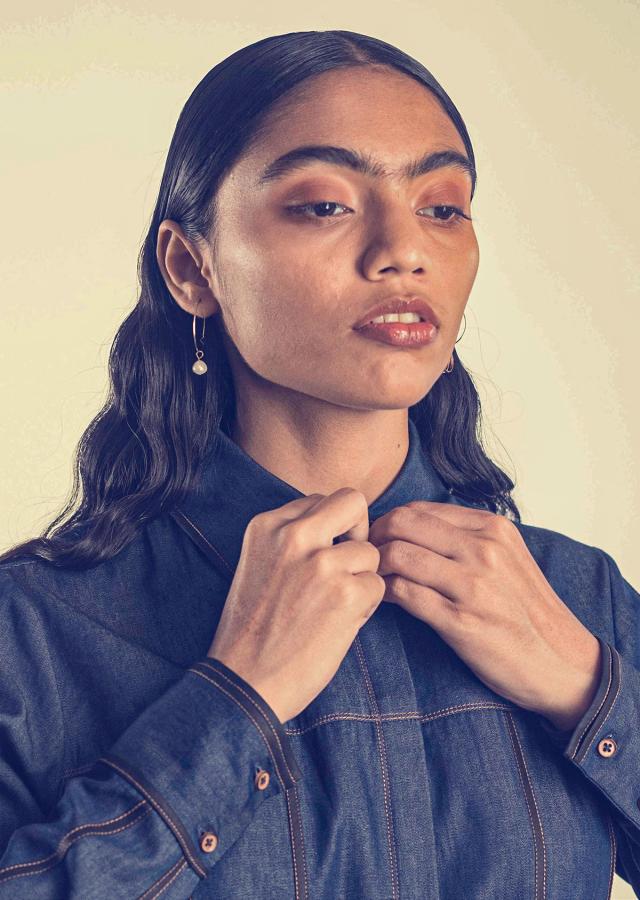 Your idea of sustainability?
I feel like sustainability is a given. It is like eating nutritious food. One should eat nutritious food all the time and the ones who don't do that struggle.
I feel that sustainability is not really something that should be considered as a special thing, it should be a part of every brand in this day and age.
It shouldn't be a special marketing tool.
Sustainability should be a norm like how clothes should fit well and you are not doing a big deal by providing a customer a garment that fits well.
Similarly, you are not really doing a favour to anybody by making garments that don't affect the environment.
Which fabrics would you like to revive given a chance?
So many! I constantly work with different crafts and try and reinterpret them in a contemporary manner.
If you are in India and are not using the treasure trove lying in your backyard, you are a bit stupid.
But I want to use fabrics differently, so that I can open it up to a different audience.
Besides people who know about textiles and love it, I want to reinterpret it in a language so that people who are not necessarily familiar with the heritage of textiles are able to understand and appreciate it.
That has always been my dream. It shouldn't be restricted by boundaries, geographies, age, etc. I quite enjoy that challenge.
Do you feel that artisans in India often go unrecognised? According to you, what can be done to bring them into the mainstage?
It is a big question and I wish I knew the answer.
In India we are known for textiles, but they are also so many talented tailors who can make something fabulous.
Any product you buy is not going to be sitting on your shelf in your house; you are going to wear it over and over again. It is going to age with you; it is a proper work of craft.
The real test is what survives generations and generations and not just in a good condition. It should also be relevant. It should be something that you will like wearing after two generations.
I think that as our economy becomes more equal, each and every craft will become equal.
I don't think it is a simplistic answer and this is not something that is just up to the fashion industry.
What's happening to weavers in India, the same thing is happening to carpenters. These people do magic.
If you find someone in London working with his hands, he is a star, because there aren't many people working with their hands there.
Here, in India, we do take things for granted. This can only change with the changing economy.
I think it is a multi-faceted situation that needs a lot of joint effort to make a difference.
Your message for aspiring designers?
I think they should question why they are doing what they're doing.
There is a sea of brands out there so if you are starting something, what is it that you are adding?
These are questions I ask myself. This question is not just for a budding designer, but equally relevant for someone like me who has been in the industry for 10 years.
I feel if you can answer that question and you are confident, then that's a good place to be in.