It is important to diagnose the problem early and identify solutions, says Dr Yash Gulati.
*IMAGE: Virat Kohli rolls in agony after being injured in a game against Pakistan. Photograph: BCCI
Knee joint pain is not only a part of the wear and tear associated with aging, but can also occur at relatively younger age due to various causes.
Causes of knee pain
Age-related wear and tear of the smooth and low-friction joint cartilage, leading to osteoarthritis, is the most common cause of joint pains.
Initially, it may affect only a part of the knee joint and there could be loss of a patch of cartilage.
This is in contrast to the late stage of the disease, in which a large part of the joint or the whole joint may be affected.
Inflammatory arthroplaty such as rheumatoid arthritis, arthritis associated with psoriasis and other autoimmune diseases are also not uncommon.
Mechanical issues related to injury, irregularity of the articular surface, following improperly treated intraarticular fractures (one involving the portion of bone covered with fine-joint cartilage forming the joint) will obviously lead to a painful knee joint.
Similarly there are certain special problems which affect growing children, in which part of the bone forming joint surface gets separated from parent bone leaving a defect called osteochodritis dissecans.
If this defect is not filled, it can lead to severe arthritis in coming years.
In adults too, part of the knee bone can lose its vascularity and lead to spontaneous osteonecrosis of the knee.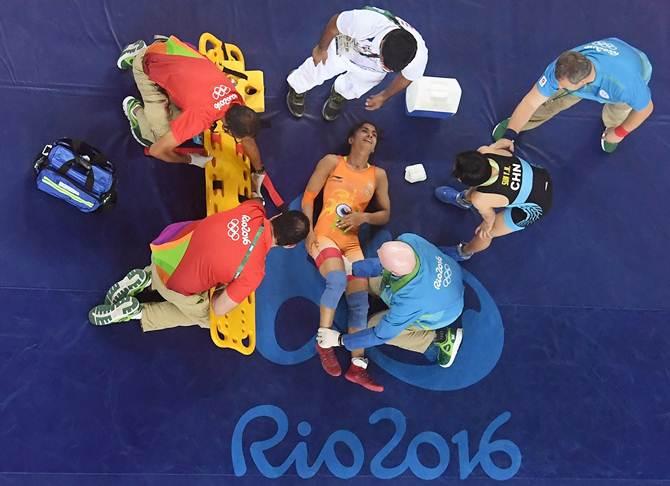 *IMAGE: An injured Vinesh Phogat is treated during the women's 48kg freestyle quarter-final bout against China's Yanan Sun at the Rio Olympics. Photograph: Lars Baron/Getty Images
What are the options?
Recently a revolutionary technique has been introduced to repair the damaged joint cartilage, if it is limited to a small portion.
This may be applicable to early osteoarthritis.
In this technique, a small part of joint cartilage is taken by a keyhole method and is grown in a special manner to convert it into stem cells in the laboratory.
This is then applied on an area showing loss of joint cartilage in a limited area.
Stem cells lead to growth of joint cartilage in the defective area, thus leading to normal new cartilage.
A major procedure like joint replacement may be prevented in these selected cases that have joint carriage loss in limited area.
A revolutionary new technique to manage early osteoarthritis and injury related knee pain was introduced earlier this year.
This new cell therapy technology for knee and hip pain can help regrow cells and alleviate bone and cartilage problems. It has immense potential to liberate patients from joint pain.
However, if there is extensive loss to joint cartilage or large area is involved or in severe inflammatory arthropathy or end-stage arthritis, then only solution left to relieve knee joint pain may be total knee replacement.
Don't ignore the pain
It is therefore important to diagnose the problem early and identify appropriate solutions in consultations with an orthopaedic expert.
A timely diagnosis can help better manage the pain and also improve prognosis for patients.
*Images published only for representational purposes.