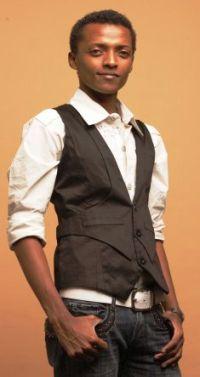 He's one of Chennai's hottest young designers and has catered to the wardrobes of the who's who of the South Indian movie industry, including superstar Rajnikanth. In an interview with Pavithra Sreenivasan, Sidney Sladen, who will be showcasing his latest offerings at the Chennai International Fashion Week today, discusses his career, the price of designerwear and the colours of the season.
His office is everything that a fashion designer's should be: piles of papers, forms, receipts and catalogues litter huge glass desks; extraordinarily slim, faceless sketches of women on paper are stuck on a notice board; cardboard boxes overflow with beads, trinkets and lace in every imaginable colour and a Madonna CD perches precariously by the side of two impeccably sleek Apple laptops. Phones ring incessantly, even as tailors snip through fabrics, take measurements and pack last-minute consignments.
In the midst of it all is Sidney Sladen, Chennai's designer extraordinaire, the one who decides the cocktailwear of celebrities, who pronounces the next season's 'in' outfits and accessories, and is the demi-god of fashion students everywhere. He's barely recovered from a fever, but the thin-as-a-wire designer is still enthusiastic and up for a ton of questions as he takes us through the Chennai Fashion Week, and fashion with a capital F.
Are you prepping for Chennai Fashion Week? What does the process entail?
We certainly are. There was a store opening on Sunday, and we're still finishing up our work for Fashion Week. We're working towards the spring/ summer 2010 collection, so the colours are going to be pretty vibrant. We've been following international fashion and the trend forecasts -- that's an integral part of my design process -- and we're going for a lot of yellows and peaches.
Anything in particular that's been your inspiration?
The Heretic Queen (holds up a book) by Michelle Moran. It's about Nefertari, an Egyptian queen, so this collection has a very Middle East twang to it; we've come up with dresses that are wearable and flowy. We've also substituted some shades from the original Egyptian palette: they've used a lot of blue, we've switched the colours. There's a lot of pleating, cinching at the waist. I researched the robes of Isis and came up with cocktail wear -- except that we've added floral prints. I had to do a good deal of research into paintings, papyrus and -- what do you call them?
Hieroglyphics?
Those too (grins). I find that I draw a lot of my inspiration from reading. It's different from when you watch a movie -- when you're reading, your mind conjures up so many visions. Your imagination runs riot. I've just returned from a tour of Dubai and picked up a whole lot of accessories to go with the clothes too. Essentially, though, my line is simple and extremely wearable -- ultimately, this is a brand and all of our customers are important.
Do you think Chennai's ready for a concentrated dose of fashion?
Definitely (the phone rings and he carries on, juggling the mobile and the conversation). Chennai, I think, has responded extremely well to fashion. I know people say that Delhi and Mumbai are the front-runners of fashion in India and maybe that's true, at some level. They certainly have more fashion shows. But I have a great customer base in Chennai, one which is very keen on knowing what's in, the latest trends. I have customers who're very particular about what they want; they're not afraid to come to us with ideas -- they buy sarees that cost Rs 30,000 or Rs 40,000 and get art-work done. The thing is we, as a brand, balance traditional with Western wear; we have customers who purchase both. We retain our perspective about every branch of Chennai's fashion.
How much has your background contributed to building up this perspective, and your brand?
Well, I was born in Kenya, and I came to Chennai when I was eight. By the time I was 12 or 13, I began designing clothes for my sister's dolls -- those Barbies and Stellas (laughs). And bit by bit, I guess I branched out into designing stuff for my mum and sister as well. I think that's when I started looking at fashion from all points of view. I joined the Tamil Nadu Advanced Technical Training Institute. It was a small course, lasted a month or so. I learned cutting, patterns -- if you can cut a saree blouse, seriously, you can cut anything. A saree blouse is the ultimate in complicated cutting.
How supportive was your family of your career choice?
Very supportive. A few years ago, fashion as a career was considered strange, but now, things are really different. Now everyone is welcoming. My mother had a condition or two, though -- I had to get a degree before I pursued fashion in earnest, so I studied VisCom (makes a face) in Loyola and then left for Italy in 2003 for three years, to get well and truly into fashion. My mother did make me work at a 9 to 5 job for some time (rolls his eyes). I hated it -- even now, I'm hopeless at things like accounts!
When I came back, I set up a small studio on Cathedral Road -- around 100 square feet -- and gradually expanded.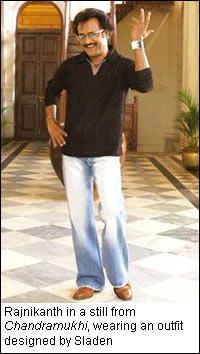 You've built yourself into a successful fashion brand -- but what about Sidney Sladen, designer to the stars?
Believe it or not, stars are actually pretty normal people (laughs). Yes, really. I mean, I call Trisha 'Trash', Simbhu 'Sims', Namitha 'Nam'...They're like you and me, they call in casually, get fitted -- I don't even see them much on set except for when I'm called specifically. Simbhu and I, for example, we sit down before a project and discuss his look. As for Trisha, she and I have been friends right from her modelling days, so it's been a long relationship. I began designing for movies with Maniratnam's Five Star. Then I did a Telugu movie called Ice, Nenjil and Silambattam. Chandramukhi is a feather in my cap; Rajni was pretty cool and casual. But I limit my movie-work when I'm doing shows. I stopped signing up for movies in August and the embargo continues until March.
Stars, celebrities, a brand name -- how affordable are you, do you think?
Very much indeed. Most of our collections are easy-buys, they're anything from Rs 2,500 or 3,000 -- oh, I'm talking about kids who spend Rs 5,000 as pocket money. Come on, in my time, Rs 200 was a big deal. These days, everyone's spending power has increased; people are more style conscious and want to look their best. I have this one customer who actually spent around 12 grand on a dress for a 14th or 15th birthday! Go figure.
Speaking of fashion trends, what's your opinion on the size zero craze?
Absolutely blown out of proportion (shakes head emphatically). I certainly don't support the concept. I can't imagine people starving themselves sick, all in the name of fashion -- that's ridiculous and unhealthy. I might look like a stick, but I can't imagine life without rice or fish curry, burgers -- are you kidding?
So you wouldn't agree with Miranda Priestley from The Devil Wears Prada?
Oh, I love that movie (grins). I must have watched it around 30-40 times! But I'm nothing like Miranda; I certainly don't yell at my people, (looking at his assistant) do I? Well, maybe just a bit, when we're racing to finish deadlines (laughter). But that's only to be expected. A little yelling is understandable. Otherwise, I'm pretty easy-going.
Miranda Priestley had a thing for Hermes Scarves. What's your fetish?
Shoes. I'm crazy about shoes. I have so many pairs, blue, green, red, red on yellow, every type of shoe -- I'm so insane about them, I pack around 9-15 pairs for just a two- or three-day trip. No, I'm not channeling Imelda Marcos (laughter) but I have a thing for shoes. Everyone knows how much I love them. Once, I wore my favourite shoes a size smaller -- and even though I was screaming with pain, I insisted on wearing them because they were a great pair. "Better to die in style than to live in comfort," my mother would say. As far as shows go, that adage holds.
I certainly am considering designing shoes for women. Not Victoria Beckham's seven-inch monstrosities or heel-less shoes, but classy five-inch ones.
Have you ever experienced a wardrobe malfunction at any of your shows?
By God's grace, that's something I haven't had to encounter. My clothes are all pretty casual; jeans and tops don't fall off that easily. My people all have good heads on their shoulders, too. Once, when one of my models felt her top was loose, she just held it tight at her waist and carried on as though nothing had happened.
So, your style icons are...
Oh, no contest -- Madonna. She's the ultimate, even if she's done some weird things to her body. Well, she's in fantastic shape, considering her age. I like Britney Spears as well. And Beyonce. She's cool.
How do you de-stress?
I love travelling. And I'm a hard-core party animal; I can go on for hours partying. And I love Red Bull. Given a choice between vodka and Red Bull, I'd choose the latter. And -- this may sound weird -- but I actually like to de-stress by vacuuming.
What style tips would you like to offer our readers?
Choose comfortable clothes. Obviously, not to so comfortable that they'd fall off you -- you need to know how to show off your clothes and yourself to advantage. Accessorising is very important.
Any advice to upcoming designers?
Trust in God. Seriously. God's put you here for a reason, and he will never burden you with something you can't handle. And put your heart into your work.
If you hadn't become a fashion designer, what would you have been?
An astronaut. Or a historian. I was interested in both these subjects. If fashion hadn't dragged me in, I'd certainly have tried my hand at them.