It's International Yoga Day on June 21, and if you have questions about yoga, ask rediffYogaGurus Namita Piparaiya, Sabrina Merchant, Roopashree Sharma and Radhika Iyer.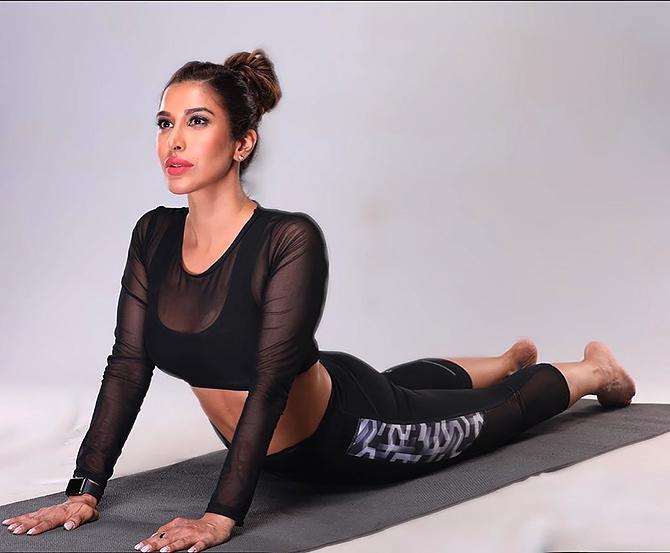 Health, we've always been told, is wealth.
Yet, our health is the one thing we ignore.
Yoga is the ideal way to work your way back to good health, both physically and mentally.
For the beginners, there are simple asanas that will ease you into a thoughtful daily exercise routine. As will breathing exercises, or pranayams.
There are exercises you can do at your desk. In the garden. On the terrace. In your compound. Or in your home.
There are exercises you can do when you travel for work. Or when you are on a holiday.
For the more adventurous and the more flexible, there are the advanced asanas you can learn.
This International Yoga Day, it's time to reclaim your health with rediffYogaGURUS.
Ask them your questions and they will share their knowledge with you.
Meet our yoga experts:

Radhika Iyer founded the yoga studio, Raa Foundation, in 2009.
A two-time cancer survivor, she believes yoga helped her beat the dreaded disease.
She has been teaching yoga for over two decades now.
You can ask Radhika your question HERE.

Namita Piparaiya is the founder of Yoganama, a health and wellness platform that educates people about how they can take charge of their health through yoga and mindful practices.
She has completed over 700 hours of Yoga Alliance certified training in Hatha Yoga from Indea Yoga, Mysuru.
She specialises in pranayama, Ayurveda, yoga philosophy and corrective exercises.
Ask Namita your question HERE.

Sabrina Merchant founded Li'l Yogis in 2018 after completing her teacher's training course from The Yoga Institute in Mumbai.
Her qualifications include Ayush Level 1, mindfulness coach from The Happitude Global and children and teen yoga certification from Yoga Ed, USA.
She has taught more than 100,000 youngsters online and offline across the globe.
Ask Sabrina your question HERE.

Roopashree Sharma, a qualified yoga trainer and naturopathy enthusiast, is the founder of Atharvanlife.
She completed her diploma in naturopathic medicine/naturopathy from D Y Patil University and her advanced diploma in yoga teacher training/yoga therapy from the university of Mumbai.
Ask Roopashree your question HERE.