'Just like the weather, your breasts change too.'
'For hygiene reasons, it is important you replace your innerwear every six months.'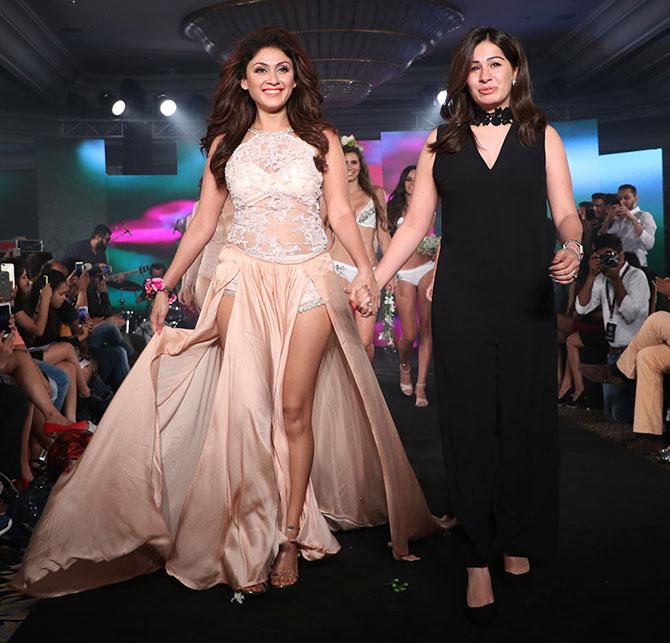 IMAGE: Actress Manjari Phadnis models a pastel creation from Karishma Jumani's latest line at the India Intimate Fashion Week, Mumbai.
Photograph: Hitesh Harisinghani/Rediff.com
Armed with a master's degree from the London School of Fashion, Karishma Jumani, who once worked as a stylist for designer Anna Singh on Umrao Jaan, took a calculated break in her career three years ago.
To focus on research.
Her subject? The Indian lingerie industry.
Why does an industry that takes care of the underwear needs of perhaps many Indian women require special research, you may ask.
"Everyone uses innerwear. The ones willing to experiment (are) only two per cent of the market."
Karishma saw opportunity in the two per cent even if it was unchartered waters and started up her business in 2013.
Three years later -- and after many determined bouts of trial and error -- she got her first peek at success.
The young designer showcased her maiden collection at the French European Indian Fashion Week, Paris.
March 18, Jumani made her debut on the Indian runway, at the India Intimate Fashion Week.
The 28-year-old designer, who has a store in Bandra, northwest Mumbai, chats with Rediff.com's Divya Nair about the lessons she's learned in her unusual career and the mistakes Indians make while shopping for lingerie.
Why lingerie?
While pursuing my masters in London, I was required to submit a project in an area I was passionate about.
I took a shot at lingerie designing which involved styling the models and doing a photoshoot with them.
The experience was exciting. I realised that this is what I should pursue in future.
I have been in the fashion and designing industry for eight years now.
I can proudly say that the lingerie industry, particularly, in India has plenty of scope for experimentation and creativity.
Do you think India is ready for luxury lingerie?
Ten years ago, if you had asked me this question, my answer would have been no.
But in the last few years I have seen a lot of youngsters, including fashion bloggers and stylists, promoting innerwear as a trend.
It is encouraging to see girls wear bralets with high waist pants.
I do agree the Indian market is very small. But it is definitely growing.
What has influenced this change?
We have always been inspired from the West; in terms of aping fashion.
If we find something user friendly, we quickly follow it. Soon it becomes a trend.
Some years ago, forget celebrities, even Indian models weren't comfortable shooting in a bikini. Now, you'll see so many bloggers putting up pictures online.
People are slowly getting confident; innerwear is being branded as trendy outerwear.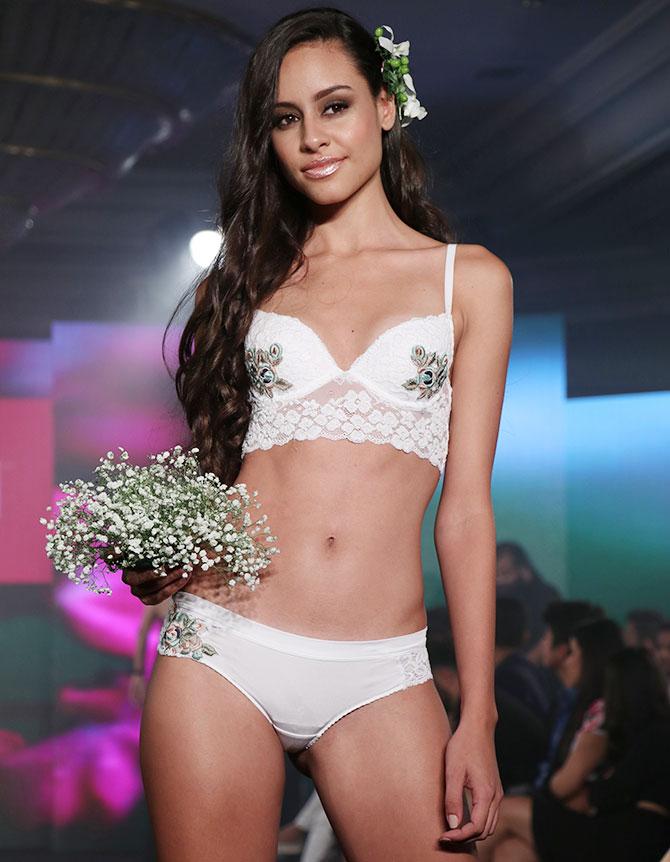 IMAGE: Karishma designs for women of all ages and sizes.
Photograph: Hitesh Harisinghani/Rediff.com
What are some of the mistakes Indian women make when it comes to lingerie shopping?
I find it sad that most women are ill informed about innerwear.
During my research, when I asked most girls what colour bra they'd wear inside a transparent white top, the answer was white.
The right shade should be nude. White will stand out. Nude will camouflage.
Similarly, not many women are comfortable getting themselves measured.
We've offered this service complementary at our store. I'm sure most good stores do that; yet people hesitate.
They'll wear the same size of bra through their life not knowing that the body changes at every stage -- from puberty to motherhood to when you start ageing.
Just like the weather, your breasts change too.
I know women who wear the same bra for years until it fades or wears out.
For hygiene reasons, like your toothbrush, it is important that you replace your innerwear every six months.
How many actually do it?
It is something you wear every day; how can you ignore it?
Your advice to women shopping for lingerie would be...
Women, you must understand the importance of underwire.
It helps support your breasts, so find one that fits you right.
You can experiment with colours, but choosing the right one is important.
When you wear T-shirts or a skimpy top, use a seamless T-shirt bra which will cover your nipples.
You don't want the seams of your inner wear to be visible.
Your advice to men shopping for women...
Always ask for the right size.
How can first timers experiment with the right bra?
Get yourself measured.
Find the right fit for you.
Then you can play with straps, colours and styles.
Once you get confident, you'll want to try new stuff.
What kind of requests and feedback do you get from your clients?
Most of my clientele are brides. And they love body suits.
They want it customised as per their outfit.
I understand their needs because Indians are curvy and each body is different. A body suit helps tuck in your flab and adds shape to the body.
I once worked with a bride who had a cup size of 33½. When you are willing to go the extra edge, you can get a customised bra or body suit.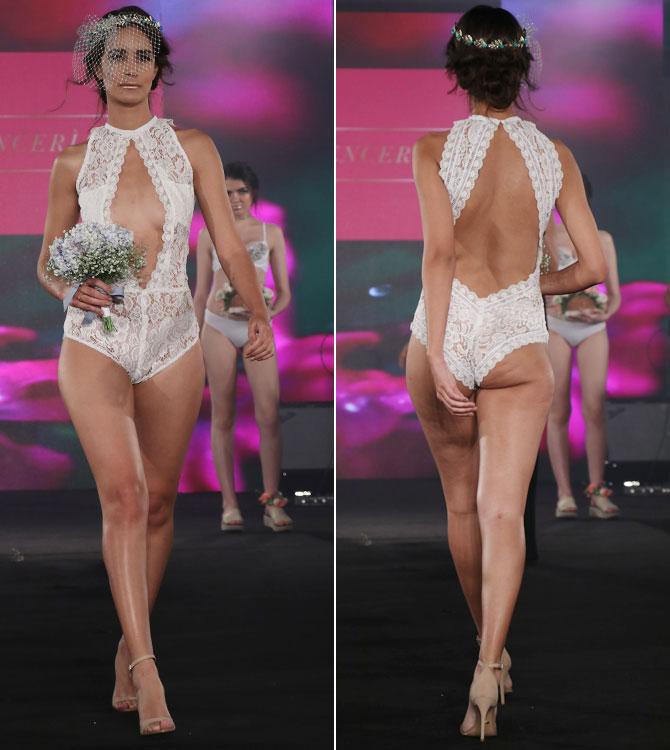 IMAGE: The designer insists women wear the right fit bra.
Photograph: Hitesh Harisinghani/Rediff.com
What have you learned on this journey?
I am a creative person. Initially it was hard to think from a profit point of view. I spent a lot of time playing with fabrics, cuts, designs, embellishments without really thinking about the budget involved.
I would try the outfits because I believe that I must be convinced about the style and comfort myself before I endorse it to my customers.
That really helped I think. My customers do value the effort and thought I invest in my designs.
Also I was kind of shocked that there are not many options in innerwear for moms-to-be. I feel women have every right to dress fashionably irrespective of their age or size.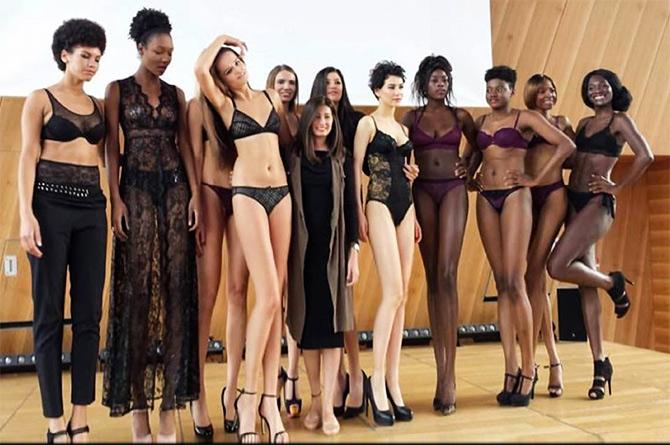 IMAGE: Karishma Jumani poses with her models at the French European Indian Fashion Week, Paris.
Photograph: Kind courtesy Karishma Jumani
What is the price range of your collection?
It starts at Rs 3,999 and goes up to Rs 21,000 for the customised, luxury range of innerwear.
What are your plans?
I have been approached to style for an untitled French movie in December. So I am excited about it.
I already introduced hand-painted bras for older women in my new collection.
I plan to introduce organic lingerie in India. But the project is in its infancy.
The deal with organic products is they'll have to be tested and approved before you retail them.
Your advice to lingerie designers in India...
This might sound strange, but I'd tell them: Make mistakes.
I learned from my mistakes, and so will you.
It is important that you try your outfits. A lot of designs look good on paper, but may not necessarily be wearable or comfortable.