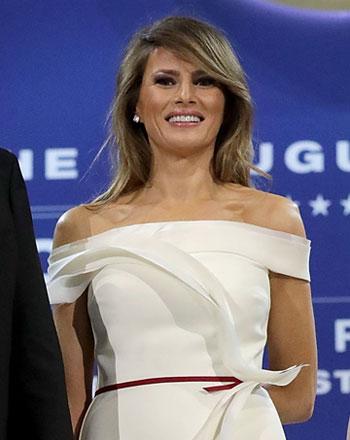 Melania Trump was stunning at the inaugural ball.
Some memorable inaugural ball styles through the years.
There was a lot riding on the gown Melania Trump would wear for the inaugural ball, and she didn't disappoint.
She stuck to an elegant vanilla creme gown, which was a collaboration 'between herself and Herve Pierre, former creative director of Carolina Herrera,' according to the First Lady's office.
Melania stayed true to her classic style and did a good job with the gown, despite several topnotch designers refusing to work with her.
Just like Michelle Obama, Melania flashed her well-toned arms in the off-shoulder gown.
Scroll down to see what the First Lady wore at the inaugural ball. Plus a ride down memory lane, looking back at the inaugural ball gowns worn by America's First Ladies.
From Michelle Obama's iconic ruby red Jason Wu gown she wore to her second inaugural ball to Hillary Clinton's purple-laced gown.
Take a look!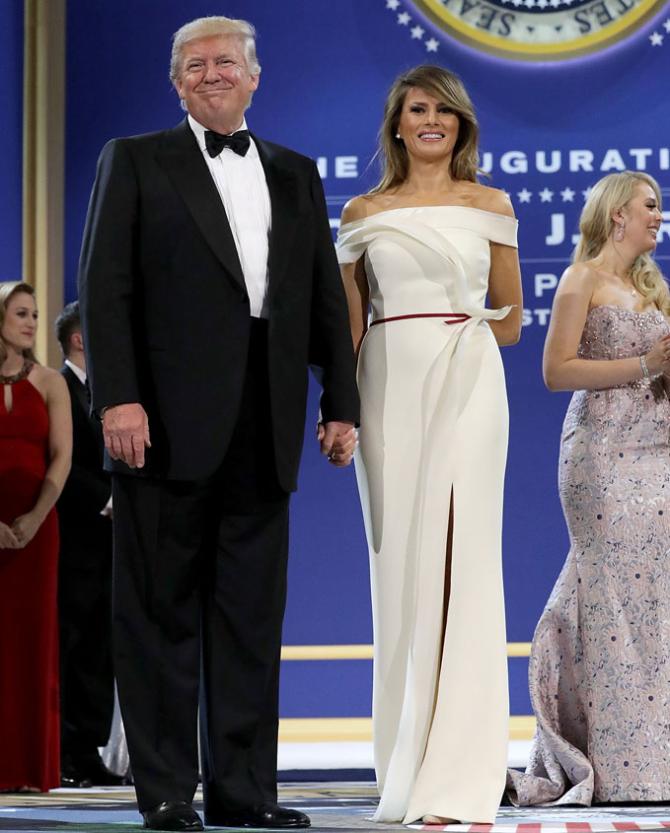 Photograph:

Chip Somodevilla/Getty Images
President Donald Trump and First Lady Melania Trump dance at the Freedom Inaugural Ball at the Washington Convention Centre
Melania's gown had a front slit, a ruffled accent and a skinny red belt. Fashionistas across the world felt that the outfit was 'a decidedly modern design.'
Melania finished off the look with minimal accessories. The look was way more toned down that what Melania has sported in the past.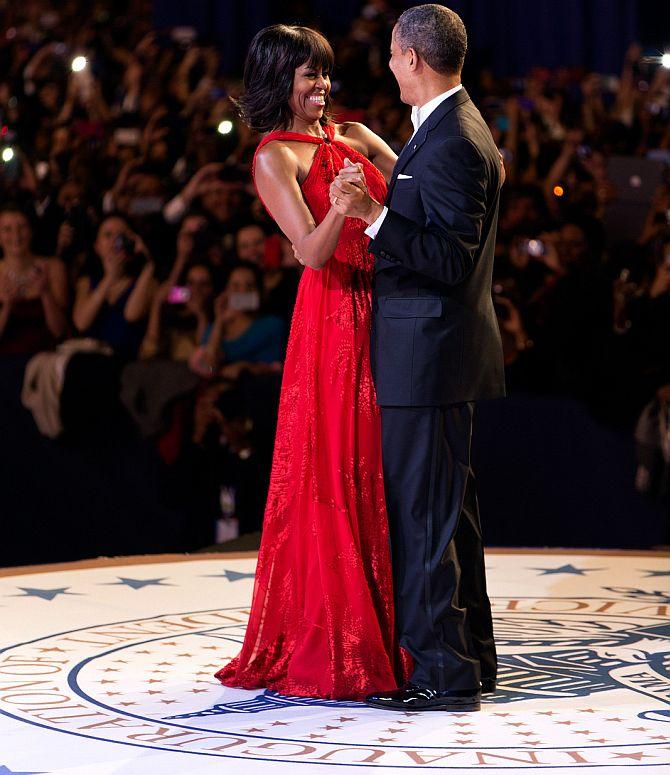 Photograph: Pete Souza/White House
Barack and Michelle dance at the inaugural ball at the Walter E Washington Convention Centre in Washington, DC, in 2013.
Michelle wore a ruby red Jason Wu halter-neck, floor-sweeping gown.
She gave it her own surprising spin with rocking bangs, diamond bangles by Kimberly McDonald and completed the look with red satin Jimmy Choo shoes.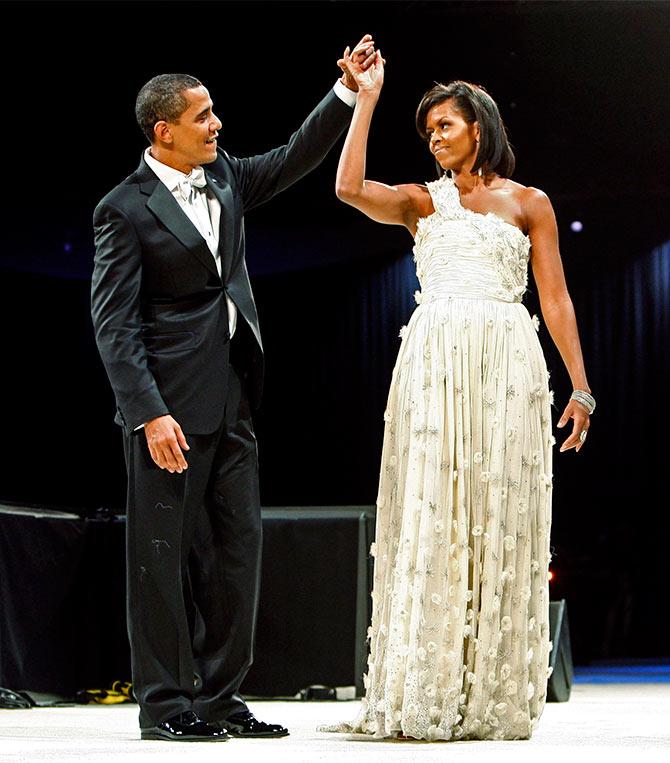 Photograph: Jim Young/Reuters
Michelle Obama at the Southern Regional Inaugural Ball in Washington, January 2009.
She wore a ivory chiffon one-shoulder gown by Jason Wu and established herself as a style icon, marking a new style era for First Ladies to follow.
Not one to shy away from covering her arms and going down the traditional route, Michelle's gown sent out a strong message: It's time for change.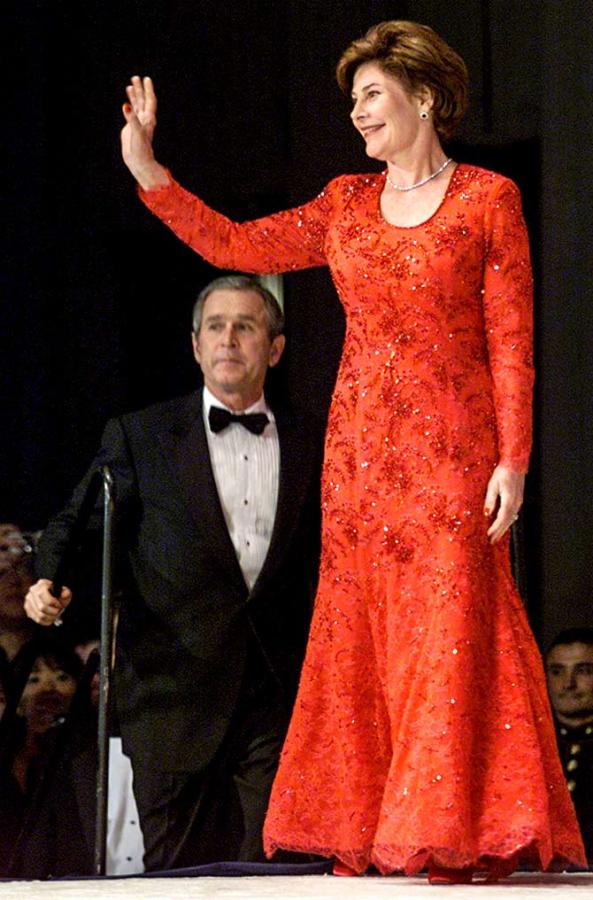 Photograph: Win McNamee/Reuters
Laura Bush arrived on stage with President George W Bush at the Texas Ball, January 2001.
Laura chose a classic and conservative red Chantilly lace gown by Texas designer Michael Faircloth.
She adorned the outfit with a pearl necklace, just like her mother-in-law Barbara Bush had done in January 1989 after George H W Bush was sworn in President.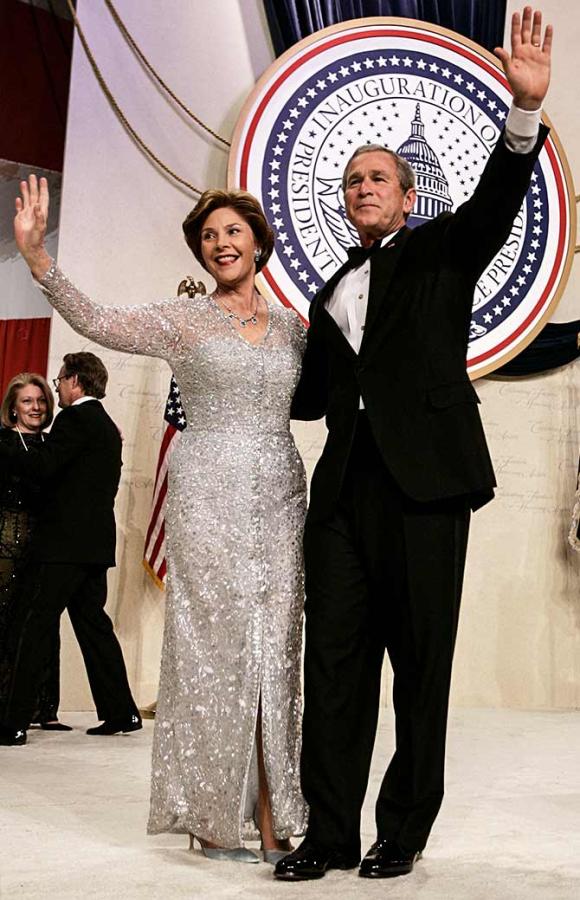 Photograph: Jason Reed/Reuters
Laura and George W Bush at the Texas Wyoming Ball, January 20, 2005.
Laura chose an ice-blue embroidered gown outlined with Austrian crystals by Oscar de la Renta for her second inaugural ball.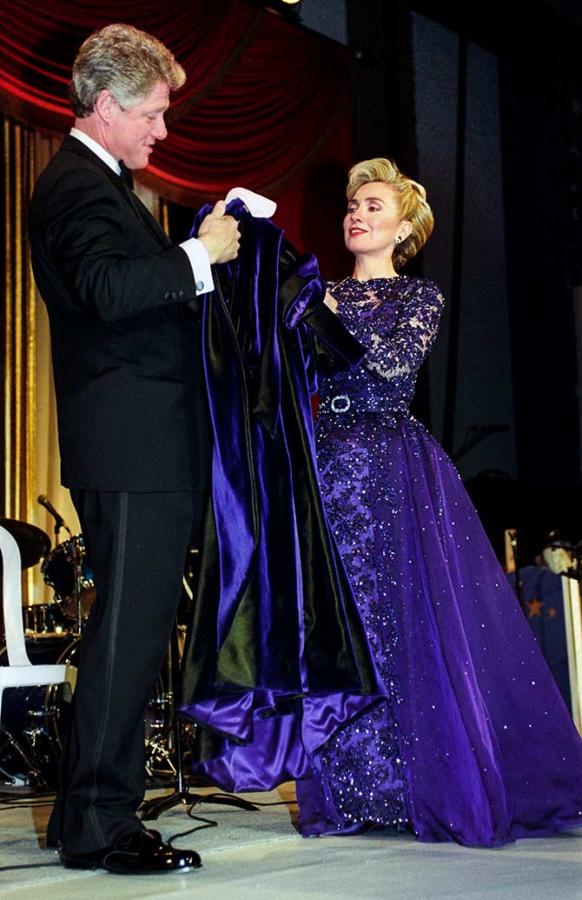 Photograph: Jim Bourg/Reuters
Hillary and Bill Clinton leave the New England Inaugural Ball on January 20, 1993.
Hillary was dressed in a purple gown by New York designer Sarah Phillips.
She surprised people by choosing a relatively lesser known designer for her shimmering, purple-laced gown.
Her message was loud and clear: Stay true to your roots.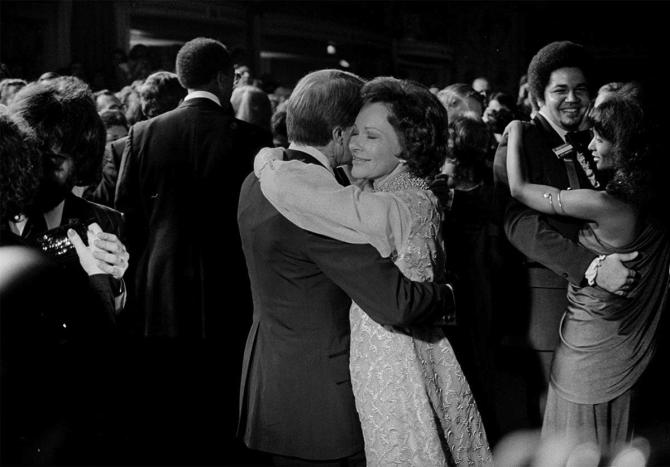 Photograph: Marion S Trikosko/White House Photo/Library of Congress/Reuters
For her inaugural ball Rosalynn Carter chose a gold-trimmed dress.
It was the same dress that she wore to her husband's inauguration when he was sworn in as Georgia's governor six years earlier, designed by Mary Matisse.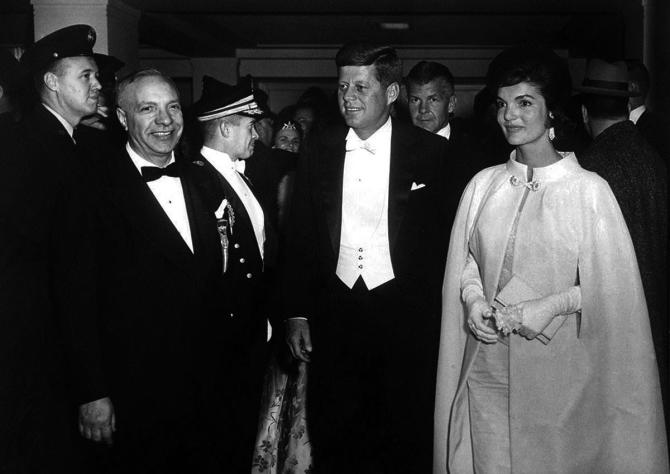 Photograph: Library of Congress/Reuters
In 1961, Jacqueline Kennedy helped design her own inaugural ball outfit with designer Ethel Frankau of the Bergdorf Custom Salon.
The outfit had a cape and she finished the look with a matching clutch.