Flourishing in a climate changed world will need close collaboration with others, across caste, communal and gender lines that aren't crossed today, says Rajesh Kasturirangan.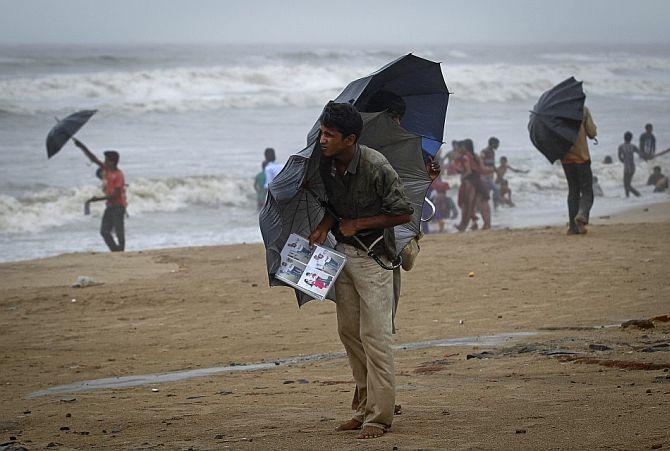 The impact of climate change is being felt everywhere. From more erratic monsoons to the oceans eating our coastlines, we are seeing changes that need urgent response.
India will suffer more than most -- life and work will become unbearable if the summers are a few degrees hotter and monsoons fail.
Young people are rising to the challenge. The September climate strikes were the largest mass climate action ever, though like climate change itself the strikes are only going to get bigger and bigger.
The youth-led climate movement is justifiably worried that we are leaving them with a mess, not of their making. To paraphrase Greta Thunberg's now famous speech at the UN climate summit: They are watching us.
The question arises as to what today's adults can do to help tomorrow's adults (and us) live and flourish.
As parents and educators, we have the responsibility to work with our children to create the tools to stay resilient in uncertain times.
There is a need for training that will provide content to students in a form that is experiential and innovative, and offers room for debate.
The overall aim is to support students to develop psychological and social courage, resilience, community-building and organisational skills and leadership.
Those principles are the basis for a climate curriculum that needs to be created and deployed swiftly.
Starting from imagining different values, relationships and lifestyles that form the basis for resilience and sustainability, the curriculum should aim to create learning experiences that start the journey into both the hard practical skills (such as handling extreme weather, repair, gardening and food conservation) and soft human skills so that outer transformation can be led from a place of inner transformation.
We have to offer practical methods and tools to build the capacity to listen, to create conditions for generative dialogue and true innovation that integrates all voices and acts from a sense of awareness of self and the whole.
In short, we should engage children and adults at three levels:
Skills: Teaching them specific capacities, such as growing food with much less water and working collaboratively with others in their communities.


Knowledge: The basic facts and theories relevant to climate change and its impact on communities worldwide.


Imagination: Helping children and adults imagine their life in a climate-changed world and pathways to thriving in such a world.
Easier said than done. We are aware that young people have many demands on their time and attention, so we have to be creative with both the content and the style of learning experiences.
Further, children should be co-creators in this process rather than being passive recipients of adult wisdom.
The climate curriculum is an opportunity to help them become leaders who teach and learn from their peers. Their felt sense of community will be an important ingredient of their wellbeing.
The climate curriculum is also the first stage in a much-needed reimagination of how Indian society will surmount the challenges of the future.
After Independence, India invested in an educational system that enshrined the importance of the State and, subsequently, market-led industrial development.
It goes without saying that fossil fuel use and carbon emissions are central to this developmental model.
This model also emphasises individual achievement, which isn't surprising because jobs in the carbon economy have been gated by the admissions in good colleges. Each step in that involves fierce competition.
In contrast, flourishing in a climate changed world will need close collaboration with others, across caste, communal and gender lines that aren't crossed today.
How will we do that?
We can't go back to a pre-modern past. At the same time, we can't continue accepting values of the current system.
Instead, we have to learn how to grow crops using less groundwater, extracted using renewable energy, and processed and marketed in ways that farmers reap much of the benefit.
Instead of creating a rift between farming and industrial society in which the farmer is seen as an inferior mind, we need a new system that will build upon the deep understanding of farmers with new integrated ecological, economic and engineering sensibility to help society thrive as a whole.
Is it possible that our children will work together to create such a society? The first decade after independence saw enormous optimism about creating a new India.
Can we rekindle that optimism at a time when the world looks increasingly bleak? The hope lies in the future and there will be many twists in the road before we get to our destination.
We need to unlock the energies of a young nation so that a million experiments in a sustainable future are tried out in all corners and shared openly so that others can benefit from the knowledge.
The climate curriculum is a first and necessary step in this process.
---
Rajesh Kasturirangan is a professor at MIT and a co-founder of Socrates.
How can we help prevent climate change? SHARE your thoughts on the message board below.