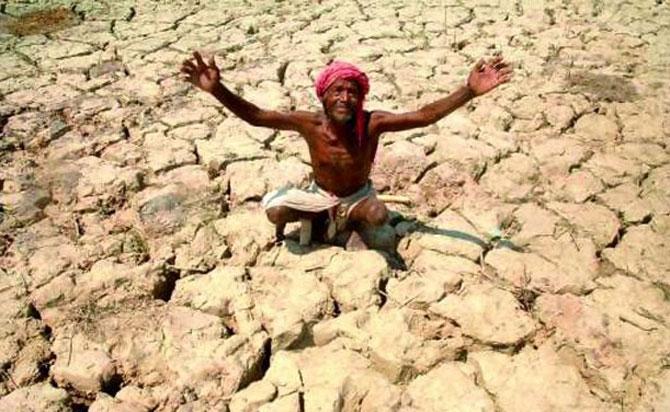 A slump in global markets meant that agriculture exports, which could provide farmers alternative revenue, dried up.
The first two years of the Narendra Modi government were marked by big announcements that will take their time to materialise.
The one sector that is unfazed by slogans is agriculture.
The sector is crippled by back-to-back droughts coupled with a record fall in farm prices.
A slump in global markets meant that agriculture exports, which could provide farmers alternative revenue, dried up.
Agriculture and processed food exports from India dropped to a five-year low of $24 billion in 2015-16.
Wheat, rice, and even guar gum exports dropped sharply.
In Punjab and Haryana, they were forced to sell a basmati variety to the public distribution system because its price had dropped to a multi-year low.
In Maharashtra cotton farmers are selling their produce at record low rates, while in Andhra Pradesh tobacco growers have unsold stocks because retail prices have crashed.
Agriculture growth in the first two years of the Modi government averaged a miserable 0.5 per cent, with many experts questioning the 2015-16 performance because it is expected to come on strong growth in livestock, dairy and fisheries.
Agriculture growth in 2015-16 in preliminary estimates is 1.1 per cent, a big improvement from -0.2 per cent in 2014-15 but nowhere near the target 4 per cent.
Data from the National Crime Records Bureau show farmer suicides increased by 5 per cent in 2014 from the previous year's 12,360.
The poor showing in villages has started hurting the BJP's electoral prospects.
Unfulfilled electoral promises like guaranteeing 50 per cent profit over cost through minimum support prices are coming back to haunt the government.
Against this background the Centre has embarked on a massive increase in rural investment in roads, irrigation, marketing network and infrastructure.
The Budget for 2016-17 was billed as seeking to address many structural flaws in agriculture.
Programmes like the Pradhan Mantri Krishi Sinchayee Yojana, Soil Health Card, 100 per cent coating of urea with neem, National Agriculture Market, a new crop insurance scheme and enhanced compensation for crop loss will yield results in years to come but only if they are adequately funded.

For example, the Centre has sanctioned over Rs 12,000 crore to different ministries in the last two Budgets for irrigation plans to raise this to over Rs 50,000 crore (Rs 500 billion).
But a rough assessment shows over half this amount will be needed to complete just the existing minor irrigation projects as on March 31, 2015.
"In all possibility, this financially paralysed dream is likely to remain a just a dream for at least a decade," agriculture economist Ashok Gulati wrote in a newspaper about the scheme.
For the Soil Health Card, which aims to cover all 140 million farmer families at least once in the next two years, many experts said the funds provided were inadequate.
The Centre has a limited role to play in agriculture and implementation is in the hands of the states.
But with the BJP rapidly expanding its footprint across the country, taking states on board should not be difficult.
The biggest impetus though will come from the monsoon, which is expected to be best in the last few years.
If the rainfall is to forecast, it will mark the real 'achhe din' for India's rural population.
The image is used for representational purpose only. Photograph: Reuters