'"What is the purpose of your visit?" the immigration officer at London Heathrow asked,' Deborah Das tells Rediff.com's Archana Masih.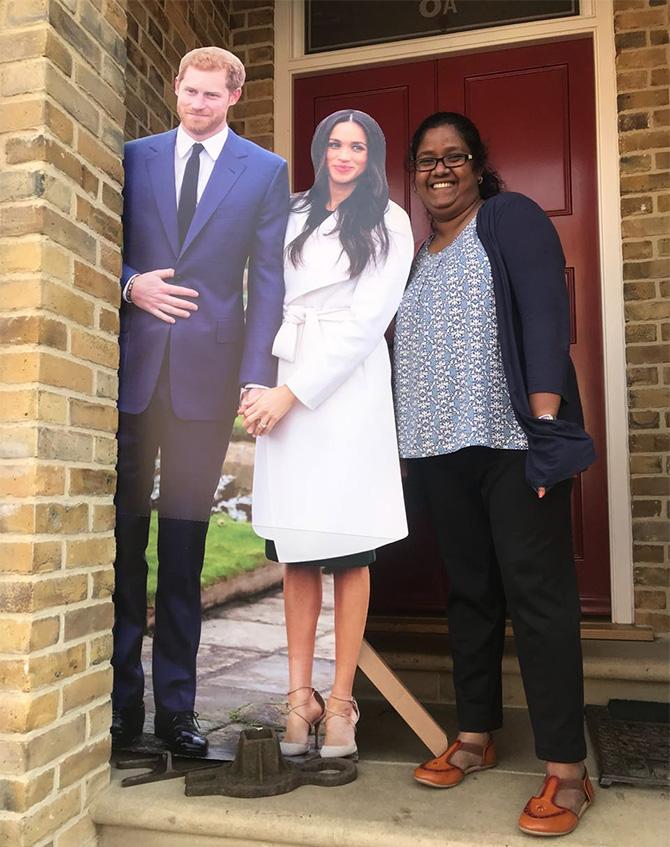 'What is the purpose of your visit?' the immigration officer at London Heathrow asked Deborah Das.
Deborah had never travelled by plane before.
She had just got a passport for the first time a few days earlier, even the British visa had been refused once.
She had to reapply and had got it just a few hours before she was to take off.
Nothing seemed to be going right for the woman from Govandi, north east Mumbai, on her first-ever air journey.
"I am a believing Christian, I thought if it is God's will, I will be on the plane to London," she says, recalling those anxious moments before boarding the flight to London.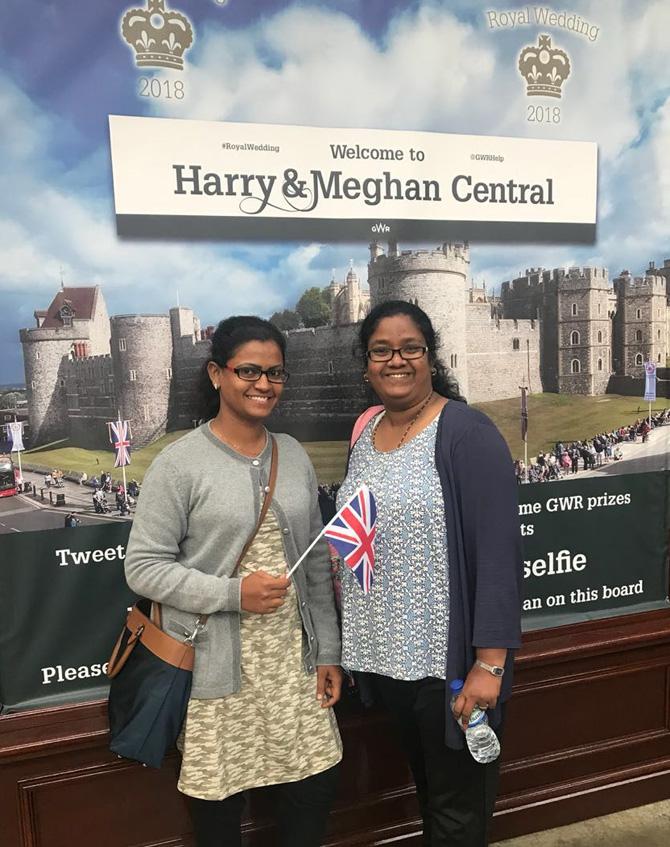 Deborah eventually did make the flight, but when she landed in London, she realised the ordeal wasn't over yet.
Standing in front of the immigration officer, she could not remember the address of where she was staying in London.
"I have the address in my check in bag," she told him.
The officer shared his hotspot with her. She was able to log onto the Internet and write down the address for him.
And then, he asked her that one question all immigration officers authoritatively ask foreign nationals - the purpose of your visit.
Her response was not what he expected.
"I am a guest at the royal wedding of Prince Harry and Ms Meghan Markle," Deborah said.
The immigration officer's reaction changed immediately.
"'You are welcome, madam. You are an honoured guest', he said," she excitedly recounts that moment on her return to Mumbai.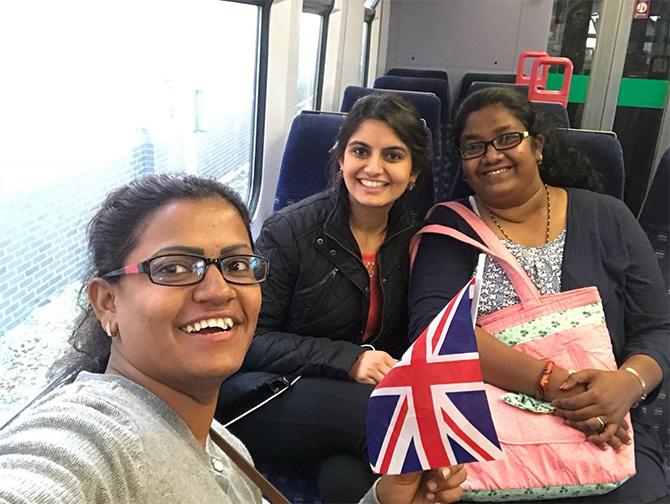 Deborah along with Archana Ambre -- and Suhani Jalota, the founder of the Myna Mahila Foundation were among the representatives from seven charities invited by the royal couple for the wedding in Windsor Castle last month.
The ladies wore saris for the wedding, and spent the entire day in Windsor.
Deborah had taken some packed lunch along and was assigned the enclosure for charities just outside the main beautifully flower bedecked entrance to the chapel.
"We did not know that we could carry bed sheets to sit on. We also forgot to carry water, but people from the other charities who were there shared their sheets, rugs and water with us."
"They were all very friendly. The British say 'thank you' and 'sorry' a lot -- and are so polite," says Deborah, who loved the sight of the little bridesmaids and page boys.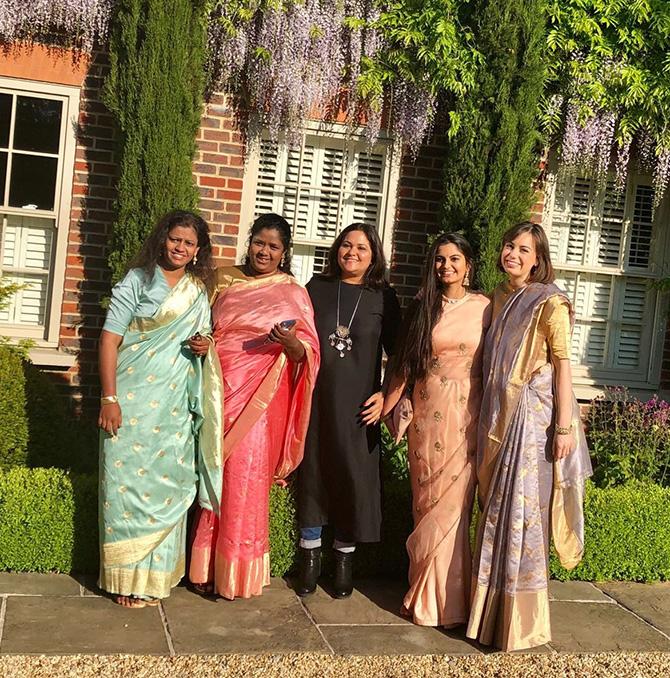 Suhani Jalota, Myna's young founder who impressed Meghan Markle at an event in the US, which resulted in Markle making a trip to India in 2016, was among the group invited for the post wedding reception.
As the royal couple mingled with their guests, Suhani realised the reception was not about well-known personalities, but a close knit group, interestingly with no politicians present.
"It was not as if people were saying things to please each other. There was a homely vibe. It was a celebration of love, friendship, laughter and family," says Jalota, an alumnus of Duke University, who is soon headed for a PhD at the Stanford School of Medicine.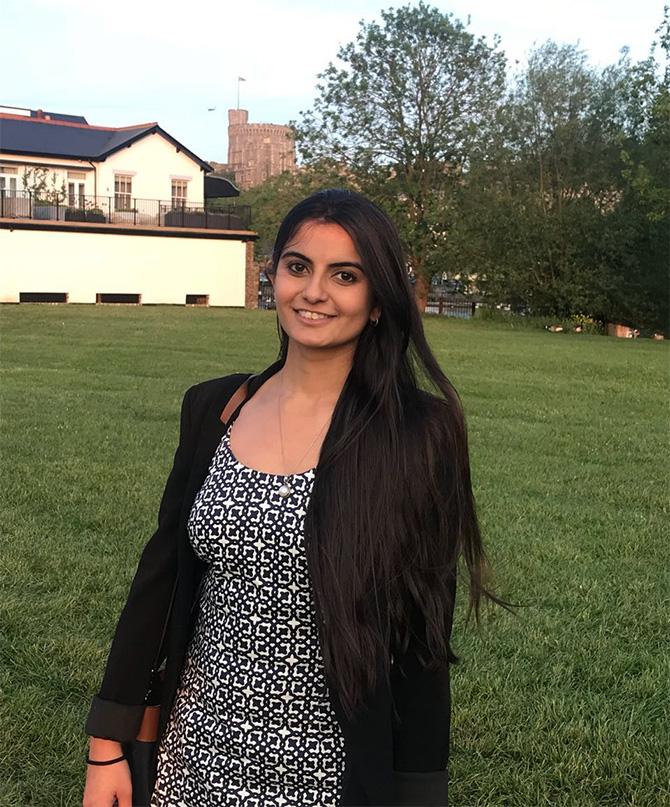 Suhani was happiest to meet Meghan, of course, and feels her support has helped the Myna Mahila Foundation remarkably -- in ways that the new Duchess of Sussex can't even imagine how she has changed their lives.
Myna has received a lot of interest, patronage and sponsorship in the last few months, which will enable them to start a day care centre in the next six months and make low cost sanitary napkins available to more slums in Mumbai.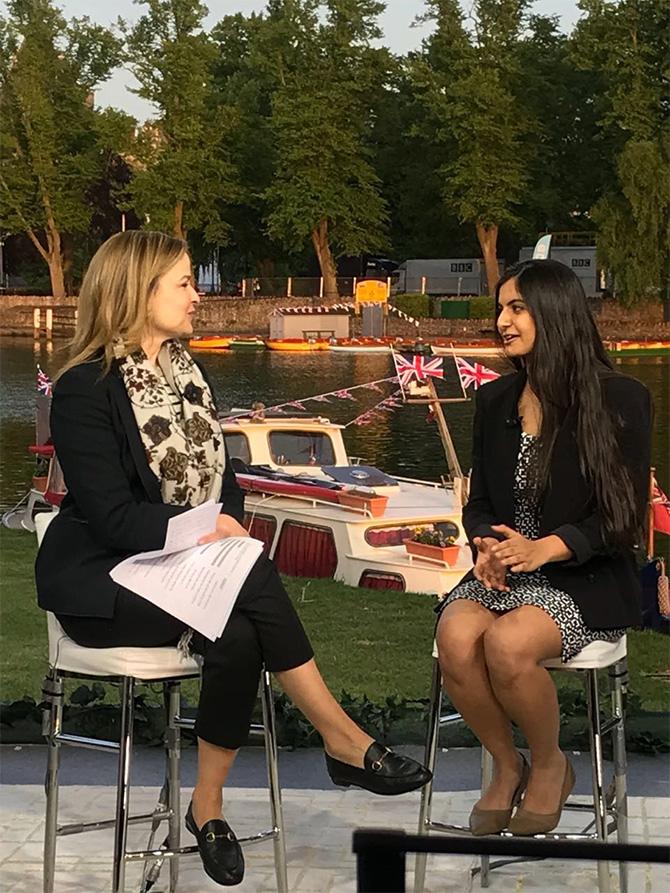 That evening, Suhani also met Priyanka Chopra and spent time with Prince Harry's butler, dentist and chef. She also met documentary film-makers and other friends of the royal couple.
She also gave interviews to CNN, Sky News and several other media outlets.
"What I liked most was the vibe of the town (Windsor) and how connected they were with the wedding," Suhani says.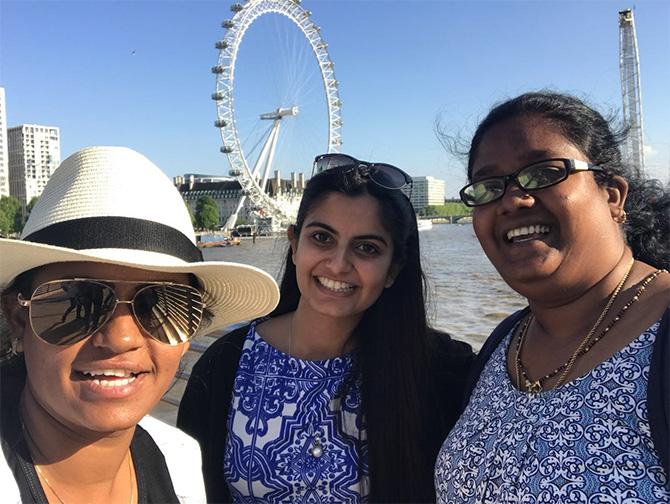 The Myna trio did some sight-seeing in London. Deborah saw the London Eye, the London Bridge and the seat of British royalty, Buckingham Palace.
"I cannot believe it all happened, but it did, and it happened because of Meghan," says Deborah.
Before heading home, she made sure to buy some chocolates and bags for friends and family -- never mind she couldn't get a selfie with the Royal couple.
In Windsor, she got a picture standing beside a cut-out of the couple who had invited her to the world's most watched wedding.