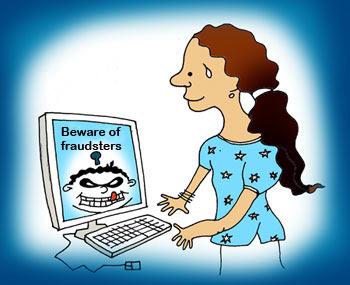 Be cautious when purchasing from little-known Web sites, advises Tinesh Bhasin.
Illustration: Dominic Xavier/Rediff.com
With shoppers perpetually on the hunt for bargains online, scammers have begun to lure them with attractive offers and discounts.
It's only after an individual receives a counterfeit product or doesn't get a delivery at all that he realises he has been cheated.
Abhyuday Agarwal, a 29-year-old entrepreneur, came across an advertisement on a social network site that offered Rolex watches costing between Rs 70,000 and Rs 1.5 lakh -- at a discount of over 65 per cent.
"The seller offered a compelling story that these watches were old stock, purchased from physical stores in the US," says Agarwal.
The watch looked original, with the logo engraved at the right places. It also had a three-dimensional hologram, a warranty card and a proper bill.
But when Agarwal took it to authorised retailers to check its genuineness, all said it was fake.
A former lawyer, Agarwal took appropriate measures and got his money back.
Agarwal was lucky.
For most others, the chances of getting a refund are slim.
"The possibility of a shopper getting an effective remedy is not bright in such cases, especially if the operator has shut shop," says Pavan Duggal, a Supreme Court lawyer and cyber law expert.
"The Consumer Protection Act is not of much help," he adds, "while the Information Technology Act is completely silent on issues pertaining to consumer protection."
You, therefore, need to be cautious before bagging that heavily discounted product or falling for a scheme sounding too good to be true.
Here are some common ways in which online shoppers could get swindled by scammers:
Shopping on little-known Web sites
These sites are professionally developed like those of big online retailers and even have a payment gateway.
They use pictures of genuine products, give the number of a contact centre, and even lay down a refund policy.
It's easy to fall prey.
To reach out to prospects, they use ads or illegally source a database of the existing shoppers from an established Website and contact consumers individually.
Sanjay Prasad received one such call last month from an ecommerce Web site, which claimed it was a start-up offering goods at heavily discounted prices.
After he bought a wallet and a belt, he was told he had won an iPhone 6S worth Rs 60,000.
To get the phone, he was asked to pay Rs 7,200 for Apple's warranty, which he did.
After several follow-ups, the Web site sent the belt, but has not sent the iPhone or refunded the money paid for the iPhone.
"Shoppers need to be diligent while shopping online on Web sites that are not established. The simplest way to check their credentials is to do a generic search by typing the name of the Web site. If others have been tricked, you will come across buyers' grievances," says Prashant Mali, an advocate and international cyber law and cyber security expert.
Those who have been cheated need to quickly chase the refund.
The first step is to raise a cardholder dispute and claim a chargeback if you used card payment.
Indian payment gateways usually include terms which pass risk on to the seller if a customer initiates a refund request through a bank on the grounds of the product being different from what was promised.
At the same time, the individual should write to the Reserve Bank of India against the payment gateway for supporting unscrupulous Web sites.
Customers can also approach the Internet domain registry, with a complaint of fraud and request the Web site's account be suspended.
Lawyers say the police might not register such cases easily and may dismiss it as a civil or consumer dispute.
Hence, your First Information Report (FIR) needs to establish that the seller had the intention to cheat you right from the start.
You can also serve a notice to the seller under the Consumer Protection Act.
The most effective way to hit back is to use Internet forums to complain against the Web site.
If there are other victims, they will then connect with you. Doing so will make others aware of the fraud.
Agarwal says this route was most effective in helping him get his money back.
Counterfeit from big players
Most established e-commerce players follow a marketplace model -- they are intermediaries that connect buyers and sellers.
Despite putting in place policies and measures to check counterfeit products, it's not possible for them to inspect the quality of all items sold through their platform.
There have been numerous cases of empty boxes being delivered to customers, instead of the product.
"It's not just luxury brands that are counterfeited; a person can get fake versions of smaller brands, too. Customers might not even come to know if it's fake and may blame the brand if anything goes wrong," says Arvind Singhal, chairman and managing director, Technopak Advisors.
Most reputed Web sites offer easy exchange and refund.
But sometimes, they leave it to the discretion of the seller to take a call.
In case you don't get relief from customer care, you should first approach the company's grievance officer.
Under the Information Technology Act, all such companies need to mandatorily appoint a grievance officer.
If you still don't get relief, file an FIR and approach a consumer court.
"One should also write to the original manufacturer against this violation, as this is a crime under sections of the Copyright Act. You can also file a case against the Web site with the seller as a party," says Mali.
Beware of fake messages
Whenever big online retailers come up with sales, fake WhatsApp messages, SMSes and e-mails do the rounds promising unbelievable discounts and offers during the event.
These messages even have a link with the name of leading e-commerce players (www.flipkart-bigbillion-sale.com), with which they have no connection.
Clicking on such links can compromise the security of your computer or device, and result in harmful malware getting installed.
Such apps can steal your personal and financial information.
Leakage of username and password, bank account details or credit card information could lead to fraud and theft of both your money and your personal data.
"One should always avoid clicking on links received on e-mails, SMS and messengers, even if these have come from a trusted source. Instead, go to the company's Web site to check the deals and discounts," says Duggal.
Telltale signs of a shopping fraud
A Web site offers highly discounted prices and unbelievable deals.
Its executive calls and pushes customers to buy those products.
The shopper is declared a contest winner and asked to pay a fee to get the prize.
The Web site does not offer cash on delivery.
Absence of grievance officer as mandated by law.
Buyers complaining about delayed delivery on online forums.