Let the kids just idle out their time. Their minds are always working.
Let that mind develop naturally, advises Dr Himani Kulkarni.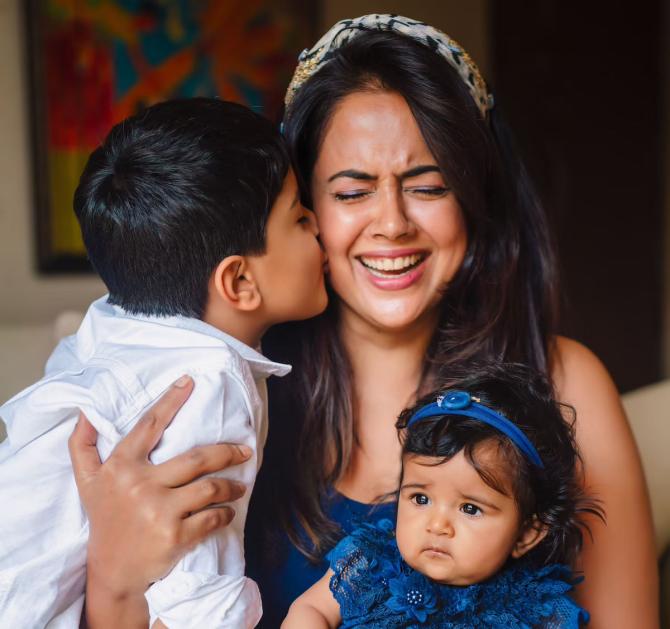 Ask any parent of a five-year-old what they think about dealing with kids in the lockdown and pat they'd reply: 'My god, he/ she is driving me crazy. I don't know how to keep him/ her entertained!'
Keeping children busy has been a real challenge for all parents -- working and non working as well.
Children are power houses of energy. Some exhibit physical energy whereas some channel it mentally.
During childhood the brain develops at a phenomenal pace forming millions of new neurons every moment.
New experiences, new stimuli promote this process and is responsible for a good development of IQ that the child is born with.
This is the prime reason why children should be exposed to a variety of experiences since infancy.
Other reasons for engaging children in meaningful activities are to expend the excessive physical and mental energy, to keep them away from rote, harmful addictions like TV, mobile, games etc.
Interacting with the child also improves the bonding between parents and the child and reduces behavioural disturbances.
There are different ways of keeping a child entertained according to age groups.
For young kids, activities improving their motor skills can be devised using everyday articles available at home. There is no need to buy expensive toys for this purpose.
Jumping on the marked tiles of the floor, stepping only on the lines marked on the floor, stacking objects of same shape, colour, finding objects hidden in flour, activities involving soft balls, bigger sized pulses like rajma, chhole etc can be easily devised.
Don't keep scolding kids for making a mess during an activity. This makes them anxious and apprehensive about trying out new things.
For older kids, reading books with them in lap will make them acquainted visually with the alphabets.
Encourage them to scribble on paper. Don't give tiny pieces. They need bigger surfaces. This will develop their pincer grip for writing.
Forcing them to draw geometric patterns should be avoided. Let them learn it gradually.
Printing on paper with colours and palms engages them for a long time.
Stringing beads, sticking something on paper, playing with clay etc are entertaining as well as helpful for development.
As they get older, introduce them to various outdoor, indoor games. Let the child choose his own game. S/he may persist with it for some time and choose another. Don't get frustrated by that.
Gradually involve them in household chores. That will make them independent in future.
Taking care of their pet or plants in the house or feeding birds or stray animals will help in inculcating empathy in them.
Introducing them to science in day to day activities like cooking, cleaning will make them curious. Let them experiment without criticising them.
New language, musical instrument, art can be introduced in childhood, but only after taking into consideration their inclination and skill.
Encourage reading at all ages
Children model their behaviours on their parents.
Don't do things which you don't want your children to do.
For example, avoid talking loudly, avoid excessive use of mobile when you are around them.
Having said all this, let the kids just idle out their time. Their minds are always working.
Let that mind develop naturally.
Don't restrict it by continuous structured activities.
Free play, pottering around the house are a must for all round development of a child.
Be patient, imaginative and encouraging with your children. All they need is your attention and affection.
Dr Himani Kulkarni is a psychiatrist at the Jupiter Hospital, Mumbai.