Amit from Belgaum, Karnataka shares his weight loss journey.
I am 29 yrs old and an advocate by profession.
Motivation to lose weight
In January 2018 when I checked my weight, it showed 110 kg.
I was shocked and got depressed for a couple of days.
I convinced myself to join the gym and see how it would work out.
I found a trainer; his name is Shah Rukh. He charted a diet plan and workout schedule which included cardio, lifting weights and improving core strength along with endurance training.
The next six months, every morning, I spent two hours working on my body. I did this for six days a week.
Diet plan
6 am: Two glasses of lukewarm water within 5 minutes of waking up.
6.30 am: Tender coconut water before workout.
7 to 9 am: Two hrs workout
9.15 am: One idli with sambar and chutney and 4 peeled almonds soaked overnight.
11 am: One bowl of oats mixed with apple or banana, dry fruits and 1 spoon honey.
1 pm: Half plate of poha with curd
2.30 pm: Two chapatis or jawar roti with any sabzi (preferably green sabzi) with salad made from cucumber, carrot, radish etc along with a small bowl of brown rice.
5.30 pm: Orange/mosambi/pineapple juice or black coffee
8 pm: One glass milk and 2 oats biscuits or 4 to 5 egg whites
10 pm: One glass Luke warm water just before going to bed.
Tips you can follow
Drink at least 8 to 10 glass of water through out the day.
Drink water half an hour after your lunch.
Walk for at least half an hour before you sleep.
Have buttermilk in the afternoon instead of curd.
Use jaggery instead of sugar in your favorite dishes. Drink sugarcane juice at least twice a week.
Have brown bread with peanut butter instead of oats
Use olive oil as a substitute to your regular oil.
Avoid these
Sweets and fried items
Junk food and ice creams
Cold beverages and packed fruit juices.
Sleeping immediately after lunch.
Cheat meal
I have one or 2 cheat meals a week. But I make sure I cheat moderately.
I have egg curry or kaju curry with tandoori roti and a few spoons of ice cream.
Challenges
The first 15-30 days are the most challenging. But once you start feeling comfortable with the regime, you will enjoy it.
What I learnt
If you want to lose weight, you will need self motivation. Your mirror is your best friend.
Once you start losing weight you'll be motivated to continue till you fit in to your old favorite clothes.
I weigh 87 kg. I lost 23 kg in 6 months.
I feel young, fit and happy when I receive compliments from my friends and relatives.
I'd like to thank my wife, dad and friends who always helped me stick to my diet and focus on my weight loss.
I'd also like to thank my trainer Shah Rukh Kamate.
I hope to bring my weight down to 80 kg with muscular training.
Earlier in this series: He lost 25 kg in six months
---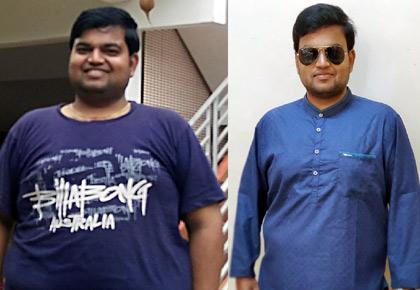 Reader Invite
Have you recently lost weight? We want you to share your weight loss story with us.
Share your detailed diet plan, tips and advice with our readers.
Write in to getahead@rediff.co.in (subject line: 'Fat to Fit'), with a before and after photograph, if possible, and we'll feature the best entries right here!