We'd asked you, dear readers to share your fitness stories with us.
Rediff reader Aastha Bhat, 16, from Faridabad, Haryana shares her story.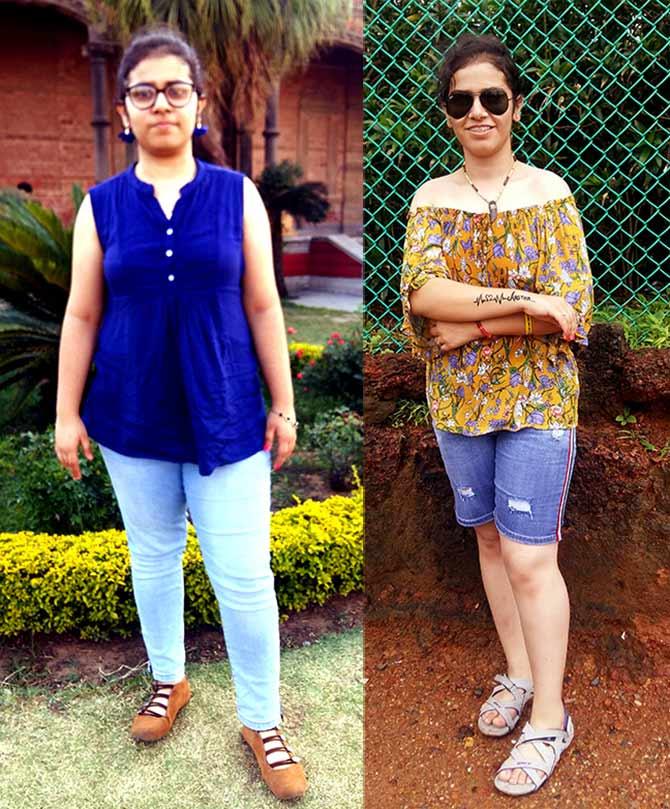 I had been gaining weight for a lot of reasons. I used to eat junk food and always wanted to eat more.
My friends at school and the society I lived in called me moti, but it didn't matter so much. Until one day, I struggled to fit into a dress of my liking.
In October 2018, with the support from my parents, I made up my mind to change my lifestyle, balance my studies and work out.
My dad is a regular runner. He encouraged and helped me.
Initially, we looked up for resources on the Internet. Later, my cricket coach helped me with a diet plan.
It took me approximately a year to reach 61 kg.
Workout
I started jogging and running along with some stretching exercises.
I work out 4 days a week and have run approximately covered 500 km till date.
This is what my diet looks like:
Pre-workout drink (6 am): Detox of apple, cucumber, ginger and mint. This was my drink the whole day as well.
Breakfast (7 am): 3 boiled egg whites, poha or 2-3 idlis and a glass of low fat cow milk.
Mid-morning snack (11 am): A bowl of fruits
Lunch (1 pm): Two chapatis, vegetables or dal and a small bowl of green salad.
Evening snack (5 pm): Lemon tea and rusk or black coffee without sugar.
Dinner (8 pm): A bowl of dal and occasional chapatti with a bowl of green salad.
Before bedtime (10 pm): A glass of milk
In addition to the above I used to drink 4-5 litres of detox water or plain water.
I minimised direct sugar intake, avoided deep friend stuff and stopped junk food.
The challenge
It was challenging when my weight reached a plateau despite my workout and diet plan.
I used to crave for junk food but had to be determined not to eat anything unhealthy. With time it became a habit.
I never had junk even on my cheat days.
I want to lose some more weight; I aim to hit 55 kg this year.
Lessons learned
I learned very early that a fit body is equal to a fit mind and amazing confidence.
My academics have improved a lot and I have also started playing club cricket. I aspire to play in the national cricket team some day.
Recently I participated in Pinkathon Delhi 2019 in the 3 km category and was ranked 12th out of 134 registered participants.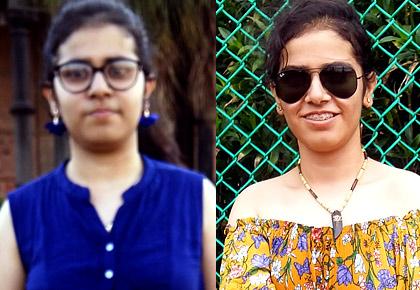 ---
Have you recently lost weight or survived a serious health condition?
We want you to share your story with us. Tell us how you lost weight.
Share your diet plan, exercise tips, learnings and more.
Simply write to getahead@rediff.co.in (My Fitness Story) along with your NAME, AGE, LOCATION, along with a before and after photograph of your fitness journey. We'll feature the best responses right here on Rediff.com.