An increasing number of overweight and under-exercised children are staring at serious heart problems if parents don't step in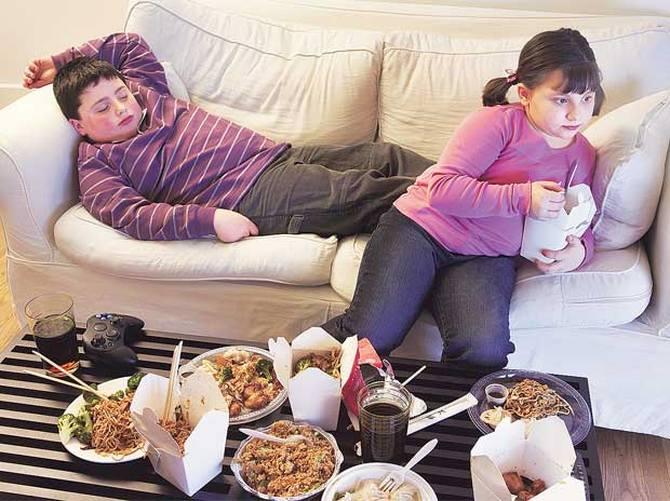 Photographs: Courtesy, Business Standard
Vikram Sinha is an average 13-year-old. He gets a weekly allowance that he largely spends on snacking -- either in the school cafeteria with his friends or on wafers and ice-cream that are easily available through vendors outside his school. During the week, he also has an occasional pizza and burger, if not french fries and noodles along with aerated drinks.
At 5-feet-two-inches, he weighs 67 kg -- not obese but certainly overweight. His parents are a bit concerned but are not losing their sleep over it. Most of the boys and girls in his class are also hardly lean. "Baby fat that will go with age" is their explanation for their child's weight. That might, however, not be the case.
Doctors will tell you that at 13, Sinha (name changed) is at the potential risk of developing high cholesterol by the time he is 16 or 18.
A recent study published in the Journal of the American College of Cardiology has found that 23 per cent of Delhi youth under the age of 19 have high cholesterol levels. Doctors say the problem is, however, not restricted to children from Delhi and around. An increasing number of children in the urban areas of India are today at risk of having high levels of the bad cholesterol (LDL) before they touch the age of 20.
"We found higher than normal levels of triglyceride in 45.6 per cent of the children studied. The good cholesterol (HDL) was found to be lower than normal in 44.4 per of the children and a little over 12 per cent had higher than normal levels of the bad cholesterol," says Raman Puri, vice-chairman of Lipid Association of India and an interventional cardiologist at Apollo Hospital, New Delhi, who conducted the study on 2,508 teenagers from Delhi and its adjoining areas.
"Overall, nearly 23 per cent of children in the age group of 14-18 years had high cholesterol," he adds. Girls tested as part of the study were found to have a significantly higher level of the total cholesterol as compared to the male population.
While there were a few cases where the child had genetic propensity for high cholesterol, in a majority of the cases the problem was due to multiple factors, including a sedentary lifestyle and unhealthy diet -- things that are well within the parent's and the child's control.
Doctors are worried that we are staring at an increasingly unhealthy urban population in the times to come. High cholesterol in childhood or youth may cause cerebrovascular disease -- conditions that affect the circulation of blood to the brain -- at the age of 50 to 60 years, cautions Puri. "This cardiovascular disease may occur earlier if the youth has other risk factors: smokes, chews tobacco, is overweight, has a family history of premature heart disease, is diabetic and has a sedentary lifestyle."
High levels of the bad cholesterol and triglyceride and low levels of the good cholesterol are known to increase the risk of heart disease in future. "Incidents of heart attack in young people -- even those in their 30s and 40s -- have gone up alarmingly," says Gaurav Garg, cardiologist at Max Super Speciality Hospital, Shalimar Bagh, New Delhi.
Symptoms that a child might have high cholesterol do not appear at an early stage, he adds. "They manifest later on." Sometimes cholesterol tests are conducted in children as young as three but those are not routine cases. "However, there are some markers, like plaquing of the arteries, that can be detected at age 6 or 7," Garg says.
Teenagers with high cholesterol are mostly those who are overweight, says Shikha Sharma, founder Nutri-Health. Of the children studied, 2.3 per cent were overweight and 3.8 per cent were obese. "These children are also at the risk of developing Type II diabetes at a young age," adds Garg. There are two ways of putting on weight, explains Sharma: "eating healthy but eating a lot of healthy food like lots of ghee and non-vegetarian food; or, consuming food with high content of chemicals like pizzas, burgers, chips and aerated drinks."
In the first case, the liver is largely able to break down the natural cholesterol. But in the second, it often gets compromised because it has to deal with food high in chemicals that are present in the form of preservatives, Sharma says. While processed food like salami and sausages is also harmful, food items with preservatives are the main culprit, she says.
Puri is in favour of health policies for early and universal screening of lipid profile as well as other indicators needed to curb the growing incidence of coronary artery disease. His association has announced free-of-cost blood cholesterol screening for all colleges in Delhi, Noida, Gurgaon and Faridabad.
"By 2015, the number of Indians with coronary artery diseases is projected to reach 60 million, of which 23 million would be younger than 40 years of age," says Puri. And this, he adds, will pose a grave health risk to the working population of our country.
THE GOOD AND THE BAD
The good news is that the problem is reversible. "If we reduce 40 mg of LDL cholesterol (bad cholesterol) by making changes in our child's lifestyle, we can reduce the risk of heart attack by at least 54 per cent," says Puri.
Daily exercise such as brisk walking or swimming for at least one hour, five days in a week, though preferably every day, is the best solution, Puri says.
Increase roughage in the diet, adds Garg. "This will help in digestion and also satisfy hunger."
Remove junk food. Also do away with powdered dairy products, advises Sharma. "Ready-to-eat meals and processed foods are very harmful."
Go for vegetable juices like beetroot and carrot. "You can add a bit of fruit like apple to the juice," says Sharma. "I will not advise pure fruit juice because then children will simply go for juices that come in tetrapacks. Those are harmful."
Turmeric and curry leaves are also known to bring cholesterol levels down. "Oats are also good, but not with regular milk. That too has chemicals," says Sharma. "I would advise organic milk, though after the age of 10, milk isn't really needed."
Wheat bran in also recommended. "Though it doesn't directly reduce cholesterol, it improves the digestive system and metabolism," says Sharma.
Milk thistle -- available under prescription -- also improves the functioning of the liver, says Sharma. Green tea (for those above 16) and coconut water are also advised. "But not coconut milk, which is rich in saturated fat."
A healthy school tiffin can include multigrain bread, vegetable porridge, spinach and potato roti, sandwiches with spinach, corn and cottage cheese (paneer), rice poha or channa chaat with tomato, cucumber and peanut. Bhel made with peanut and murmura minus the liquids is also recommended.
For free blood cholesterol screening, college authorities in and around Delhi can call at 9810033388 or write at lipidaoi@gmail.com