Follow these tips on your next vacation, and you'll return home without adding any extra kilos.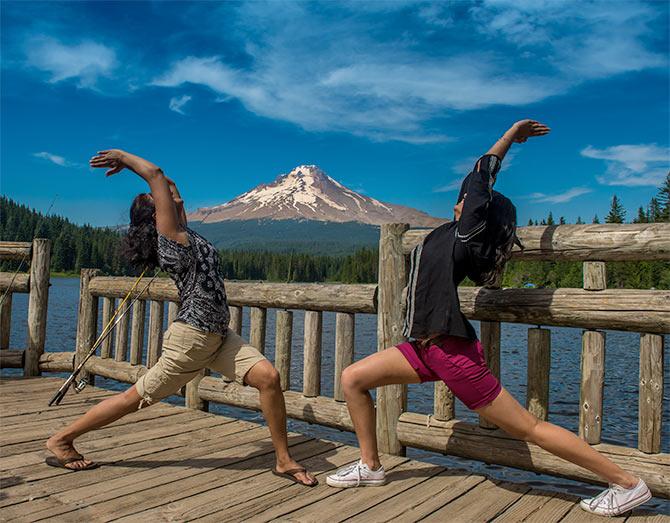 Holidays are meant for relaxation and indulgence.
You scour out the best resorts and restaurants, and enjoy your holiday to the fullest.
However, at the end of your trip you find that buttoning your pants appears to be a bit difficult.
You will be unhappy with your image in the mirror, and will end up cursing the delicious gastronomic treats you ate.
Here are few handy tips to ensure that you stay fit and come back without any extra baggage.
1. Begin your day with Surya Namaskar
No matter what, do this before you leave your room for the day.
One of the most amazing exercises invented, it burns calories, strengthens and stretches the body, all in one go!
Aim for 10 to 20, you can do more if you like!
It will get you charged for the day.
Also See: Saluting health with the Surya Namaskar
2. Take a walking or cycling tour
It's in fact more fun to see the city this way than being perched on a bus. And of course, you are burning a lot of calories, since these tours could go up to three hours.
3. Hire a cycle
It is a great way to get around the city through the day. Get a basket fixed to hold your shopping.
4. Use the swimming pool
Get into the pool, and before lazing around, get your laps done.
Set yourself a number 10, 20, 50. It will make you feel fresh and rejuvenated.
5. Plan a physical activity for the day
Pick up leaflets from the airport or a tourist shop for activities on offer.
Go on treks, walking trails, adventure sports, water sports, or just anything that catches your fancy.
6. Play a sport
Look for local sport apps where you can pick up a game of soccer, tennis or any other sport that you enjoy.
7. At breakfast eat cereal and fruits first
Filling your stomach with the healthy food first will make you less inclined to reach out for the pastries and fatty meats.
8. Carry a snack bag of nuts and dried fruits in your handbag
When you get hunger pangs in the midst of a city tour, while you are shopping or relaxing on the beach, reach out for this snack bag instead of the fast foods that surround you.
9. Skip fast food and eat the authentic cuisine
Local cuisine will be made with more fresh ingredients, and will have lesser fat content than fries, pizza's and hot dogs.
Try the local salads; you can make a lunch of it.
10. Eat dinner early
You pick out fine restaurants for dinner on holidays, and there's no point dodging the fat food here.
Simply make sure that you eat your dinner at least three hours before you go to bed.
Select what you like and relish your meal.
11. Go easy on the alcohol
This one really piles up the calories.
Try to limit your alcohol as much as possible.
If you want to have two drinks, pick one non-alcoholic drink of the two.
12. Drink flavoured water instead of colas
It will keep you well-hydrated, and with the variety of amazing flavours you won't miss your cola.
13. Eat chocolate
It is good for you if taken in small quantities.
Almost every country has their special chocolate... go for it!
Lead image used only for representational purpose. Image: Still Vision/Creative Commons
ALSO SEE
10 secret benefits of exercise