A trek up from Dharamkot and watching the glorious sunset is what one needs for a detox from the city crowds, says Geetanjali Krishna.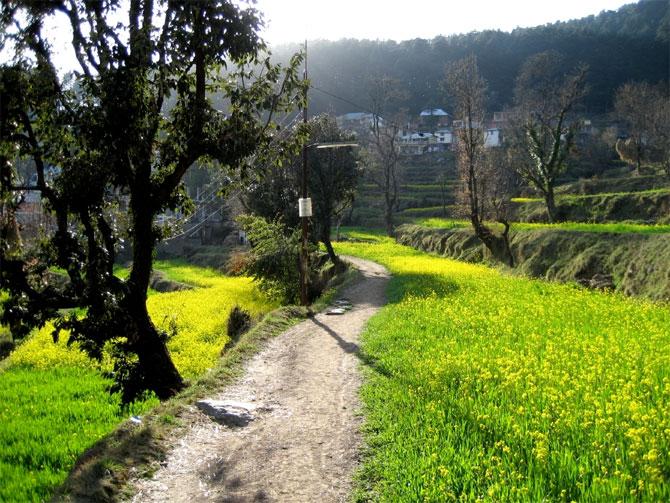 IMAGE: Dharamkot is relatively untouched by tourist development. Photograph: Kind Courtesy Dave Kleinschmidt/Creative Commons
The woods are lovely, dark and deep.
I amble through them aimlessly, with no particular agenda except to enjoy the exceptionally clement weather of Dharamkot.
There isn't a car in sight on the shaded mountain road. It seems hard to imagine that merely a couple of hours ago, I was in the stifling heat and choked traffic of Delhi.
Indeed, Dharamkot even feels light years away from Mcleodganj (actually a mere two km away), with its cheek-by-jowl hotels, traffic and Buddhism on tap.
I am far away from everywhere, and that's exactly where I want to be.
At a height of 6,920 ft above sea level, nestled amid forests of deodar, Dharamkot is relatively untouched by crass tourist development, offering more home stays than hotels.
Truth be told, it isn't the sort of place that people who enjoy sightseeing would like.
It's the sort of place where travellers come to rest -- with laid back cafes to lounge in, paths that make for easy mountain meandering and a cool, always-on-vacation vibe. Every other house in the village advertises cheap rooms for long stays.
It has the added advantage of a sizeable expat population, which makes for a range of excellent dining opportunities.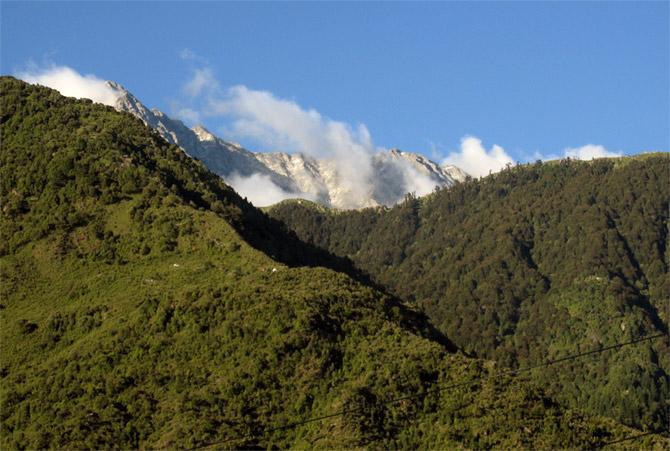 Image: A stunning view of Dharamkot. Photograph: Kind Courtesy taylorandayumi/Creative Commons
As the fresh mountain air and aimless walks always drum up gigantic appetites, its cafes definitely add to Dharamkot's charms.
Fresh hummus, carrot cake and pita breads hot from the oven, homemade muesli and pizzas feature regularly on our happy plates.
The first day, I try several cafes, with names like One World, Om and Friendly Planet. They're all quite good, but I find myself returning again and again to Trek & Dine for its delicious food, trippy murals and relaxed ambience. Its balconies are perfect to watch the small world of Dharamkot go by over a lingering cup of coffee.
From my vantage point, I observe Israeli backpackers negotiate 'good' rates for Hindi language classes, chapati-making workshops and more.
Since most travellers come here for longer stays, doing a class or two while here seems quite popular among them.
From the posters I read in the village, it seems that locals have learnt to peddle Indian culture in easy-to-buy modules, and travellers seem happy to try their hands on tablas, curries, yoga and more.
Over the next few unhurried days, I realise that Dharamkot also offers some serious options to burn off some calories.
Some of this area's best yoga schools are here, and it is possible to schedule sessions there.
Also, being on the base of Triund, possibly the most accessible snowline in the Himalayas, this area promises some seriously good hiking and trekking. Consequently, much of Dharamkot's itinerant population, mostly insanely fit young Israelis, has either returned from a trek, or is about to embark on one.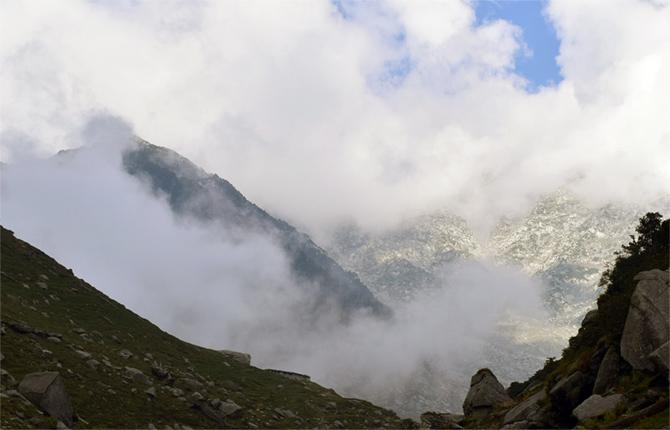 IMAGE: The first view of the Dhauladhar range. Photograph: Kind Courtesy Ashish Gupta/Creative Commons
The trek to Triund is an easy seven km, I am told.
The ascent begins at the quaint Gallu Devta temple. Further in, past flowering rhododendron and increasingly better views, I espy the triangular snow-covered tip of the Dhauladhars almost directly overhead.
Lungs screaming in protest, I continue the steep uphill trek until I reach a river of snow and ice.
From here, it's a near-vertical climb to the top, a plateau-like plain covered in emerald grass flanked by the Dhauladhar ranges.
Our group falls upon the hot Maggi and chai -- pretty much the only food that the tea tents here can make, like a pack of ravenous wolves.
Out of the blue, dark clouds engulf us and sharp hailstones assail our heads. Since it's too high up for them to melt, we have a surreal experience of being perfectly dry even as we are pelted by precipitation.
On my last evening in Dharamkot, I watch, yet again, a show I can never tire of -- the sunset.
Off I traipse up a steep hill to the top, from where the golden orb seems to drop dramatically into nothingness day after day.
Half an hour later, I get up to leave as dusk descends, sighing as one would after a particularly riveting performance.
The magic of the mountains, I muse, lies in the wonder they evoke in the simplest things. A million stars emerge in the sky and suddenly, there's something age-old, yet new, to marvel at.