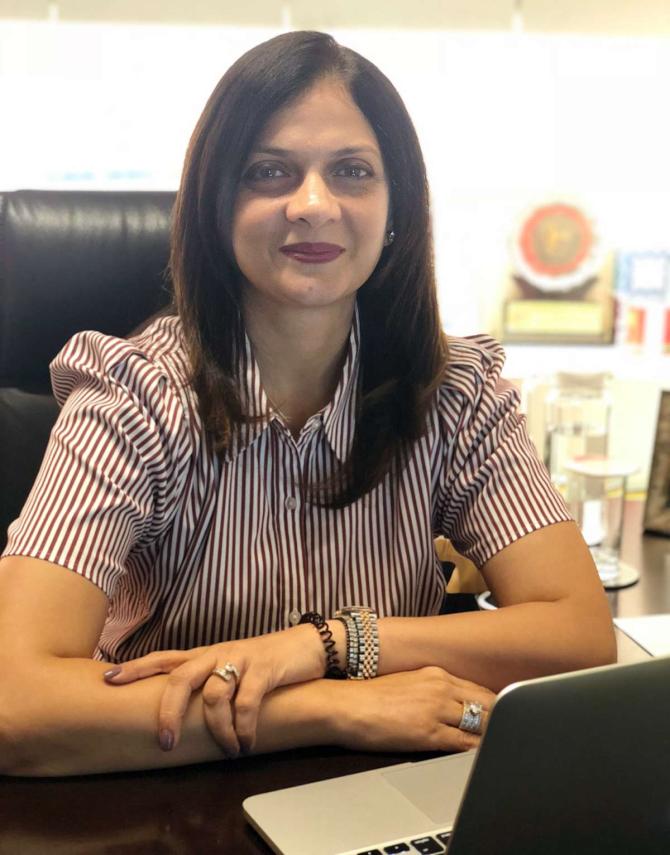 When Rochelle Chhabra joined Streax in 1993, she was a fresher in the corporate setup.
Armed with a degree in pharmacy, Rochelle played a pivotal role in setting up the company's first testing laboratory where all raw material and finished products are tested in-house.
In a career spanning 25 years, Rochelle has been instrumental in setting up the Streax Professional Division and has led the team to develop and launch hair colours and various care and treatment products under the Streax Professional range.
Today, Rochelle heads the professional division of Streax Professional, Hygienic Research Institute, in Mumbai.
In an interview with Divya Nair/Rediff.com, Rochelle discusses some of the most important things she has learnt in her career and offers advice to young professionals about how they can make the most of the opportunities available to them.
What were your initial days at work like?

I have been passionate about my profession since the beginning.
In our business, delivering quality is at the core of what we do. Therefore, I spent my early days focusing on that aspect.
When I joined the Hygienic Research Institute, the research and development work was managed from outside the organisation. We did not have an in-house R&D team which posed certain challenges. That's why I took on the project of setting up HRI's first in-house R&D department. With that in place, we were able to do all our research in-house, which contributed immensely to our growth.
Apart from setting up the R&D and testing laboratory for the organisation, I also set up quality control parameters for our existing products and set guidelines for new product development.
In the initial days, it was quite challenging managing the house, keeping an eye on the children and working at the same time.
However, I quickly became proficient in both of my roles and began to enjoy multitasking.
Were you the only woman in the team?

Our chairperson (Savita Chhabra) was a housewife. She became an entrepreneur after the untimely death of her husband.
As a believer in women's empowerment and what they can bring to the table, she gives a lot of opportunities to women employees. Because of this, we have many women in our factory and in the organisation.
What has been the greatest achievement so far?

I've been with HRI for more than 25 years now.
Working extensively on R&D for Streax Hair Colour and watching it get launched and grow is certainly one of my proudest moments.
Setting up Streax Professional has been another milestone achievement.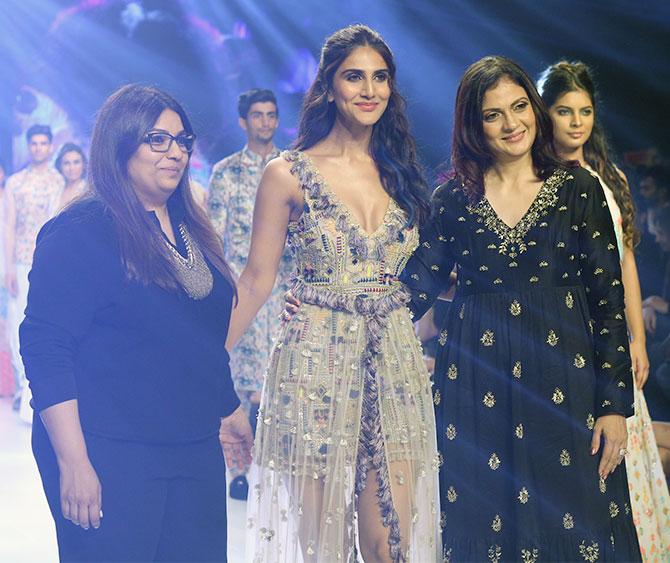 What kind of learning and qualities helped you reach the top?
Passion and grit, in my opinion, are the most pertinent factors for success.
Hard work and effort will naturally come if you are passionate and determined about your career.
I am enthusiastic about what I do, I give it my all and am open to new ideas and criticism, all of which have contributed to my success.
In your opinion, what are some of the exclusive leadership qualities women bring to the table?

Women are certainly adept at multitasking and efficient planning. They also have the ability to take a holistic approach when looking at a problem.
Why then do we see fewer women leading boardroom discussions in India?

It is a choice that women sometimes make.
During our times, women preferred being housewives. But now, times have changed. Women are given equal opportunities. It's just that we must learn to accept these opportunities and excel at them.
What do you think women can do to excel in their careers?

Simply be yourself. Do not let external factors limit your ability.
We can deal with any situation. All we must do is have faith in ourselves.
How do you deal with conflicts and difficult colleagues at work?

I have always tried to be fair and put myself in the other person's shoes to understand their reactions better. Eighty per cent of the problem gets solved there itself. The rest can be handled through dialogue.
How has the workplace changed in the last two decades?

Men are now becoming more and more open to listening to and accepting views from women.
What are the skills you look for when you hire people at your organisation?

Besides the basic skills required for that particular job, I look for honesty and integrity.
Moreover, the time the person has spent in his previous organisation speaks volumes about them. The rest can be taught.
How important is attire for success?

It's very important. Confidence is of prime importance and so is dressing for it.
Do not try to imitate and be like another person.

Confidence and basic style rules can do wonders for someone's attitude.
Indra Nooyi once said that 'women cannot have it all.' Do you agree? Also, how do you manage work and family?

My family is my biggest support. Rightly said, a woman does have to don two hats.
Personally, planning helps me stay organised and give equal time to work as well as my family.

The support of family and efficient staff can make anything possible!
Additionally, planning is crucial so that nothing important is missed. I make sure to make a checklist every morning, which helps me get through the day's work with ease.
Your tips for young women professionals who will be starting their careers this year?

Stay focused, proactive, motivated.
Plan your day and stay disciplined.
Believe in yourself, wear your confidence and grab all the opportunities coming your way.