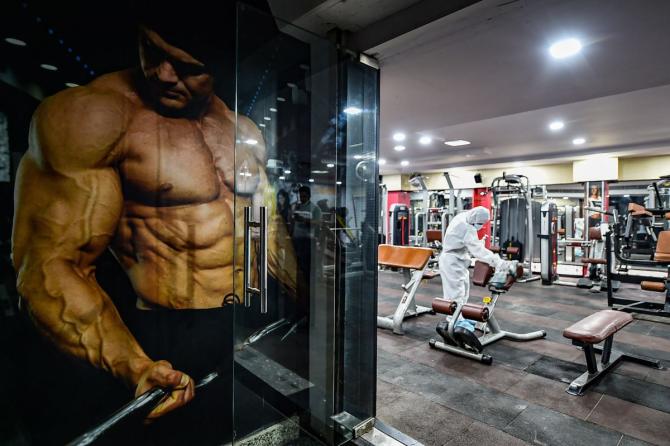 On August 5, gyms, yoga centres and fitness studios in India will reopen for the first time as part of Unlock 3.0.
While fitness enthusiasts are happy, people are also worried how safety guidelines can be followed.
Fitternity, one of India's largest growing communities that comprises trainers and nutritionists working in 12,000 fitness centres and sports facilities across 20 Indian cities -- have been training individuals and experts to ensure how they will have a smooth and safe experience.
Dhara Tanna, senior vice-president, Fitternity, tells Divya Nair/Rediff.com how they are prepping themselves for the new normal.
What are the guidelines fitness studios and trainers will follow to ensure safety?
In the initial days of re-opening, both consumers as well as business owners will take a while to adjust to the new normal.
We believe that for the industry to regain its momentum, the following measures would have to be undertaken from our partner gyms and studios-
Slot based booking: Earlier a user would walk in to his gym/fitness centre and workout, whereas now the users will have to get accustomed to pre-booking their workout sessions.
This is imperative as gyms/fitness centres will be functioning at an optimised capacity and hence will have to allocate workout slots to their users.
Social distancing and equipment placing: Gyms and fitness studios/centres will have to re-align the layout according to which the fitness equipment will be placed.
The same will have to be kept at a distance from each other in order to have a safe workout environment.
Workout sessions would have to be performed in small/intimate groups and physical touch-points and workout spots would have to be highlighted.
Sanitisation of the premises after every slot and staff training"Fitness studios and gyms will have to take timely efforts for the sanitisation of gyms/studios and install proper hand sanitiser dispensers.
Proper staff training on how to manage users, do temperature checks and ensure safety protocols are being followed.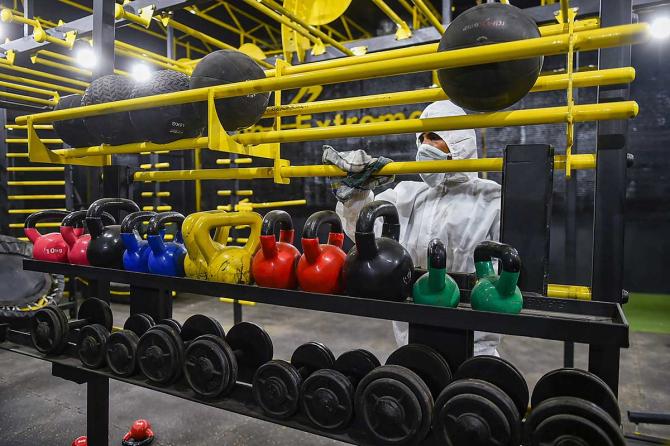 As users, how can people be careful?
It is essential to understand that the safety of the consumer at a gym/fitness centre will be a collaborative effort.
While the service providers will be undertaking safety measures to provide a seamless experience to the consumers, it is imperative that people accept and abide by the precautionary norms and guidelines put in place by the government.
They will have to acknowledge the risk of overcrowding and hence accept the new way of accessing fitness services.
While some may resume working out at a physical gym or fitness centre, there will be a section of the population that will be cautious and hence would prefer working out at home by utilising virtual fitness services.
Hence, we believe that both ways of accessing fitness -- online and offline -- will co-exist.
A hybrid business model that would cater to the demands of consumers on both fronts -- working out at a physical gym/fitness centres or working out at home by utilising virtual fitness services.
Dos and Don'ts to follow while visiting a gym?
DOs
Pre-booking of workout slots.
Get temperature checked before entering the gym/fitness studio premises.
Maintain social distancing.
Maintain proper hygiene while working out. Carry a hand towel and a sanitiser. Remember to clean-up after you are done using a workout equipment.
Utilise the hand sanitiser dispensers while entering and exiting the gym.
Usage of gym gloves should be mandatory while handling different types of equipment.
DON'Ts
Avoid attending classes that are crowded or happening at full capacity.
Refrain from contact such as hands-on assistance or passing over membership cards at check-in.
Refrain from using the sauna, steam room and locker rooms.
Do not go to the gym if you are feeling sick or under the weather.